---
---
On Manchester City
After such an amazing end to the season with Manchester City, you must be feeling confident ahead of next season. Are you looking forward to the Premier League returning? 
Manchester City will be there or thereabouts next season, that's certain. I feel like we need to improve our squad – there are a lot of teams in the Premier League that have strengthened after seeing the job that City did last season, winning the treble.  
A lot of the other teams have already improved their squads in an attempt to get closer to City. Arsenal have added a few new players, so I think they will get close to us.  
City haven't been that active so far. We've lost a few players like Gundogan and Mahrez, there's rumours about Kyle Walker, but we've got such a good squad with real depth that if we add a few more quality players to it then we've got a good chance of winning it all again.  
---
On The Premier League
It's so competitive at the moment. For City to win the Premier League, the FA Cup and the Champions League last season was some achievement. 
It must have been such a special end to the season for you and the City fans. City have been building towards this moment, especially winning the Champions League. A lot of people suggested that Pep had failed at City until he won the Champions League, that City couldn't be considered a truly elite team until they won it. I thought that was a nonsense. 
I don't think anyone can question Pep's ability as a manager or his achievements in football – the question was always about City. Historically, we've never made it easy for ourselves. Over the last three seasons, I thought that we would win the Champions League and when we didn't, I don't think you can blame it on Pep. He did pick the wrong team against Chelsea in that final in 2021 where we lost. I think he admitted that he did after the defeat too.  
City never make anything easy for themselves. We've always been like that as a club – we were underachievers for a long period. I remember going to watch them play in the Division Two, while the team down the road (Manchester United) were winning everything and we were playing clubs like Grimsby, no disrespect to them. A lot of the fans were wondering if the good times were ever going to come again – they certainly did this year!  
On Influencer Boxing
Eddie Hearn was pretty critical of influencer boxing after Daniella Hemsley lifted her top up following her unanimous decision win against Aleksandra Daniel. What did you make of those comments and isn't that a little bit rich from Hearn given he has worked with biggest fighter in the influencer space?
It's hard to say at this moment in time. Don't get me wrong, I don't think it's appropriate to do what Hemsley did in the ring, regardless of whether its UFC, influencers, whoever. You can't be doing things like that.  
It's difficult. A lot of people are knocking Tyson for fighting Francis Ngannou in October. I have no doubt that if Eddie was put in a position where he can't make the fights that he wants for his top fighter, I think he would make a similar decision.  
I saw an interview with Eddie where he said it's great business for Fury and you can't blame him for taking on the fight. Do the exhibition matches hurt the sport of boxing? I think they do, but most fighters would probably do the same. I probably would.  
I'll always have an old school approach to these fights. Throughout my career I was proud to say that I always wanted to fight the best and be the best in my weight division. Sometimes, the belts come second to the money on offer these days, which is a shame. You can either be of my frame of mind and sit there and moan and groan about it and miss the train – the trains going to go past you because like it or not, these fights present very lucrative opportunities for fighters.  
I haven't seen a good exhibition fight between and MMA fighter and a boxer. Mayweather vs McGregor, no disrespect to Connor, but I feel like Floyd could have upped the tempo in that fight at any point. I feel that it could be similar in Tyson's fight, but if we get a fight between an MMA star and a boxer and it ends up being a barnstormer, then there would be an argument for putting the fight on again. I haven't seen one yet.  
It's very hard. I think boxing needs to move with the times. You'll always have your hardcore fight fans that want to see the best in business having a dust-up, which is why we're all so frustrated that Fury vs AJ hasn't happened yet, but the world we live in now, the influence of social media, sometimes the money is more important than the belt.  
---
---
On Joshua v Helenius
It's not ideal getting a last minute change of opponent and fair play to Matchroom for finding an opponent at such short notice. 
They saved the show which is good news for the kids on the undercard.
I don't think AJ will be too pleased that there is a change of opponent at short notice but hopefully he won't be taking Helenius lightly. He's a professional and I don't think that he will make the mistake of underestimating him. It's a fight that he can't afford to lose if he is to continue trying to get back to the top again. He's got to focus on the guy in front and do a number on him.
I think Dillon Whyte would have been a good measure of where we are with AJ and as we don't know the full story it's hard to make judgment but it's not looking good for Dillon so we are left with Helenius.
I see AJ stopping Helenius. I'm not sure he will stop him in the first round like Wilder did, but I don't see it going the distance. AJ has been a little safety first but if he is looking to fight Wilder in December, he needs a convincing win. Like I said he needs to do a number on him.
On Oleksandr Usyk vs Daniel Dubois
The Brit isn't being given much of a chance ahead of this fight, how do you rate his chances? 
I beg to differ with that – I think Dubois has got a great chance against Usyk. When you think about the difference in size between the two fighters… I know you could say the same thing when Usyk fought AJ, but Dubois only needs one shot given his size. Whether he gets that one shot in… I don't think he will. For some of the people that have been saying he doesn't have a chance, I think that is really unfair on Dubois.  
If you know you're boxing, certainly in heavyweight boxing, he only needs to get one in. It wouldn't surprise me if he didn't land it, but if he does, are you trying to tell me that people will be shocked if Dubois knocks him out with the power that Dubois has? Come on! Sort yourselves out! If you were betting your last pound, your money is going to go on Usyk. To write off Dubois like he's being written off, like the fight is a forgone conclusion, I disagree with that massively.  
Dubois has sounded pretty confident in the build-up to the fight?
Dubois deserves credit and a little bit more respect being shown. Let's give him the credit he deserves. He's battled up to number one contender. He's worked hard after that defeat by Joe Joyce, took that on the chin and got himself back to where he is today. I think it's a little bit disrespectful to write him off – people have been moving a little bit too quickly on that.  
We know Usyk is an unbelievable talent. He is an Olympic gold medallist, undisputed cruiserweight champion, undisputed heavyweight champion. A talent like that doesn't come around that often. Of course, Usuyk will be the favourite, but to write off Dubois is mightily unfair.  
Does he deserve a little more respect? Do you think he isn't respected because he isn't a big name like Fury or Joshua? 
He isn't a big name in the category of an AJ or Tyson because he hasn't been a world champion, but he's been given an opportunity with this fight. Don't get me wrong, this is a difficult opportunity fighting someone of Usyk's class. Let's have it right, the guy he is fighting has beaten AJ twice, so it will be a tough ask for Dubois to win, but upsets can happen all the time and they are even more likely to happen in the heavyweight division.  
There was a little fat Mancunian who fought Kostya Tszyu a few years ago and nobody gave him a chance! In this game, you should never write anyone off, especially in the heavyweight division. When you can punch like Daniel Dubois, he's got a great chance.
---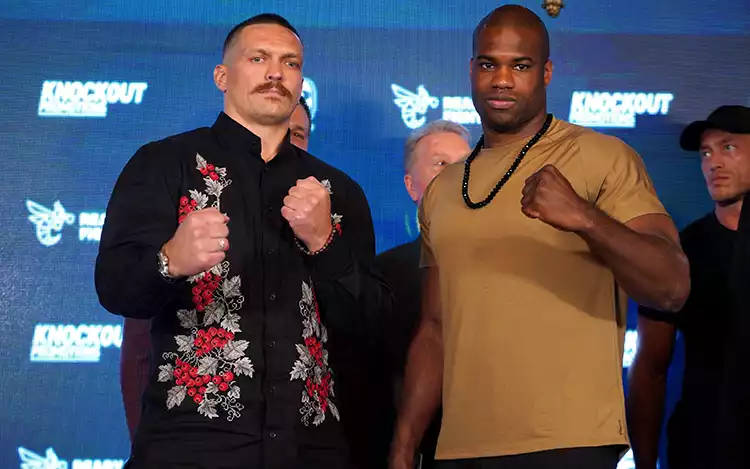 Dubois 'has a chance'
---
On Tyson Fury
Recently, it was the three-year anniversary of Tyson Fury announcing a two-fight deal with Anthony Joshua. Obviously, neither fight happened. Now Tyson will be fighting MMA star Francis Ngannou in October while Joshua is fighting Dillian Whyte and Oleksandr Usyk — the WBA, IBF and WBO champion — faces a mandatory challenger, Britain's Daniel Dubois next month. What are your thoughts on that?
I think that boxing is ultimately the loser – not because Fury is fighting Ngannou – because we can't seem to make the big fights happen at the moment between AJ and Tyson or Usyk and Tyson.  
What we need to realise when these exhibition fights happen, like when Floyd fought McGregor, the debate is always around if it's hurting the sport of boxing. I think there's a lot more to it. You can't blame Tyson for taking the fight or begrudge him the money that he will make from it.  
Look at his options. Tyson vs Usyk hasn't happened. Tyson vs AJ hasn't happened. Usyk has to fight Dubios as he is the mandatory contender, so that rules out a fight with Fury. The fight with Ngannou might be the only fight that is available for him. At least there's quite a good story to the fight, Ngannou is such a big puncher….Usyk isn't available. AJ isn't available. Whyte isn't available. Dubois isn't available. What can Tyson do?  
I don't think anyone can point their finger at Tyson and say that he doesn't want to fight the best. He's fought the best and he's beat the best. I know that he wants the AJ fight, the Usyk fight. Those fights aren't there for him at the moment so what's the man to do? Although these fights aren't necessarily good for the sport of boxing, I think this could have been the best move that Tyson could have made.  
It's hard to predict the future, but after this fight in October, we'll have a clearer picture of where the land lies at the top of the heavyweight division. Do you think that there could be the route for Fury to fight one of AJ, Usyk or potentially even a Dubois? 
The fact that we've been waiting for so long for AJ vs Fury is very, very worrying. You know, Dillian Whyte can knock AJ out. Daniel Dubois can knock Usyk out. We've been waiting for years for AJ and Fury to find an agreement, come October, all the boxing fans will be sat on the edge of their seats hopeful that the fight can happen between AJ and Fury, but the fact is that if it goes tits up for AJ or Usyk in the fights they have scheduled, then it won't happen.  
If Dubois beats Usyk and Dillian beats AJ, then the fight that we've been waiting for all these years, still hoping that it could happen, then it will never happen!  
Is there a danger that Tyson may be remembered for the fights that he hasn't had? 
I think Tyson will be remembered for the fights that he hasn't had, but that doesn't mean he won't be remembered as a great or an all-time great boxer. The fights that we want haven't happened over the last few years, but look at his record. His fights with Deontay Wilder, his fights with Klitschko. Going into the lion's den in Germany and becoming the Heavyweight Champion. Look at his story – we all know about his problems – he was massively overweight, he was suicidal. He had major problems. He overcame those. He had two comeback fights and then went into the ring with one of the biggest punchers in the history of boxing in Deontay Wilder and put in a magical performance. Even after that performance, where he was knocked down in the eleventh and we were all worried if he was going to be able to get back up. Not only did he get up, he got up started knocking Wilder all over the ring! Then he beat him in the second fight and the third fight.  
Tyson has already established a brilliant legacy in the sport of boxing, it's just a shame that his legacy could be even greater if he fights AJ or Usyk. People are always opinionated. My advice to Tyson is, as well as he did in the Wilder fights and for how proud we all are of him for overcoming his demons outside of the ring and turning his life around, don't be sat on the sofa in a few years' time wondering what if I could have beaten AJ. What if I could have beaten Usyk. Rather than wondering, before it's too late, get one of these fights in. 
I'm not sure how that is going to happen to be honest. I think it will take one of AJ, Usyk or Tyson to swallow their pride and agree to the fight. The money is irrelevant. None of these guys will be wanting to think what if when they retire from the sport. There is no way I could have done that (not attempted to make the fight). I would be thinking about it all the time. It would do my head in. Hopefully Tyson can make it happen. 
Forget about the money on offer. What's the point in bickering over three or four million – which is a hell of a lot of money – but what difference does it make when you've got 60 or 80 (laughs), you know what I mean? Its dead easy for me to sit here on my fat are not being in that position. At the end of the day, I know Tyson wants those fights. I am sure that AJ and Usyk feel exactly the same way. It's a shame that they haven't happened because of squabbles over money and who gets the bigger percentage. Come on guys, let's get it done!  
---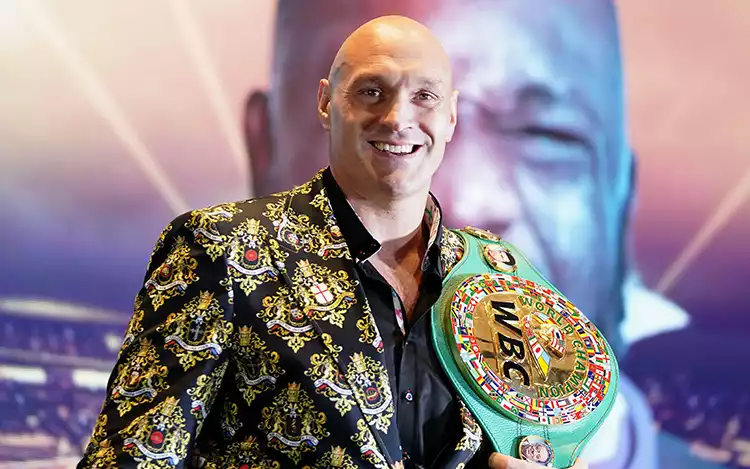 Hatton hopes Fury fights Uysk and Joshua
---
On Liam Smith vs Chris Eubank Jr
Last time out, Liam Smith caused a bit of shock by beating Eubank JR. How do you see this one playing out this time around? Will Eubank take his revenge and set up a trilogy? 
Well, the first one, we didn't expect the fight to finish as early as it did with Smith knocking him out. Smith nailed him pretty quickly, and nobody expected the fight to end that quickly. I was impressed with the way that Liam Smith fought Eubank JR. He put his punches together nicely and showed great accuracy. Every punch he threw was big.  
It was shaping up into a good fight, the first few rounds anyway, but he finished him off in the fourth round. I think we'll be in for an even fight in the rematch. One thing in the build-up, Liam Smith didn't look like Eubank had ruffled his feathers.  
When you've been in boxing like I have, sometimes you can look in the eyes of a fighter and you can tell who is going to win and I got that feeling from Smith the first time around. You could tell by his mannerisms, how he held himself and thought to myself he isn't worried about fighting Eubank.  
Knowing how he handled himself before and during the first fight, I'd make Liam Smith the favourite for the rematch, but I wouldn't be too eager to write Eubank off because he has got the talent and the ability. There's no reason why he can't beat him. He certainly won't want to get knocked out agaIN.
---
18+BeGambleAware
GENTING CASINO ONLY OFFERS SPORTS ARTICLES AND NOT SPORTS BETTING
Genting Casino is a leading global casino brand. We provide a premium online casino experience with our huge selection of online slots and live casino games. Genting has been recognized many times for its work in creating fun, safe gaming experiences winning multiple industry awards during its 50 years in business
---