---
---
"Anthony Joshua's got a chip on his shoulder…but I back his decision to change trainers"
GG: "From what I've seen of Joshua, he's got a chip on his shoulder. Fighters accumulate this and I don't know what he's fighting for now because he will say he's fighting for money but I think he's earned enough money. And I don't know if he's fighting for fame and accolades. Is he fighting just because that's what he is, that's what he knows, that's what he does? Because in most interviews - and I know people ask him about it - but it's always like a moan about what people are saying about him, that's the chip on the shoulder. 
"Froch sort of attacked him because he said some stuff about Rob McCracken. But I was a fighter who changed trainers and I see the value in changing trainers. And it doesn't always have to be after a loss because different trainers show you different things, different environments, different parts of the world, and that reads you differently. Joshua is probably at this stage of his career where he's thinking, I thought I knew everything about boxing. Turns out I hadn't scratched the surface. And the vast majority of people around him are not old boxing heads." 
"I'll fight Froch next year on ten year anniversary at Wembley"
GG: "Froch extended the olive branch. He Initially broke the ice. We were both working on a Sky show. I bumped into his brother Lee on the way in and I hated him more than I hated Carl, but he just killed me with compliments. They had made the decision that they don't need to have this war anymore. 
"I ended up being late for the talent meeting at Sky, so they're all sitting around, and Froch is on the other side of the room. And then as soon as the talent meeting is finished, he comes over and he chats. He just breaks the ice. And it's like he's trying to fit ten years worth of conversation into five minutes. So he jumped from one subject to the next, talking about kids and that he was so happy for me to win a world title. I was exhausted at the end of that five minutes, but to be honest, I was relieved that was the case. I was thinking, this is the right way to go now. 
"We then probably made a real friendship when we started doing the tours. So we would do tours where we would do eight or ten shows over the course of like five weeks, so we would see each other every week. And some of it was getting weird. He would come down with his brother Lee and we'd leave and he'd almost call me to see if I got home alright. One night I was running late because there was traffic. I drove up from London and he's like, 'I've got your parking space outside'. And him and his brother are literally hoarding people off to make sure I've got this parking space, so that I can get in okay. I never thought Lee Froch would be my security for a fucking live event. But he's alright and I think he's come to learn a lot about me. I've learned a lot about him. And we can make the personalities gel. And it must be good listening, like good value, because feedback has always been good. It still blows people's minds that we fucking get on and that we keep getting booked for more and more stuff, it's slightly different but we're the boxing version of Carragher and Neville. 
"We've got a ten year anniversary of the Froch first fight this year in November. If we did an exhibition on that anniversary it would probably get stopped early and controversially, but maybe next year, Wembley Stadium. Ten years on, me and Froch will go do battle again, never say never. I'm only 35, believe it or not, I can still roll with the best of them. Who knows? Never say never." 
---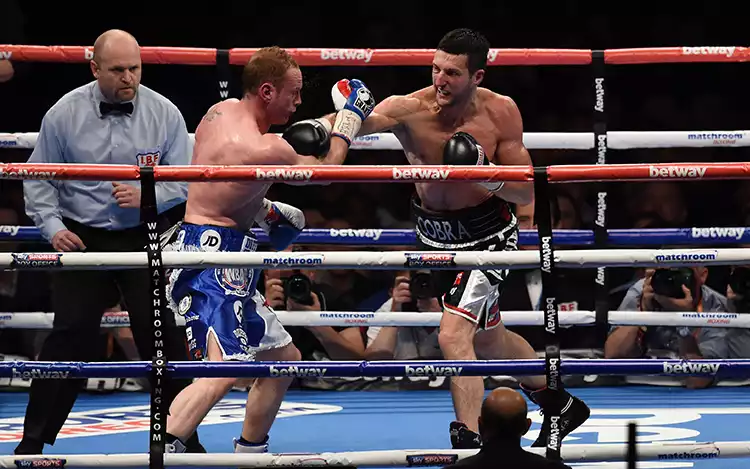 Groves ready for another crack at Froch
---
"My flight to Germany for David Haye vs Wladimir Klitschko was like Entourage"

 

GG: "We were going to Germany for David Haye and Wladimir Klitschko and someone paid for a private jet, but there's only seven seats on the jet. And I'm thinking, am I going to make the cut? At the time, Adam Booth was running the show and 'Aloof Booth' is what we used to call him - you never knew where you stood with him. And he left it right up to the last moment and he goes 'yeah, you're coming with us on the jet'. 
"We went to a public workout at a Mercedes or Bentley dealership. And them lot [Booth and Haye] are trying to be really aloof and different and awkward because they know Klitschko is very organised and very sort of OCD about timings. So they're just trying to be a bit obnoxious. And obviously I'm a goofy little kid at this point still. I've just come off the massive win against DeGale and I'm like 'yeah, I'm in. I'll do anything you want'  
"So we end up in this holding room and obviously there's an internal door to get downstairs to where they're all waiting for us. But we decided it's a much better idea to climb out the window, scale along this sort of flat roof, hop down the drain pipe and come in through the front door, just to confuse everyone. But while we're coming up with this scheme, Adam Booth needs the toilet. He needs to go for a piss, but he doesn't want to leave the room, so he pisses in a glass. And he goes to throw it out. But the window is shut, so he just throws a glass of piss up against the window that bounces back onto his trousers. And at that point I thought - this is Entourage. From the outside it looks f****** slick but on the inside, we ain't got f****** three brain cells to rub together amongst us and the whole team." 
"Adam Booth showed signs of being greedy and selfish..he let me down"
GG: "I felt close to Booth, but there were ups and downs, and there were times where I felt like he'd sort of let me down. And it was more so commitment. He was committed and then he wasn't. And I'm forgiving at the time. I know this man's not perfect. I've just told a story about how he's thrown piss against himself in the glass window, so he's not perfect. But ultimately, you've only got one chance in this pro career. You've got to take care of yourself and you can't afford baggage. And he was going to hold me back at some point. He was holding me back. There were loads of periods where he was holding me back. And boxing can make you paranoid, but it can also make you selfish and greedy. And I felt like he had shown a lot of signs of being selfish and greedy. 
"The only thing I can really remember in detail is we'd made the fight with Froch for the world title. And at that point in my mind - I hadn't had a conversation with Adam about it - but I was thinking he's a good trainer and I don't really know who else I could replace him with in terms of being a better trainer, so we'll go along with this setup for as long as I can, for as long as it works.  
"But the power dynamic changes. When you first turn pro, you don't have much money. The trainer is much more high profile than me. He's got much more money than me. He's got all the connections, he knows what he's doing in boxing. But at some point the fighter does outgrow the trainer and that's sometimes where it falls apart. Sometimes it's after a loss. But for me, it wasn't necessarily after a loss.  
"It was the most bizarre time to change trainers before your biggest fight of your career. But I think that shows a lot about me. It shows that I backed myself and I've got the nuts to go and do that, or at least I definitely did at that point in my career. I wasn't getting enough commitment from Adam and I was just envisioning future problems. 
"Tuesday was the press conference to announce the fight with Froch. Now he's my manager, he's supposed to be setting up and doing everything, he should be telling me what time we've got to be there. Except I get a phone call from someone at Matchroom saying 'You have a press conference Tuesday'.That put my nose out of joint. I'm like: 'What's Adam doing? Why has he not told me that?' So I thought, don't upset him, sort it all out. So I messaged him saying 'Tuesday, press conference, I'll book the train tickets' but I got a message back saying 'I'm not sure I can come, David Haye is probably sparring'. But it was a significant moment. 
"It's like a power-control thing, a power-control thing that he liked to have. And I was on the verge of outgrowing that. Trainers make a lot of decisions for the fighter, but they do work for the fighter. They take a commission of the fighter's purse and then when the fighter decides it ain't working, they're not there anymore." 
---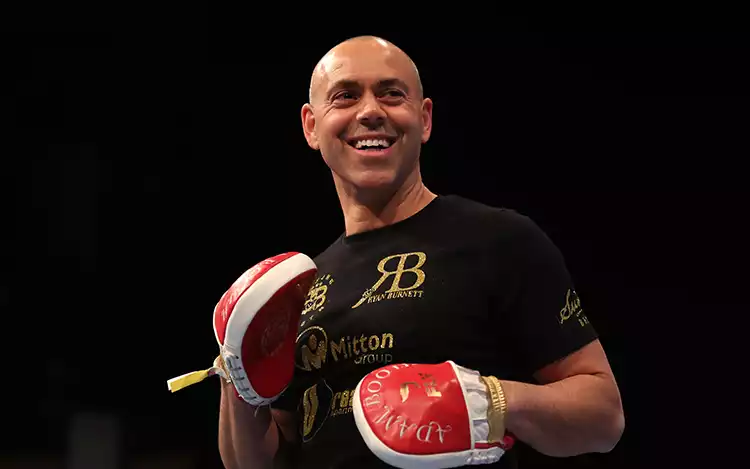 Groves at times felt let down by Booth
---
"Last ditch attempt to make DeGale fight in Westfield"
GG: "My wife saw him in Westfield one day, she was with her friend who knows a bit about boxing. My wife goes 'DeGale's in Westfield'. I was like 'is he?' And I'm on the phone to her from Vegas, and I was like 'put him on the phone'. She went, 'I can't put him on the phone'. And her mate Emma said 'I'll do it'. So Emma's gone running over to him says 'Hi James, I've got George on the phone'.  Me and DeGale haven't spoken to eachother for years, so he's probably thinking, 'what the f***? How have we arrived at this? Who has he sent 007 style to pass the phone over?'. 
"I didn't tell him that it was a friend of my wife who just handed you the phone. I just keep that bit really sort of vague, so I say 'James, it's George. How are you doing?'. Are we going to make this fight or what? And we agreed to a split on the phone. I think it's like 55-45. I said, I'm bringing the value, but you got the belt. I said you're not worth 50-50, I said, I've done Wembley, I've done this and we agree. I call my lawyer, but then we hear back from DeGale and he's wants 80-20 or something. He's priced himself out of this fight." 
"Calzaghe would have beaten Froch on hand speed"
GG:"The popular opinion is always Calzaghe wins, but Froch is fucking hard to beat. I think Joe would have beat him on the hand speed and just not getting caught. He was a super fit Welshman with lightning fast hands who could cut out at really good angles. I don't think Froch would have caught up with him and caught him. I think Joe would have beaten Froch." 
"I'd beat McGregor and Froch in the same night"
GG: "He called me Grove in that tweet. Conor McGregor is hilarious. I was kind of leaving it to Froch to respond, but the truth is I'd choke both those two chumps out in the same fucking night. Froch and McGregor, fucking do them both. I'll do Froch in the cage and McGregor in the ring and vice versa. Again, f****** they're a pair of useless bastards between." 
---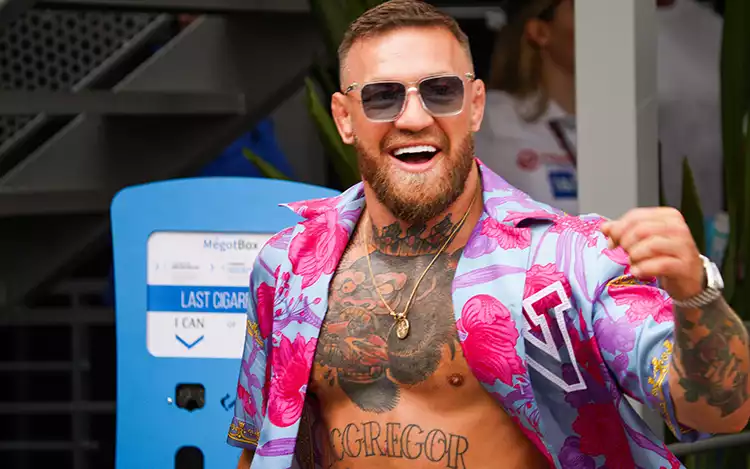 Groves ready to take on McGregor and Froch on the same night!
---
"My career…"
GG: "My story ended up winning a world title at the fourth attempt, a story of unwavering self confidence and self belief, as well as resilience. Balls of steel resilience. Don't get me wrong, when I first turned pro, I didn't want that to be the story. I wanted my story to be the greatest of all time, a multi weight, unified world champion, a hall of fame legend. But that's not how boxing goes."  
"There are no exact moments of regret, but sure, I'd love lots of things to have been different. The first fight with Froch, I got stopped controversially, I was winning the fight comfortably, I was in full control and the referee stopped the fight. And then off the back of that there was controversy. In boxing, you need stuff to help you gain that notoriety to break through to becoming a household name. That was that fight." 
"I'd love to have won that first fight against Froch. I certainly would have loved to have won the rematch at Wembley, where I got knocked out, where I got my lights turned off in front of a record attendance crowd for British boxing, which was just horrific. And from there on in my career is never going to be what I'd hoped it to be. If I'd won at Wembley, then maybe even with a blip in the first fight, I'd been back up to full momentum. I might have had a different route as a world champion. I could have obviously capitalised from that momentum." 
"It was uncharted territory after defeat at Wembley.. I don't know if there is a person on the planet who could have put his arm around me and told me 'this happened to me, this is what you need to think and feel, this is how you go about it.' I am single minded and resolute about my direction and my purpose in boxing, so I've got to now carry on.. And I remember in the cab home from Wembley,  I Tweeted saying, 'I just got knocked the fuck out'. And that tweet done really well, 85,000 fucking retweets or something. Much more than any other post I did, pre fight or since. So I tried to show humour." 
"Then in Vegas, losing to Badou Jack, for a third time challenging for a world title - and that's where my story really pivots to - am I ever going to get there? It's a battle of desire, but for me, I'm happy with my career. I left boxing on my terms at 30 years of age. I had money in the bank, mortgage paid, money set aside for the kids, and eventually achieved my dream of becoming a world." 
AJ vs Helenius is the best out of a bad situation - a shock to the system!
GG: ''AJ vs Robert Helenius is a shock to the system. It's the best that Matchroom could do in short notice. Joshua isn't the huge commodity that he was five years ago, so you can't just put him with anyone and charge a PPV price. When they quickly realised that it would be hard to sell a solid PPV with the list coming down to the likes of Derek Chisora - who is essentially Joshua's mate, they had to think about a subscription-based card which was free to view without the possibility of a Pay-Per-View price. 
"It is a good solid card now. AJ is back fighting again, Filip Hrgovic is in a title contender match at Heavyweight and we get to see Derek Chisora in a dust up. We also get to see prospects such as Campbell Hatton and Brandon Scott. It is the best out of a bad situation to be honest.''
Anthony Joshua has to be perfect against Helenius - This fight shouldn't go past 12 rounds!
GG: ''In terms of the main event, I can't see any real problems for Anthony Joshua. Robert Helenius won over the weekend so the advantage is that he will be fit. He may suffer a massive come down from it and might struggle to get the gloves back up again for the contest. Then again, this is Heavyweight boxing and you can't count anyone out. However, I do predict an Anthony Joshua victory. The pressure may be on him a little bit because Deontay Wilder blitzed him in Round 1. 
"He can't adopt the mentality of ''I need to do better than Wilder'' because I don't think you can do better than knocking some out in Round 1. Joshua has to show us a punch perfect performance. This isn't a fight to go past the middle rounds. I don't want to see him slugging through 12 rounds and saying ''I got the rounds in and I'm still learning!'' No boxer should be doing that, especially if you are at Anthony Joshua's level.
"I predict a solid Anthony Joshua win before the fight gets to the middle rounds. Hopefully that sets him up for the big Wilder fight down the line - which should make for some good TV!''
P4P best fighters
Crawford 
Inoue 
Usyk 
Alvarez 
Conor McGregor  
---
18+BeGambleAware
GENTING CASINO ONLY OFFERS SPORTS ARTICLES AND NOT SPORTS BETTING
Genting Casino is a leading global casino brand. We provide a premium online casino experience with our huge selection of online slots and live casino games. Genting has been recognized many times for its work in creating fun, safe gaming experiences winning multiple industry awards during its 50 years in business
---