---
---
On Eubank v Benn
"It's definitely a fight I want to see. I like Chris Eubank and Conor Benn. I've done a lot of training and sparring with Chris Eubank. Massive fans of the Eubanks and really fond of Conor Benn. I know his management team really well, so I want the best for him. I know he's got this failed drugs test hanging over him and I think he's going in front of the British boxing board of control, which I think he needs to do. So once that's heard by the board and there's a resolution, then we'll know if he's being punished and once that's happened, hopefully he can put this all behind him. He has failed a drugs test but whether he's cheated or not that will be concluded after the hearing. Drugs test aside, it's a great fight but the sting has gone out of it a little bit since Eubank lost to Liam Smith. It has killed it a little bit. If Eubank was on the back of a decent win then I was say it's a great fight but at the moment I'm thinking it's an easy win for Conor Benn. He's a massive favourite.  
"I know Eubank's gots a rock solid chin because I hit him on the chin god knows how many times in sparring. I used to wear 18oz gloves but he could take a punch, he's hard like his dad. You saw that with George Groves, he was teeing off on him, but going down to 157 for the Benn fight, I think he was drained like a boiled chicken, he was done. And then staying in camp and fighting Liam Smith at 160, I think he was still feeling the effects of that long camp. I'm hoping that's all it was. I'm hoping he's not gone as a fighter. He's not had that much punishment, he's not had loads of fights, but if I'm basing it on that performance against Liam Smith, I think it'd be an easy win for Conor Benn. I think Conor Benn catches Eubank if the Smith fight is anything to go by, but I hope Eubank gets in with his legs underneath him and he's not hollow like he was against Smith." 
---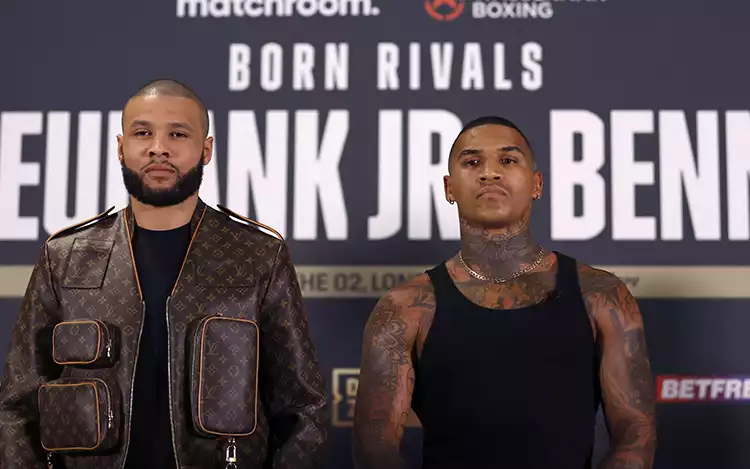 Froch hopes Eubank and Benn get it on
---
On Joshua v Whyte
"Whyte has seen better days, I think he's past his best. He got chinned by Povetkin, fair play to him he got the rematch done, but then he got obliterated against Fury. It seemed like the beginning of the end for him then. But I'm hoping Whyte gets right up for it and gets his mojo back. And I'm hoping AJ proves me and a lot of other people wrong and proves he did not lose his soul in the Ruiz fight. I'd love AJ to put in a really good performance and show everyone that he believes in himself and still means business because if he wins there's big fights out there for him. People think I've got beef and not very nice things to say about Anthony Joshua but I'm not, I'm just brutally honest.  
"Based on what I've seen of Joshua in his last two or three fights, his lackluster performance against Ruiz in the rematch, his back to back defeats to Usyk, I just think it's going to be a really close fight. Dillian Whyte has seen better days, he's not had great performances either, they're both past their best, but I think that Whyte has probably got a little bit more in the tank mentally. I think he wants this more. It's a tight fight that could go either way. My instinct is that Whyte beats AJ but that's just based on AJ's last couple of performances. If AJ's back to his best he can do a demolition job on Whyte. But based on previous performances suggests Whyte just edges it on points. I think they're both going to be knackered by round nine and we will hear the final bell. I think the loser should retire because if AJ's lost three of his last six and Whyte's been knocked out by Povetkin, knocked out by Fury, and scraped through against Franklin. There's a case to say that there's nothing left in defeat."  
---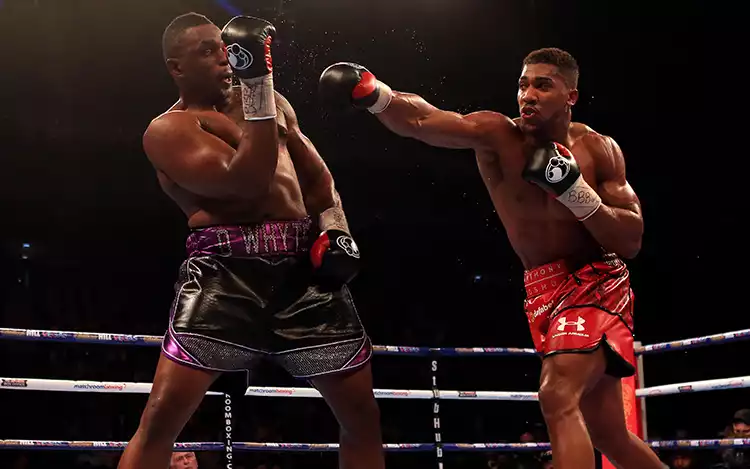 Joshua and Whyte to face-off again
---
On PPV
"I'm a boxing fan as well as a boxing pundit, so I'll be honest for the fans and say DAZN came in and promised a subscription channel but without PPV. We were told no PPV. PPV's dead and subscription is the future, but what changed? I suppose if people want to watch the fight they'll pay for it. Eddie's done a fantastic job overseas and over here, there's been loads of big fights, but he's bringing PPV back, so something is obviously broken with the model. Something is not working with the model for them to re-introduce PPV."  
---
On Jordan's Criticism Of AJ 
"I think Simon's Jordan's right when he says criticism comes with the territory. Your the former two time heavyweight champion and we expect you to be in big fights and to perform. You're the big bad heavyweight who has a massive name, you're getting a fortune every time you fight, you have a duty to the fans and to sport to: 1) fight credible opponents and 2) put in a shift when you're in that ring. Get in there, believe in yourself and do the business. So criticism comes with the territory, Simon Jordan is right. All of it isn't negative though, it's constructive. 
"People say Carl Froch doesn't have nice things to say about AJ because AJ left Rob McCracken. I've got two things to say to that 1) I couldn't give us a toss who trains him 2) AJ did not leave Rob McCracken, for all you know Rob McCracken left him. It was a mutual agreement, put it that way. AJ did not sack McCracken. He's the boss. Maybe things happened and Rob didn't want to work with AJ that's why that came about. In the build up to the first Usyk fight, there were many people around AJ, telling him different things, and I think Rob had had enough if I'm honest. I know the situation and I know for a fact that AJ did not get rid of Rob.  
"He wasn't listening to Rob before they split. If you're not going to listen and have that respect, then the relationship will break down. Rob knew that Usyk would be their last together. Rob's happy not working with AJ any more because he doesn't want to work with someone who's not going to listen. Rob's not just going to stick around for the money."  
---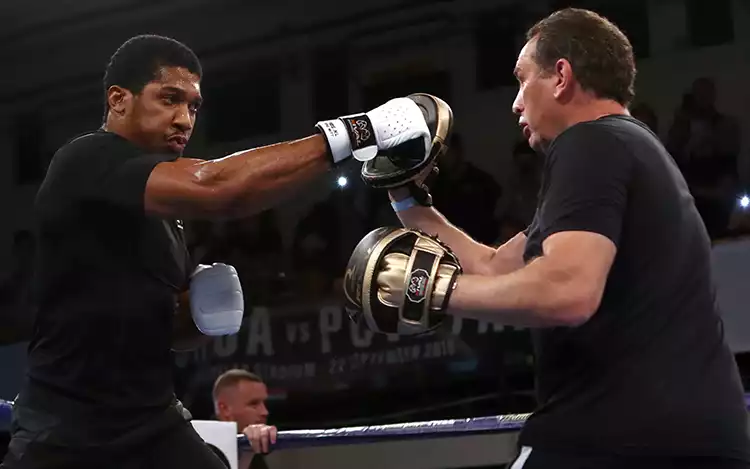 Froch sets the record straight on AJ McCracken split
---
Advice To AJ
"He needs to get some competitive sparring, the type of sparring you don't want to do. Sparring that puts him under the cosh. Sparring that he hates and he's nervous about before he gets in the ring, like I used to be, David Haye would tell you the same. You don't want to do this tough sparring, you get nervous before you get in the gym, but you need it because you need to prepare properly for fights."  
---
On Simon Jordan v Eddie Hearn
"I think Simon Jordan is quite physically capable because he plays tennis and racketball. I've got a game lined up with him. I think Simon's fitness would do it for him. But I've never seen him throw a punch, I've seen Eddie throw a punch and he can't box for shit. I saw that in his one round with Frank Smith. He didn't know what he was doing. He had gloves on, he was moving around a boxing ring, but he wasn't boxing, that's for sure. Frank's a bit of a fat mess, he needs to sort himself out, so I'm not sure you can take much from Eddie putting Frank down with a body shot, if you can call it a bodyshot. [Text Wrapping Break][Text Wrapping Break]"I don't know if Simon Jordan can throw a punch or if he can even stand in a boxing stance, but I know Eddie Hearn is absolutely useless in a boxing ring because I saw it with my own eyes against Frank Smith. It would be handbags at dawn but I think with Simon's fitness, he outworks Eddie."  
---
On Musk v Zuckerberg
"I think Elon Musk beats Zuckerberg. I like Musk. He's honest and straight and he's brought freedom of speech back to Twitter. He's allowing people to be free, which is massively important. Our freedoms are being taken away for us every single day. And the more people like Elon Musk allow us to speak openly on Twitter, the better it is for everyone. And I think that gives him a fighting spirit. To do what he does, he's going up against the establishment. I'd definitely be in his corner to back him."  
---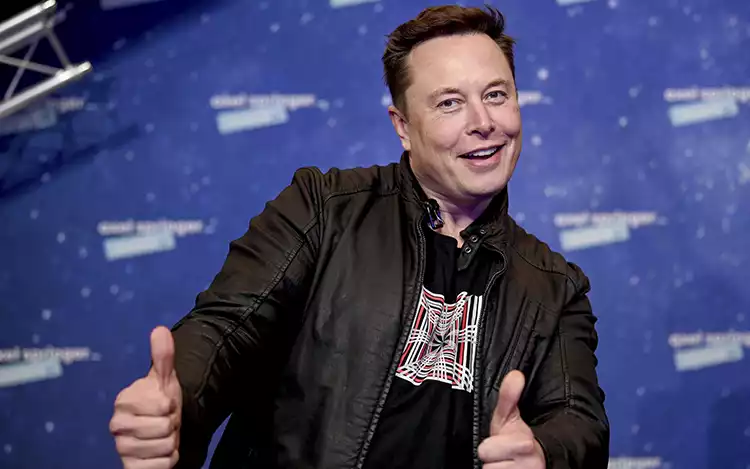 Froch backing the Twitter boss
---
On Jake Paul v Conor McGregor?
"Jake Paul would do Conor McGregor in the boxing ring. Paul is bigger and stronger and has more experience in the boxing ring. McGregor looks to have put a bit of weight on, but he can't box. After watching him against Mayweather, he's absolutely useless in a boxing ring. Garbage. Crap. He can't box. The technique between boxing and MMA is so different, so at least Jake has shown that he can have a go. He gave Tommy a little bit of a fight. And with his size and experience in a boxing ring, Jake Paul beats the absolutely useless Conor McGregor."  
---
On Froch Exhibition
"I would definitely consider doing an exhibition if the opponent was right. 100 percent. It wouldn't have to be an ex-pro. If an ex-MMA fighter decided they wanted it, easy work for the Cobra, or even if it's a YouTuber like Jake Paul, again, easy work.  
"Jake Paul said if I fight Anderson Silva, he'd fight me. But what the big s***house did was bottle it, didn't he. He got beat by Tommy Fury and then bottled it and retracted what he said. He told me to fight Anderson Silva and then he'd fight me, but now he's gone quiet. I'm still here. I'm happy to fight Anderson Silva, no problem, but I'll make it interesting for you. I'll fight Silva on the undercard or our main event, so I'll fight them both on the same night. I'm that confident. Jake wants me to prove myself against Silva, I'll do it, no problem, but let's do it on the same night. Easy work."  
---
18+BeGambleAware
GENTING CASINO ONLY OFFERS SPORTS ARTICLES AND NOT SPORTS BETTING
Genting Casino is a leading global casino brand. We provide a premium online casino experience with our huge selection of online slots and live casino games. Genting has been recognized many times for its work in creating fun, safe gaming experiences winning multiple industry awards during its 50 years in business
---