---
---
On Chelsea
What did you make of Chelsea's performance against Bournemouth?
The result against Bournemouth told me one thing: this Chelsea team is too young. It's simple. This team will not qualify for the Champions League. This team will not finish in the top four.  
Chelsea do not look strong enough to qualify for the Champions League this season. They have too many young players that don't have experience – it is going to be a difficult season for them. I am confident that they will do better than last season, but they won't be challenging at the right end of the table.  
This season, with all the money that the club has spent, when you consider the stature and size of the club, they will fail. It is that simple. It is a failure for a Chelsea team to not be challenging for the Champions League and the Premier League title.  
I played in a Chelsea legends game last weekend, and I'll repeat what I heard. Obi Mikel spoke to the press after the game, he laughed and said: "I think that some of these players are still good enough to play for Chelsea this season."
That shows you that Chelsea are in trouble at the moment. That shows you that some of these players are not ready to play for a club like Chelsea, and some of them do not have the quality to play for a club like Chelsea.  
Did you and the other Chelsea legends discuss the team's current form? What do they think about what is going on?
To be honest, we didn't really speak about it (Chelsea's form). We spoke about our time together, the experiences we had. We spoke about family life.  
We were enjoying being together again. I was talking to Eidur Gudjohnsen about the next generation of players – how the game has changed over the last few years since we hung up our boots.
We were not talking about Chelsea and their results. We didn't have enough time to talk about it!  
Wonderful memories for you, of course. 
Absolutely. On the pitch we were laughing and joking, the dressing room was fun. It was a really great atmosphere, and it was fantastic to hear lots of old stories with guys like John Terry, Claude Makelele and Michael Essien. We won the match 4-0 too.  
Can you believe that there were almost 36,000 people there to watch all of us play. It was a magical experience for me.  
It must be such a wonderful feeling to experience the love of the crowd again. 
It is always nice to go back to Stamford Bridge. Everything in my career in England started at Chelsea. I have so many good memories of my time at the cub, and it is wonderful to share those kinds of experiences again.  
You mentioned young players there. Were you surprised that this was an issue that Pochettino didn't address in the summer? 
There are a handful of experienced players at Chelsea. The club has decided to invest heavily in young talent – they have spent so much money. When you spend the kind of money that Chelsea have on players, you're expecting to sign players that have achieved something.  
I really think that Chelsea have failed. The board have failed again. They will not achieve their targets this season.  
It's going to be very difficult for Thiago Silva this year. He seems to feel alone because he knows that the players are young and that they won't be ready to fight for the title this season. They'll be ready in the next two years. This is a team for the future, not for now. 
---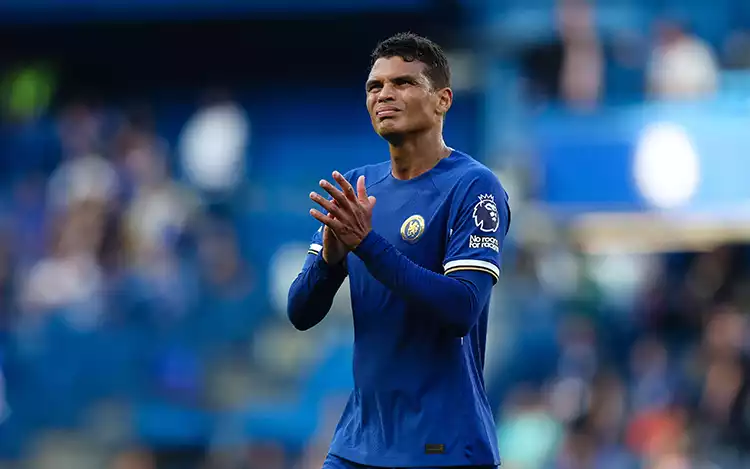 Silva in his last season 
---
 Do you think that Thiago Silva is playing like a guy that knows his last season playing for Chelsea is going to be a waste?  
Thiago Silva knows that it is going to be a very difficult season for him. He knows that this is his last season, and he doesn't have the right support around him. A player like Thiago Silva, who is thirty-eight-years-old, normally would be looking to the younger players to lift him, to help him with their quality.
Chelsea doesn't have that quality at the moment. It looks like he has to manage everything at the back. During the game against Bournemouth, he was trying to explain to the midfield where they have to go when he has the ball. That shouldn't be happening.  
We know that Chelsea have spent loads of money in the transfer window. What I can't understand is, how can you spend all that money and not have a guy in the team that is capable of scoring twenty to thirty goals a season? 
I don't understand how Chelsea have spent all that money and not signed a top striker. Chelsea need a world-class striker who can score at least twenty or twenty-five goals a season.  
Jackson has good potential. He looks like he will improve and score goals, but I don't think he will reach twenty goals this season. He is not a world-class player at the moment – I think he can get there, he has great potential, but Chelsea need players that are ready to perform at the highest level straight away.  
On investing in future talent and Boehly mistakes
Chelsea is not a club like Southampton or Brighton where you give an opportunity to young players to give them experience. This is Chelsea Football Club. They need players who are ready to make the difference every single week.  
The people who are in charge of Chelsea before the new ownership knew what they had to do. They knew that the best way to build a squad was to add one or two inexperienced players into the team and to let them learn and grow under the guidance of the experienced players.  
Right now, Chelsea has a handful of experienced players, so how can these younger players grow? Which players in the squad can they learn from?  
Chelsea are suffering from a number of injuries – with nine current first team players out injured. Do you think that the club's fortunes will improve when some of these players return? 
I don't think it will make a huge difference (when Chelsea players return from injury). This is going to be a very difficult season for Chelsea. Look at the position Chelsea are in in the table. They have missed Reece James. Hopefully he will come back from his injury soon.  
---
On Arsenal
After Arsenal picked up a win on a road at Goodison Park, what have you made of Arsenal's performances so far this season?
Arsenal are playing with a new system this season. They are playing with three at the back, with Zinchenko going into midfield. They played like this last year, but this is a slightly different tactic. This gives Arsenal more control and possession in the midfield, but it looks like they are finding it difficult to break teams down and, I haven't seen the same Arsenal (as last season) yet.  
The last few games, to be honest, Arsenal haven't looked as good as last season. It looks like Arsenal are not strong enough to win the title. 
I agree with you. When you look at Arsenal's performances so far this season and compare them to last year, something is missing.
I think Arsenal are still trying to play fluid football, but the big difference (between now and last season) is that Arsenal's opponents know exactly what they have to do against them to disrupt their play and that is a problem that they're going to have to overcome this season.   
The opposition are more compact; they are stronger. They know that for 90 minutes Arsenal are going to dominate the ball, so most weeks Arsenal will be playing against teams set up to play on the counter-attack. Arsenal must create more chances. I think Arsenal will be looking to score as many early goals as possible so that teams are then forced to come and attack them.  
Sometimes Arsenal can have concentration issues and lose their focus, like they did against Fulham. They also need to kill off teams when they have the chance.  
One of the big calls from Arteta against Everton was playing David Raya. Do you think that Aaron Ramsdale will come back into the Arsenal team for the Champions League, or do you expect Raya keep his place moving forward?
This season Arteta has dropped some of his big players. Gabriel was on the bench for the first few games of the season, so Arteta must have had a conversation with him to explain his reasons for that. At the time, I said I wasn't worried about Gabriel's future because Arteta, like Pep Guardiola, likes to rotate his players.  
The goalkeeper position is one where managers have traditionally not rotated. Sometimes managers play different goalkeepers in different competitions like the Carabao Cup and the FA Cup, but generally, managers always play their best goalkeepers in the biggest games.   
The goalkeeper position is a specialist role. Goalkeepers are crazy! They want to play every single game – they train on their own – they live in their own world. I'm not sure if it is a good idea for managers to rotate their goalkeepers week-to-week, we've never seen it before. Time will tell.  
Arteta must have spoken to Ramsdale about his decision to play Raya at Everton. They must have a very good relationship. Maybe against PSV, Ramsdale will be back in the starting eleven.  
From a defenders point of view, how would changing a goalkeeper affect a teams performance? 
The relationship between a team's centre backs and a goalkeeper is really important. You need to have good communication between the goalkeeper and the defenders.  
As a defender, you need to understand your goalkeeper; you need to learn their habits: what they are good at, what they are not so good at. How they like the ball to be passed to them. For example, Hugo Lloris always demanded the ball on his left foot, but Petr Cech was more comfortable with either foot.  
Does it make things more difficult for defenders when a manager swaps a goalkeeper?
I don't think it makes a defenders job more difficult when a manager rotates his goalkeepers. These players will know each other really well after spending so many hours on the training ground – they will know everything about each other. Of course, when you put them together in a match for the first time, that is an environment that you can't replicate on the training pitch, but there was no problem between Raya and Saliba, Gabriel, and Ben White on Sunday. They should all have a telepathic understanding with each other.  
---

Raya got the nod for the Everton game
---
Generally speaking, how have you assessed Arsenal's defensive performances so far? 
It looks like Arsenal haven't improved defensively this season. I was very disappointed with the goal that Arsenal conceded at home to Fulham – that was a mistake we've seen Arsenal make year-after-year. When you're trying to win the league, you can't drop points at home to Fulham. You have to win that game. The result against Fulham gave me a sense of deja vu.  
Unfortunately, I don't think that this Arsenal team has the look of Champions. I don't think that this is a title-winning side because they haven't improved on the basics. 
How would you assess Declan Rice's start to his Arsenal career? 
When you look at Declan Rice's performances, it looks like he's been playing at Arsenal for many years. He didn't need any time to adapt to a new system or new teammates – he's doing what he was doing with West Ham.  
I wasn't surprised that he has come into Arsenal and hit the ground running. He is a player that has been playing at the top level for the last two seasons and, I couldn't understand why no other big clubs tried to sign him before he joined Arsenal.  
It looks like Arsenal are the perfect club for Declan Rice. At Arsenal he will be able to develop and improve, he's already won the Community Shield with the club and has experienced lifting another trophy.  
He offers Arsenal more energy in the middle of the park. He has the quality to make an impact in attack and at the back – he has phenomenal power. I think that Declan Rice, alongside Jude Bellingham, will be the best English midfielder for the next five to six years. These are two world-class players.  
There have been a number of reports that Arsenal captain Martin Odegaard is on the verge of signing a new long-term contract at the club. How highly do you rate Odegaard and how important is he to this Arsenal team? 
It's good news that Arsenal are signing Odegaard to a new contract. He is a playmaker, and he is the player in this Arsenal team that is expected to unlock tight matches with his quality. The pass that he produced for Saka to then set-up Trossard in the Everton game was magnificent.  
He is such an important player for Arsenal. If you take him out of the team, Arsenal are not the same.  
I think you can compare Odegaard to Dennis Bergkamp. He isn't on Bergkamp's level yet - Bergkamp was an unbelievable player for Arsenal - but Odegaard reminds me of him. Odegaard can make the difference with his quality.  
Odegaard is so good on the ball. He has wonderful vision – he rarely loses the ball. Every team would love to have a player like him and if Arsenal can extend his contract, then that is good news for everyone at the club.  
---
On The Champions League
For the players, there are several that haven't experienced Champions League football. Can you explain the feeling you felt as a player making your debut in the competition for Marseille and hearing the music for the first time on the pitch. 
The players who haven't played in the Champions League will realise that all of the sacrifices they made as young people to become professional football players was worth it.  
Playing in the Champions League is a dream for any professional, football player. They will be a lot of thoughts running through the players' minds while the Champions League anthem is playing. They will be very proud of themselves because, you have to make huge sacrifices to make it in football.  
It's not easy making your breakthrough. They need to enjoy the moment because they deserve it.  
Tell me more about how you felt making your debut in the Champions League. 
I wasn't nervous! I was excited. It is very exciting to make your first Champions League appearance. I knew that it was going to be difficult for me to play well against players that I wasn't familiar with. When you play in the Champions League, you're coming up against opponents with different styles of play that you're not used too.  
As a defender, it can be a little bit tricky. The intensity of the games is different. Certain teams prefer to play a possession-based game, some strikers don't look like they are physical, but the quality is exceptional, and you have to understand that every single team and opponent can hurt you. 
I was very proud of myself. I had my family watching me and I know they were proud of me too. I was a little bit emotional, but you try to keep everything inside and not show it. When you hear the music for the first time on the pitch, it's magical 
Champions League football returns to The Emirates for the first time in six years. Arsenal's group contains PSV, Lens and Sevilla. Do you expect Arsenal to dominate it? 
I wouldn't be so confident that Arsenal will dominate their Champions League group. Sevilla is a very strong team. After watching the Europa League final, I saw a team that is very comfortable on the European stage. I think they will finish in the top two of the group. It's very difficult to play against Sevilla – they play good, intense football. Technically, they are really good. Don't forget, Sevilla also has a lot more experience than Arsenal at this level.  
I'm confident that Arsenal will qualify from the group, that is for sure, but they will finish behind Sevilla.   
---
On Tottenham
Tottenham came back and scored two goals in added time to pick up a crucial victory on Saturday. Where you impressed by the team's ability to keep going? 
I've been impressed by the spirit that Tottenham have shown this season. They are playing with spirit and character. When any team comes from behind to win a match in extra time, that shows that everyone in the team is really positive. It looks like there is a good connection between the players and the manager.  
I was impressed with how they look at the back. They have changed personnel and the new additions are playing well. Players like Van de Ven and Udogie have impressed me. They are young players, but they have demonstrated their quality.  
Who has stood out for you in this Tottenham team? 
The one player that has really caught my eye for Tottenham this season is Yves Bissouma. He has started the season really well and looks very strong. He joined the club from Brighton last summer and he didn't really play that much. This season, under a new manager, he is controlling the midfield and his partnership with Pape Sarr looks like a good one. It looks Iike they are enjoying playing with each other and they look very strong.  
What have you made of the club's attackers?
Any team in the world would miss a player like Harry Kane. It is impossible to replace a player of Kane's quality, so, of course, there have been moments where it looks like Tottenham have missed him.  
I think the Tottenham fans are waiting for Son to step up and replace some of Kane's goals. I don't know if he will be able to score as many goals as he did in 21-22 when we won the Golden Boot, but he will be the man that Tottenham will be looking towards to make the difference.  
What are your observations after seeing Tottenham's first five games of the season? 
Tottenham look much better than last season. They are playing some nice football, and they have improved at the back.  
I think Tottenham will definitely qualify for the Champions League this season.  
You mentioned the connection between the new manager and the players, which has been forged over a short period of time. As a player, when a new manager comes in, what are you looking for to establish an understanding with your manager? Why do you think the players have responded so well top the new manager? 
I don't know why the Tottenham players have responded so well to the new manager because I am not at the club on a day-to-day basis. Perhaps it is because the manager has changed some of his players and has given players that were previously overlooked a fresh start.  
He has brought in some new players. They are young players, like Van de Ven, but they look strong and have a lot of potential to improve. When I look at this Tottenham team, everyone is playing well at the moment.  
I've been impressed by some of the partnerships that this team is establishing. You have Sarr and Bissouma and, at the back, Van de Ven and Romero look like they complement each other well.  
If you look at the ambitions of the club, Tottenham will be aiming to qualify for the Champions League this season and to do that, they need to have a good spine. I think they have that.  
In the wide areas, Tottenham have players that can attack and defend. They look like they want to fight for each other.  
---
Gallas impressed with Postecoglou 
---
How much credit do you think Ange Postecoglou deserves? 
I think you have to give the new manager a lot of credit. It looks like there is a very good relationship between him and his players. It looks like the Tottenham manager gives his players clear instructions that they can understand. I'm not sure what he is saying to them, but it looks like they have a relationship that goes beyond football. It looks like he is building a really strong human connection with his group of players.  
He is very demanding of his players, but at the same time, he wants his players to enjoy every moment they are on the pitch. It looks like he wants his players to fight for every ball and support each other for ninety minutes. He seems to have got the message across to his players that they are lucky to be professional footballers, playing the best sport in the world, and they should enjoy every second of it. The Tottenham players are appreciating every moment and Ange Postecoglou looks like the kind of guy who can build meaningful relationships with his players.  
During the international break, Richarlison admitted that he was going to have psychological help when he returns. Do you think the Tottenham player deserves credit for being so candid about issues in his personal life?
I think that football fans forget players are really young. What is happening in football right now, it's killing the young players. Football has changed so much over the last few years – there is more scrutiny on players than ever before.  
Players are earning lots and lots of money before they make their debuts. Young guys who are seventeen and eighteen are earning life-changing sums of money before they have even started their professional careers.  
It can be very difficult for the young players to deal with so much money. It's crucial that young footballers have the right people around them, the right friends and family, but there will always be people who are looking to take advantage of a player's situation and influence their decisions. There will always be people looking to take advantage of a player's financial situation.  
For players from certain countries, it can be even more difficult. The South American guys can struggle. Some of the players are responsible for their entire families. Some of these families are suffering and a player will always want to help them.  
I think the football industry needs to think more about player welfare and supporting players that have problems away from the pitch. It can be very difficult for players to focus on their job if there are problems in a players personal life. Families are families. Of course, footballers at the top level earn a lot of money, but some things are more important than that.  
Football has to be careful. Football has to be more open about talking and dealing with these types of problems and supporting players.  
There will always be people that are looking to take advantage of players. Richarlison isn't the first and he won't be the last. It is up to the authorities to help these players.  
---
On Arsenal vs Tottenham
What type of a match are you expecting when these two old rivals lock horns at The Emirates Stadium? 
I want to see a game that is a fight; a serious battle between two teams that are desperate to win. I haven't seen a match between Arsenal and Tottenham that has that atmosphere, that level of competition on the pitch, for a very long, long time.  
I want to see goals. I want to see players that are fighting. I want to see an electric atmosphere. I want to watch this game in front of my television jumping and shouting – I want to see a crazy game!  
This is a north London derby. I don't want to see players having a laugh and a joke before the game, giving each other a hug! Come on! Stop that. If you want to give your opponent a hug, do it after the game, off the pitch. Before the game, I want to see players that are completely focussed on winning the match and their individual duels. I want to see players that are ready to make the difference.  
It's been a long time since we've seen this type of game. That was the beauty of the Premier League – seeing quality, technically excellent football in a physical environment. That doesn't happen that often anymore.  
I want to see passion channelled in a good way. I don't want the two teams to try and kill each other, but I want to see some fire on the pitch.  
Arsenal got the better of their old rivals both times last season and have been the better team over the last twelve months. Who do you think will win on Sunday? 
When you look at Tottenham's squad, they have less experience and quality than Arsenal. Most of these players are new. Half of this Tottenham team wouldn't have played in a north London derby before.  
I expect Tottenham to fight until the end and come into this match with a fantastic desire to do well. However, I don't think Tottenham will have enough to beat Arsenal and I expect Arsenal to win the game.  
This is a match you know an awful lot about playing in. For some players, it will be their first taste of a North London derby – can you let them know what type of experience they are in for on Sunday? 
I think Arsenal will be looking to put a lot of pressure on the Tottenham players that are new to this fixture.  
My advice to those Tottenham players is, "Be ready!" When you come up against a player of Saka's quality, you have to be ready to suffer for ninety minutes. You have to be completely switched on because he is a player that can hurt you. It is a shame that Martinelli has picked up an injury, which will have an impact on the way Arsenal play on the left.  
---
18+BeGambleAware
GENTING CASINO ONLY OFFERS SPORTS ARTICLES AND NOT SPORTS BETTING
Genting Casino is a leading global casino brand. We provide a premium online casino experience with our huge selection of online slots and live casino games. Genting has been recognized many times for its work in creating fun, safe gaming experiences winning multiple industry awards during its 50 years in business
---