---
*Terms and conditions apply.*
---
Monopoly Big Baller Game Details
| | |
| --- | --- |
| Game Name:  Monopoly Big Baller' | RTP: 96.10% |
| Game Provider: Evolution Gaming | Live Host: Yes |
| Bet Range: £0.10 - £2000 | Supported Platforms: Mobile, Tablet, PC |
| Special Bets: Yes | Supported OS: Android, Apple, Windows |
Monopoly Big Baller Live Highlights
- In the base game, there are three different kinds of stacking multipliers.
-Bonus features that include a fully realised Monopoly board that the player can move around and use to win prizes!
- Big Baller has a 96.10% RTP which is a fairly high percentage for a game similar to Bingo. 
-The game offers an exciting mix of real-world and AR gameplay
The Monopoly Big Baller Gameplay Experience
As mentioned, this isn't a how-to guide, but understanding how the gameplay of this live game functions is useful for our assessment of Monopoly Big Baller. Initially, tickets for Monopoly Big Baller are bought by players in a manner similar to traditional player-versus-casino bingo. In each round, only four cards can be bought. 
The provided cards show a 5x5 grid. The presenter will be in charge of a large ball drum that will identify balls with numbers. The goal of Monopoly Big Baller is to get numbers on the drum to match the numbers on your card or cards. If you can match a sequence of five numbers precisely as they appear on your card, you win. As the number of lines on a single card increases, so does the reward. The action is easy to follow and is brought to life in various gameplay videos that can quickly bring you up to speed.
This makes it evident how much Bingo has influenced the Monopoly Big Baller gameplay, and it was a wise decision on Evolution's part to produce a game that allows bingo fans to play live casino games rather than concentrating on the more generally catered to slot or table game communities. 
With a title like 'Monopoly Big Baller' it isn't hard to guess that the theme of this game is the iconic board game Monopoly. With retro theming, it is clear Monopoly Big Baller celebrates the 1930s when the first Monopoly games came to prominence. 
A Closer Look at the Monopoly Big Baller Features
Although Monopoly Big Ball's gameplay undoubtedly has a strong bingo theme, the Monopoly element really comes to the fore (apart from the general theming) in the extra features. In Monopoly Big Baller, the AR Monopoly board from Monopoly Live reappears. In the Monopoly Big Baller bonus round, you are placed on the well-known Monopoly game board. It starts following the main game's last round. It is played with two dice, just like Monopoly. The way you travel around the Monopoly board depends on how the dice fall. Players receive a free reroll each time the dice lands doubles. 
The Evolution Big Baller Monopoly board is identical to the conventional one. On the other hand, every property has a multiplier. Every time you set foot on one of these properties, you get paid a multiplier equal to the stake you put on the Bonus card. Furthermore, certain properties randomly have hotels and residences attached to them, which increases their multiplier.
These multipliers add on to one another each time you tread on one. There are a couple of other noteworthy areas on the board:
The multiplier already accrued may be randomly increased or decreased by Chance and Community Chest.
By landing upon 'Go to Jail' you'll be taken to the jail area. You have to roll a double result to get out. Any awards you were given before (or after) going to jail will still be awarded.
Income tax deducts 10% from the bonus round winnings, while the Super Tax will deduct 20%.
When you pass Go, every prize listed on the board is doubled.
Once every roll has been made, the Bonus round comes to an end. Of course, as you may expect if you've encountered Evolution Gaming's live games before, all events are proceeded over by one of their expert hosts who is dressed in retro nautical style to match the theme.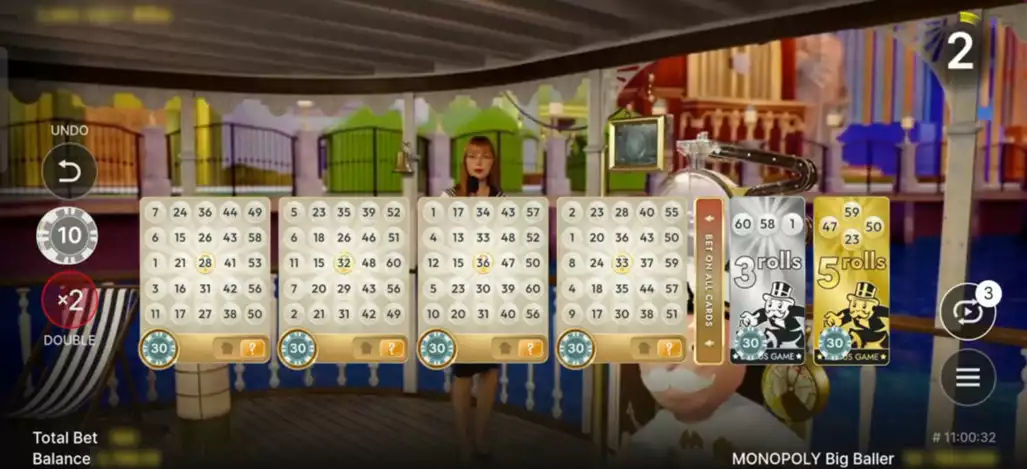 Looking at the Monopoly Big Baller Payouts
You may find the full Monopoly Big Baller paytable, as it is, below. Essentially, a straightforward line in the game pays off 2:1. These awards could be increased even further by the card's multipliers.
Naturally, the likelihood of Chance cards paying out more is higher when they contain guaranteed multipliers. On the other hand, Free Space cards yield statistically more consistently favourable outcomes. 
Free Space card: Awards between 2-39:1 per line
Chance card: Awards between 2-199:1 per line
3 Rolls: Activates the bonus game with 3 rolls.

5 Rolls: Activates the bonus game with 5 rolls. 
Remember that the details mentioned above only apply to the main game. The bonus monopoly board round has a more complex and erratic reward system. In Monopoly Big Baller, the maximum payout is 100,000x, although it may possibly go even higher. 
Based on official data, the Evolution Monopoly Big Baller's RTP is 96.10% which is greatly beyond the theoretical RTP for traditional bingo-style games.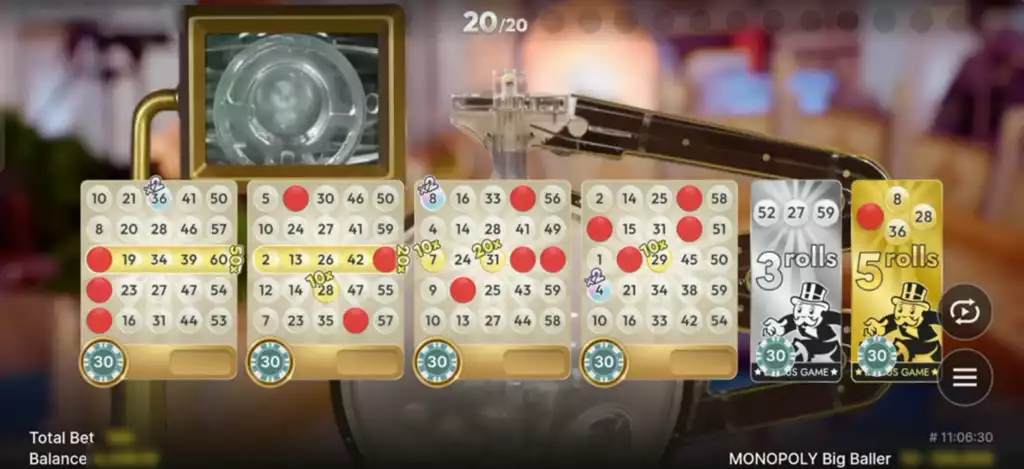 Other Top Live Games Like Monopoly Big Baller
While Monopoly Big Baller certainly stands out from the crowd as a highly-unique game, there are a few titles out there with similar themes that fans of Monopoly Big Baller should enjoy. Pragmatic Play's Evolution Live Mega Ball is another online bingo game. For another live game with a Monopoly theme, there's Monopoly Live—also called Monopoly Live Dream Catcher— which is a hybrid game show created by Evolution that utilises the immensely successful Dream Catcher wheel to direct players to the bonus game where they can play Monopoly in 3D. For players looking for live games that simultaneously go hard both on theme and bonus elements, then the iconic Crazy Time and Funky Time live games from Evolution are a must-try. 
Play Monopoly Big Baller on Genting Casino 
At Genting Casino, you can play a huge range of live casino games such as the exciting and unique Monopoly Big Baller. If you'd like to play this game for yourself or explore everything we have to offer, then sign up and play today to discover more.
18+BeGambleAware
FIND OUT MORE ABOUT SAFER GAMBLING ON GENTING CASINO
Genting Casino is a leading global casino brand. We provide a premium online casino experience with our huge selection of online slots and live casino games. Genting has been recognized many times for its work in creating fun, safe gaming experiences winning multiple industry awards during its 50 years in business.