---
*Terms and conditions apply.*
---
Crazy Time Live Game Details
| | |
| --- | --- |
| Game Name:  Crazy Time Live | RTP: 96.08% |
| Game Provider: Evolution Live | Live Host: Yes |
| Bet Range: £0.10 - £5000 | Supported Platforms: Mobile, Tablet, PC |
| Special Bets: Yes | Supported OS: Android, Apple, Windows |
Crazy Time Live Highlights
- Creative and immersive studio design, with multiple HD camera options.
- A highly ambitious casino game which paved the way for future releases such as Funky Time.
- Affordable gameplay with a respectable RTP of 96.08%.
- Four different bonus games to trigger; Coin Flip, Pachinko, Crazy Time Bonus Game, Cash Hunt
The Crazy Time Gameplay Experience
One of the iconic prize wheel casino games from Evolution Gaming is called Crazy Time. The game was based on Evolution's original Dream Catcher live game, which was modelled after the popular 1980s and 1990s television and fair Wheel of Fortune games. In contrast to the majority of other spinning prize wheel casino games, Crazy Time stands out in the world of reward wheels since it provides a range of bonuses and props, making it entertaining to watch and deserving of the title of 'crazy'. 
The setting for Crazy Time is a glitzy studio with lots of vibrant colours and swirling designs. The prize wheel itself takes major stage in each of the four bonus rounds, which feature a range of distinct sets. Since Crazy Time is a live game, it is run by a jovial emcee who matches the whole atmosphere by dressing in bright, wacky apparel. Crazy Time effectively captures the corny nostalgia of the vintage TV game show thanks to this use of theming. 
As far as the primary gameplay is concerned, the game's concept is straightforward. A large wheel with 54 parts is involved. A pointer at the top of the wheel will stop at one of the segments during each round as the presenter spins it. Any wagers on that part of the game are winners. There are four separate bonus games in Crazy Time by Evolution Gaming in addition to the main game. The real core of this game lies within these bonuses which we'll cover in the next section of our review.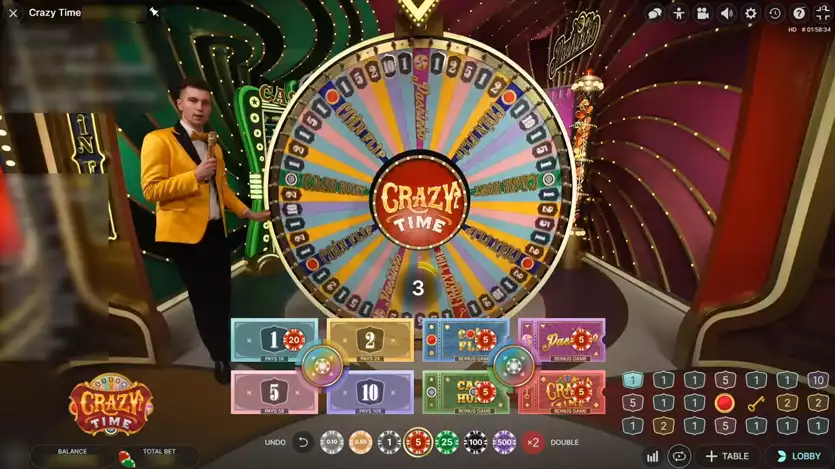 Crazy Time Live's Extensive Features
As we hinted at previously, Crazy Time's extra features are what set it apart from the competition. Cash Hunt, Coin Flips, Pachinko, and the titular Crazy Time are the four additional rounds. The simplicity of these bonus features, made possible by a clever studio structure that lets the host stroll with ease to the bonus feature's set, is what makes them so popular in terms of player experience. With the exception of the Crazy Time bonus, all of the games are quick to play and offer simple multiple-choice options for players to choose from, such as choosing whether the coin will land on its head or tails or which segment it will land in.
This minimalism is fantastic since it keeps the game experience fresh and engaging without interfering with the presentation's general flow. The Crazy Time bonus is a little different because it occurs in a different chamber with a spectacular wheel. It becomes a somewhat uncommon occurrence that players anticipate, similar to the climax of a TV game show, where the highest rewards can be won, because there is only one segment for this feature on the first reel.

The four bonus features on offer in the Crazy Time live game are as follows:
Cash Hunt: You can choose a target in Cash Hunt from 108 random multipliers. These are initially displayed, then they are turned and rearranged so that you cannot tell which is which. It's your responsibility to fire the cannon and click on each one to reveal the winning multiplier. Different multipliers are given to each player, which might produce some intriguing outcomes.
Coin Flip: The easiest option is the Coin Flip bonus game. To start, each side of the coin will receive a random multiplier of up to 100x. One is often high while the other usually low. The winning multiplier is added to each player's stake who placed a Coin Flip wager once the coin is tossed.
Pachinko: The prizes are arranged in a queue at the bottom of a big purple screen on which pachinko is played. The top of the reels will drop a mechanical ball. It will gradually descend to the prizes, exposing a multiplier up to 10,000 times the initial wager. Before the bonus game starts, a random number is issued to each potential Pachinko prize. All rewards are twice and the ball is dropped again if the ball lands on the word "double."

Crazy Time: The most lucrative bonus round is the Crazy Time Bonus Round, although it only appears once on the main wheel. It reveals a different virtual wheel against a stunning backdrop of flamingos, floating octopus, and palm trees. The presenter will press the red button to spin the enormous wheel once the players choose a flapper (blue, green, or yellow). The wheel is divided into portions with Double and Triple multipliers. You get paid if your selected flapper lands on a multiplier. The presenter spins the wheel again with all prizes doubled or tripled if it lands on Double or Triple. This can be done numerous times, up to 20,000 times.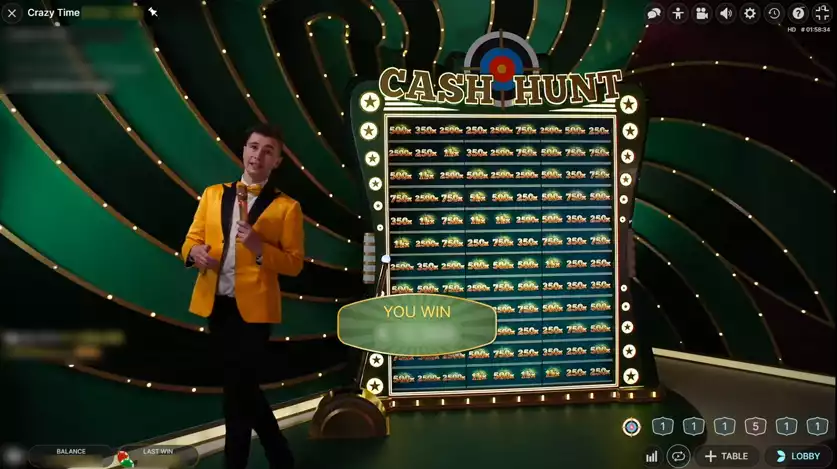 A Closer Look at the Crazy Time Live Payouts
Crazy Time's design makes displaying the paytable information in standard table format nearly impossible, which we do suppose fits the Crazy theme quite well. In essence, the payouts for the bonus games are all multiplier-based and unpredictable. These are quite erratic; the payouts are modest but vary, with the occasional enormous, stunning win. There are 21 examples of the number 1 on the prize wheel and these offer a payout of 1:1. 2 has 13 spaces and awards 2:1, while the number five is featured on 7 segments and has a payout of 5:1. Lastly, there are 4 spaces reserved for the number 10 which pays out 10:1. Each of the bonus games awards a top payout of £500,000, with Coin Flip having 4 spaces, Pachinko and Cash Hunt having two, and the Crazy Time bonus round featuring a single segment.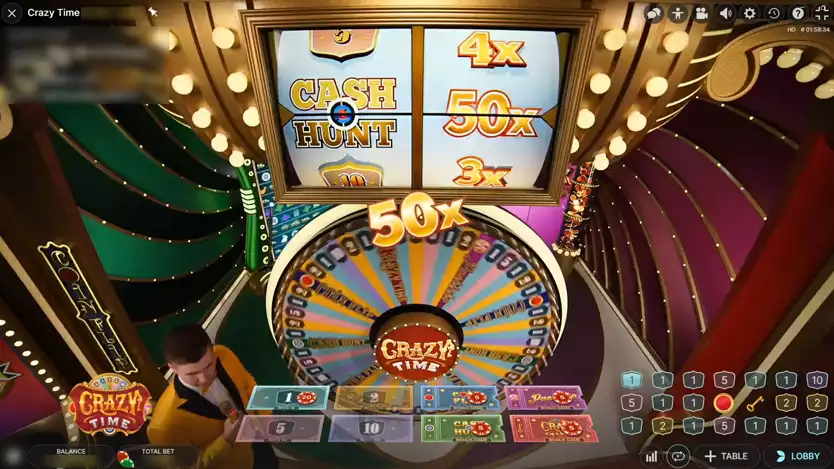 If You Like Crazy Time… Then Why Not Get Funky?
Evolution Live's most recent Wheel of Fortune game show release was the much-anticipated Funky Time, which many players consider to be a sequel to the Crazy Time game. With a funky disco theme, Funky Time is the perfect live game to try if you already love what Crazy Time has to offer. You can discover more about this new smash hit game in our blog Crazy Time VS. Funky Time Live Game Show.
Other top live game shows are also available here on Genting Casino. Get access to our array of premium live games by simply signing up!
Play Crazy Time Live on Genting Casino 
When it was first released, Crazy Time revolutionised the live casino market, and it is still a firm favourite with many slot fans to this day. If you'd like to experience the cooky fun that is the Crazy Time live game, then sign up and play today at Genting Casino.
18+BeGambleAware
FIND OUT MORE ABOUT SAFER GAMBLING ON GENTING CASINO
Genting Casino is a leading global casino brand. We provide a premium online casino experience with our huge selection of online slots and live casino games. Genting has been recognized many times for its work in creating fun, safe gaming experiences winning multiple industry awards during its 50 years in business.