---
*Terms and conditions apply.*
---
Crazy Good Fun?: Crazy Time Highlights
First, let's put Crazy Time under the microscope. Based on the immensely popular Dream Catcher money wheel concept, Crazy Time is a distinctive live internet game show. Released in 2020, in two of the four bonus games, players can win varying multipliers thanks to interactive features and cutting-edge technology.
Crazy Time Gameplay
 The main game and the four bonus games are the focal points of the wild, all-action gameplay. It's simple to play because all players need to do is bet on the bonus games or one of the numbers (1, 2, 5, or 10). At the beginning of each gaming round in the main game, the Top Slot will spin together with the main money wheel. One random multiplier is generated by the Top Slot for one random bet slot, which can be either a number or a bonus game. A match occurs and a multiplier is applied to this bet location if the multiplier and bet spot are horizontally aligned in the Top Slot.  Everything is based on where the wheel stops.

Crazy Time Theme
Crazy Time's theme is a bit all over the place, there are clear elements of classic gameshows such as the price is right, as well as additions that remind us of a carnival. There's tons of color, and the chaotic theme certainly suits the name 'Crazy Time'.
Crazy Time Payouts
The base game payouts for Crazy Time are as follows:
1 pays 1:1

2 pays 2:1

5 pays 5:1

10 pays 10:1

The top payout possible in the Crazy Time slot is 20,000x
Crazy Time Bonus Rounds
A main money wheel, a Top Slot located above the money wheel, and four exciting bonus games—Cash Hunt, Pachinko, Coin Flip, and Crazy Time—are all included in the studio where Crazy Time is set.
Crazy Time RTP
The RTP values for the different segments of the Crazy Time slot are as follows:
1 - 96.08%

2 - 95.95%

5 - 95.78%

10 - 95.73%

Pachinko - 94.33%

Cash Hunt - 95.27%

Coin Flip - 95.70%

Crazy Time - 94.41%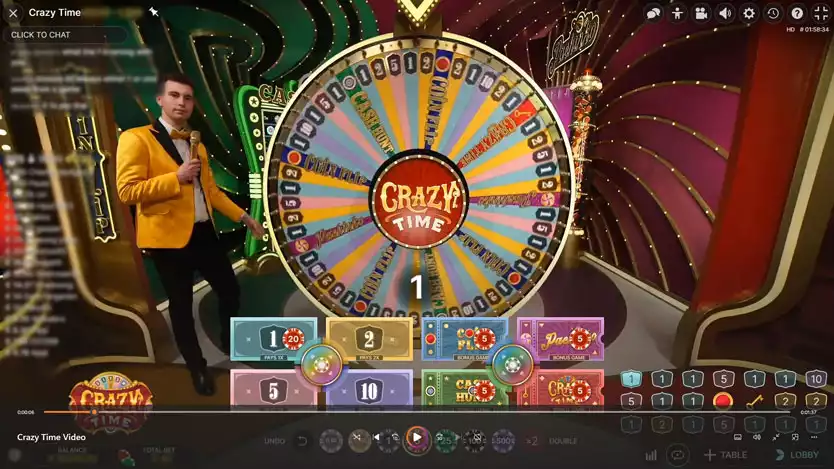 Funky Fun?: Funky Time Highlights
Now it's the turn of newcomer Funky Time. Evolution themselves is keen to draw comparisons between the two titles, stating that Funky Time is the 'The biggest live game show since Crazy Time'. Funky Time is a live game show that has a 1970s theme and centres around an updated version of the prize wheel; the Digiwheel.
Funky Time Gameplay
The DigiWheel has a total of 64 segments, including segments with the numbers "1," "PLAY," "FUNKY," "TIME," and the four bonus games. The dealer spins the DigiWheel to start the game. Every player who wishes to participate in a game must first gamble on one (or more) of the available options; there are a whopping 17 options. The game officially begins when the wheel is spun following the placement of all bets. Winners are those who placed a winning wager on the segment that the wheel landed on.

Funky Time Theme
Funky Time features tons of colour just like Crazy Time, and still feels a lot like a classic TV game show. However, Funky Time has a much more clear theme as it is centred around 1970s disco culture, complete with a dance floor and plenty of disco balls.
Funky Time Payouts
The Funky Time payouts are really straightforward to get your head around, as the max payouts for the bonus games are the same, as are the payouts for the letters.

Number 1: 1:1

'PLAY', 'FUNK', and 'TIME': 25:1

All Bonus Rounds: Up to £500,000




Funky Time Bonus Rounds
There are four Bonus games in Funky Time: Bar, Stayin' Alive, Disco, and VIP Disco. To advance to one of the Bonus games, where multipliers are guaranteed, you must win on any of the Bonus segments.
Funky Time RTP
The RTP values for the Funky Time game are as follows:
Number 1: 95.99%

'PLAY', 'FUNK', and 'TIME': 95.49%

Bar Bonus: 95.90%

Stayin' Alive Bonus: 95.49%

Disco Bonus: 95.51%

VIP Disco Bonus: 95.38%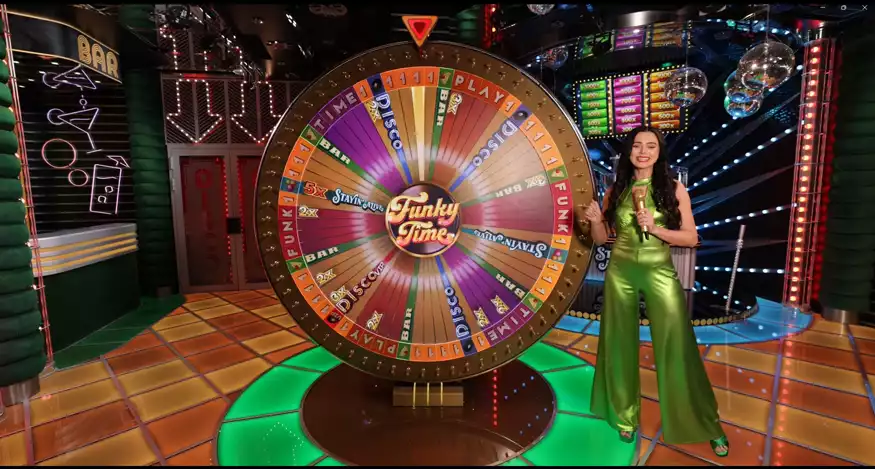 How Do Crazy Time and Funky Time Compare?
Gameplay
Crazy Time and Funky Time are very similar when it comes to general gameplay. Both centre around a wheel with the payouts depending on where the wheel stops. However, one major difference in the gameplay experience is the number of wagers on offer in the Funky Time game.  Crazy Time offers six wagering choices, while Funky Time gives players more freedom in configuring their wager with 17 choices.

Theme
As mentioned, both games go big on colour and production quality, but the Crazy Time game certainly has a less clear theme, whereas there's no mistaking Funky Times' funkalicious 1970s theme.

Payouts
Both games definitely offer some impressive payout potential. There are fewer options on offer for the base values in Funky Time, but the top prize for a number/letter is higher at 25:1 compared to Crazy Times' 10:1. The top payouts for the Crazy Time bonus rounds range from 10,000x to 20,000x a player's wager, while all bonus games in Funky Time have a top payout of £500,000.
Bonus Rounds
Both live games offer four bonus rounds, with Crazy Times' bonus games being inspired by classic game show games we all know and love. Funky Time features more unique bonuses, but it is worth noting that the Disco and VIP Disco bonuses are pretty much the same game, with the VIP bonus offering larger multipliers; which is a little bit of a shame.
RTP
Crazy Time has a larger RTP range from 94.41-96.08%, while Funky Time has a range of 95.38%-95.99%.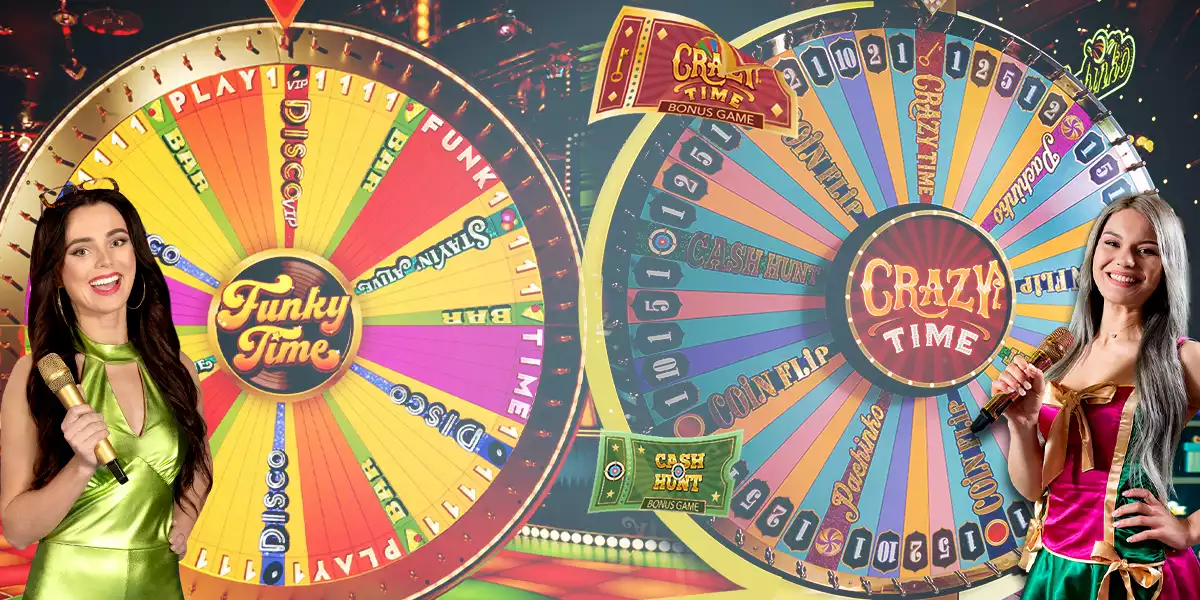 Other Game Shows to Enjoy on Genting Casino
Of course, while Crazy Time and certainly Funky Time are receiving a lot of attention of late, there are still loads of other excellent live casino games that you can take part in at Genting Casino. Just a few of the titles you can enjoy include; Adventures Beyond Wonderland, Sweet Bonanza Candyland, Mega Wheel, and Greatest Cards Show.
Play Funky Time Live Game Show on Genting Casino 
Funky Time is the newest release from Genting Casino and we're all very excited about it. If you'd like to get in on the buzz and try the Funky Time live game for yourself, then sign up and play today at Genting Casino.
18+BeGambleAware
FIND OUT MORE ABOUT SAFER GAMBLING ON GENTING CASINO
Genting Casino is a leading global casino brand. We provide a premium online casino experience with our huge selection of online slots and live casino games. Genting has been recognized many times for its work in creating fun, safe gaming experiences winning multiple industry awards during its 50 years in business.