Yet, a select group of entrepreneurs have defied this norm, riding on the wave of innovation and market demand to amass ten-figure fortunes in an astonishingly short period. From tech prodigies to finance wizards, these individuals have not only built successful companies but have also reshaped entire industries and consumer behaviours. 
Below, the online casino site Genting Casino has analysed the 50 richest self-made billionaires in the world to see which reached this esteemed benchmark the fastest.
Which billionaires made their money the quickest?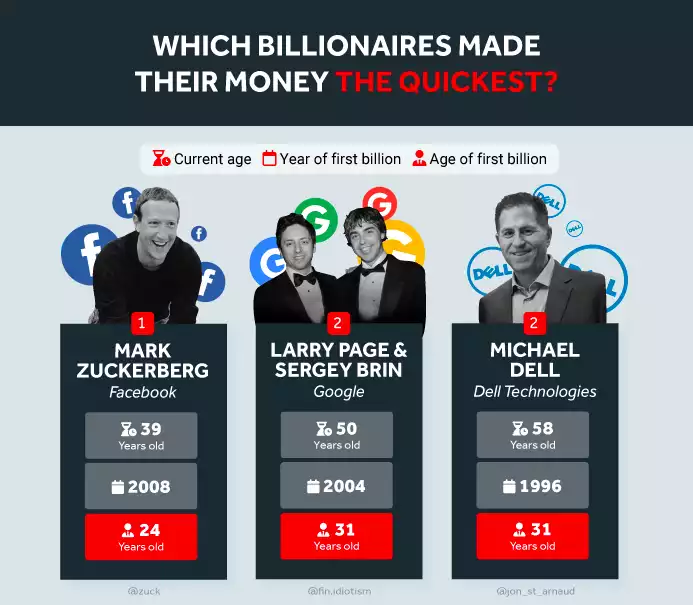 1. Mark Zuckerberg (Facebook)
Age: 39
Year of first billion: 2008
Age of first billion: 24
Mark Zuckerberg is best known for co-founding the social networking site Facebook from his Harvard dorm room in 2004. Four years later, aged 24, he had made his first billion dollars. Initially created as a platform for Harvard students to interact, it quickly expanded to other universities and eventually to the general public.
Zuckerberg's meteoric rise to billionaire status can be attributed to the explosive growth of Facebook's user base and innovative monetisation strategies. The company went public in 2012, solidifying Zuckerberg's position as one of the youngest self-made billionaires in history. Despite criticisms and challenges, especially concerning privacy concerns and the platform's influence on public discourse, Facebook (now Meta Platforms, Inc.) remains a dominant force in the tech world.
2. Larry Page & Sergey Brin (Google)
Ages: 50
Year of first billion: 2004
Ages of first billion: 31
Larry Page and Sergey Brin, the dynamic duo behind the tech giant Google, met at Stanford University while pursuing their PhDs. Their collaboration led to them developing the "BackRub" search algorithm in 1996. Recognising its potential, they renamed it Google (a play on the mathematical term 'googol') and officially launched the company in 1998. The search engine's unique approach of ranking pages based on relevance quickly set it apart from competitors. Google's initial public offering in 2004 transformed Page and Brin into billionaires when both were just 31. 
Today, Google is part of Alphabet Inc., a conglomerate of various tech-related ventures. Both Page and Brin have been instrumental in refining search technology and spearheading innovations like self-driving cars, smart contact lenses, and more.
2. Michael Dell (Dell Technologies)
Age: 58
Year of first billion: 1996
Age of first billion: 31
Like Larry Page and Sergey Brin, Michael Dell made his first billion at age 31. Dell is best known as the founder of Dell Technologies, one of the world's leading technology infrastructure companies. 
Born in 1965, Dell started assembling and selling computers from his college dorm room at the University of Texas at Austin. By 1988, his company went public; in 1996, he reached billionaire status at 31. Dell's success can be attributed to his innovative direct-to-consumer business model and the company's diversification into various tech segments.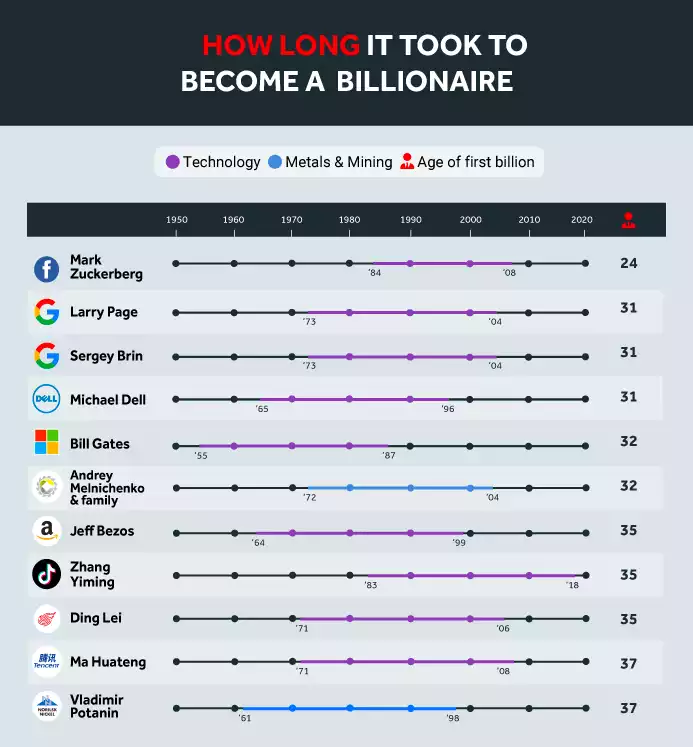 In which industries do people achieve billionaire status the quickest?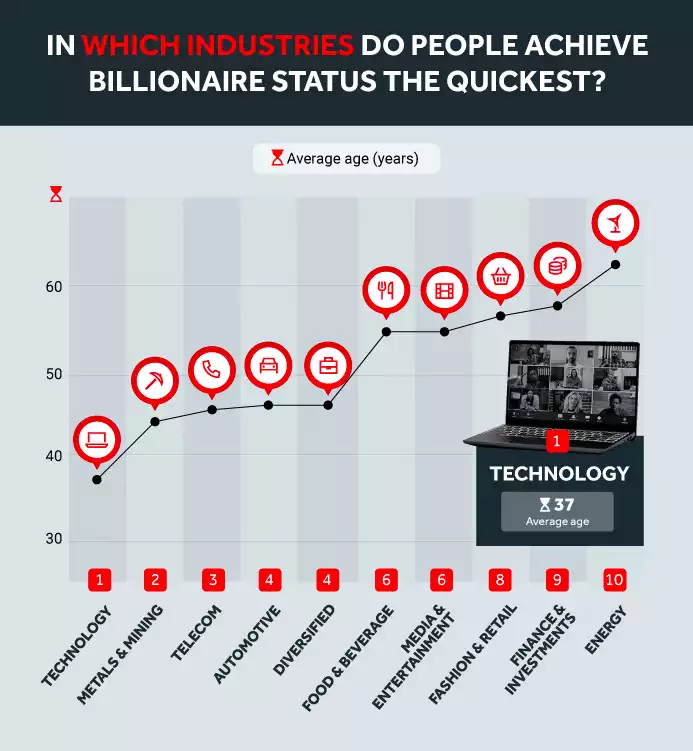 1. Technology - Average age:
37
The technology sector stands out as the leading industry for rapid wealth creation. With individuals like Mark Zuckerberg reaching billionaire status at 24 and tech magnates like Sergey Brin, Larry Page, and Jeff Bezos becoming billionaires in their early to mid-30s, it's clear that technological innovation provides significant opportunities for swift financial growth.
2. Metals & Mining - Average age:
43
While the tech industry offers rapid modern opportunities for wealth, traditional sectors like metals and mining are still lucrative. Andrey Melnichenko and Vladimir Potanin from Russia, who became billionaires at ages 32 and 37, respectively, exemplify the potential in this industry.
3. Telecom - Average age:
45
Telecom giants such as Masayoshi Son and Carlos Slim, who achieved billionaire status at 39 and 51, respectively, showcase the immense potential within this industry. As global communication networks expand and evolve, so do opportunities for significant wealth creation.
4. Automotive & Diversified - Average age:
46
Elon Musk's achievements in the automotive industry with Tesla (and others) illustrate the renewed potential in this sector, especially with shifts toward sustainability and technology integration. On the diversified front, entrepreneurs like Mukesh Ambani and Gautam Adani became billionaires in their mid-40s, highlighting the advantages of a broad, varied investment and business strategy.
Which nationalities reach billionaire status the quickest?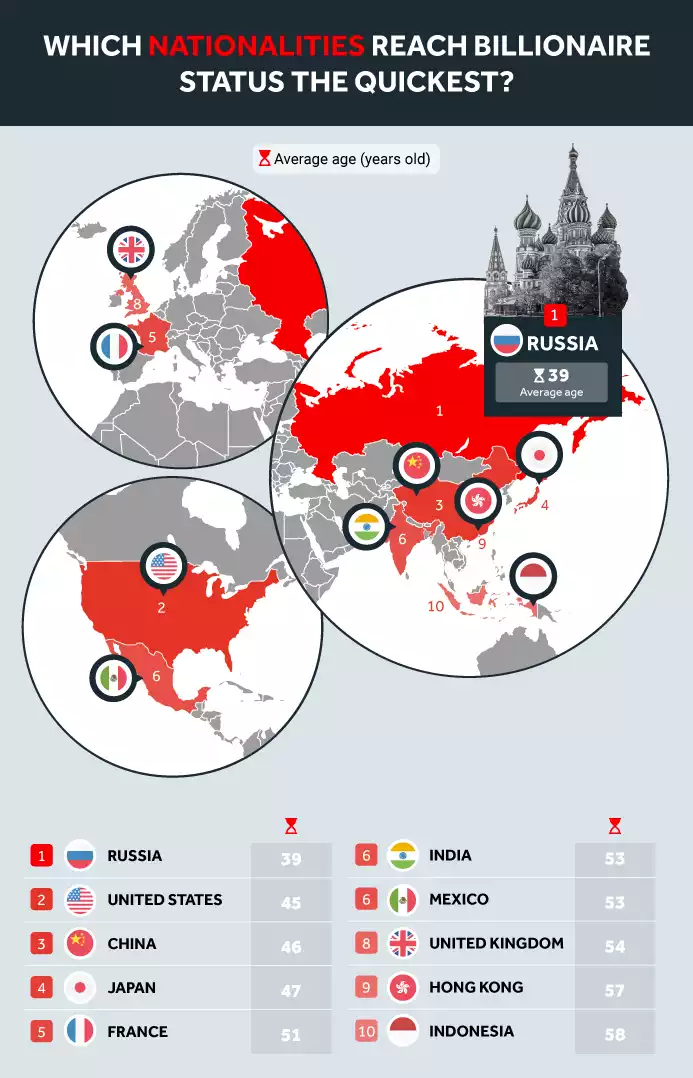 1. Russia - Average Age:
39
Russian billionaires reached the ten-figure mark relatively early, with Andrey Melnichenko and Vladimir Potanin making their first billion at 32 and 37, respectively. The nation's vast natural resources, particularly metals & mining, have played a role in these quick ascents to wealth.
2. United States - Average Age:
45
The US is home to a diverse range of billionaires across various sectors, from tech innovators like Mark Zuckerberg and Larry Page (billionaires at 24 and 31) to finance gurus like Warren Buffett, who reached the milestone at 56. The broad spectrum of opportunities and a mature market and innovation ecosystem have facilitated rapid wealth accumulation for many in the United States.
3. China - Average Age:
46
China's rapid economic growth and integration with global markets in recent decades have paved the way for entrepreneurs like Zhang Yiming, known for his role as the CEO of ByteDance, the parent company of TikTok, to amass fortunes relatively early in life. The nation's tech and manufacturing sectors have been notable launchpads for its billionaires.
4. Japan - Average Age:
47
Masayoshi Son, who made his first billion at 39, exemplifies Japan's strength in the telecom and tech sectors. As one of the world's most developed economies, Japan continues to offer ample opportunities for entrepreneurs.
5. France - Average Age:
51
Representatives from France, like Bernard Arnault from the fashion & retail industry, who achieved his first billion at 48, indicate the European nation's prowess in luxury goods and other sectors.
Which British billionaires made their money the quickest?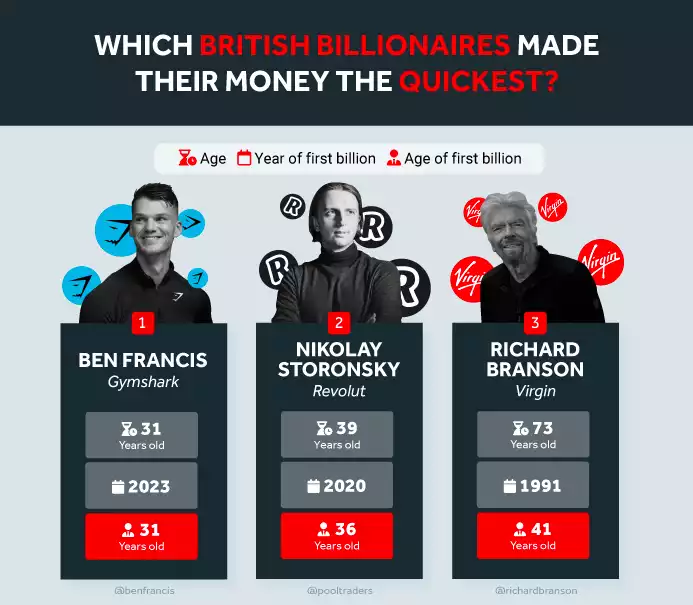 1. Ben Francis (Gymshark)
Age: 31
Year of first billion: 2023
Age of first billion: 31
Here in the UK, the billionaire who reached that milestone the quickest is Ben Francis, who achieved it earlier this year at just 31 years old. Starting in the competitive fashion industry, his focus on fitness clothing at Gymshark has propelled him to significant heights, emphasising the growing demand for fitness and athleisure wear in recent years.
2. Nikolay Storonsky (Revolut)
Age: 39
Year of first billion: 2020
Age of first billion: 36
Nikolay Storonsky has made a significant mark in the fintech industry as the co-founder and CEO of Revolut. In a world where digital banking and online finance solutions are becoming increasingly important, Storonsky tapped into this need early on, amassing a billion dollars by age 36. While he was born in Russia, Storonsky is now a UK citizen and has renounced his Russian citizenship.
3. Richard Branson (Virgin)
Age: 73
Year of first billion: 1991
Age of first billion: 41
Richard Branson is a well-known business magnate with multiple ventures across different industries under the Virgin Group. From airlines to music stores, his entrepreneurial spirit has driven him to explore various sectors, making him one of the most recognised billionaires globally. He earned his first billion dollars back in 1991 when he was 41.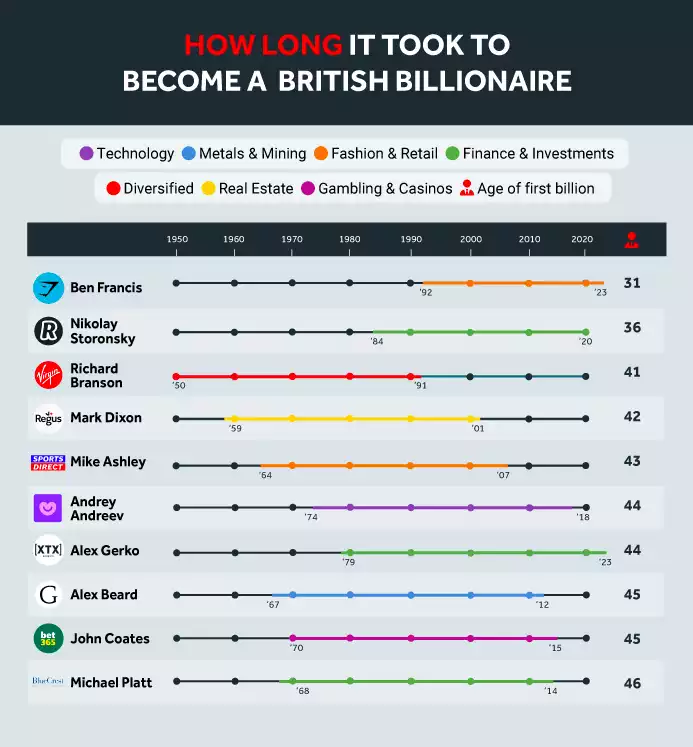 How long would it take the average person to earn £1 billion?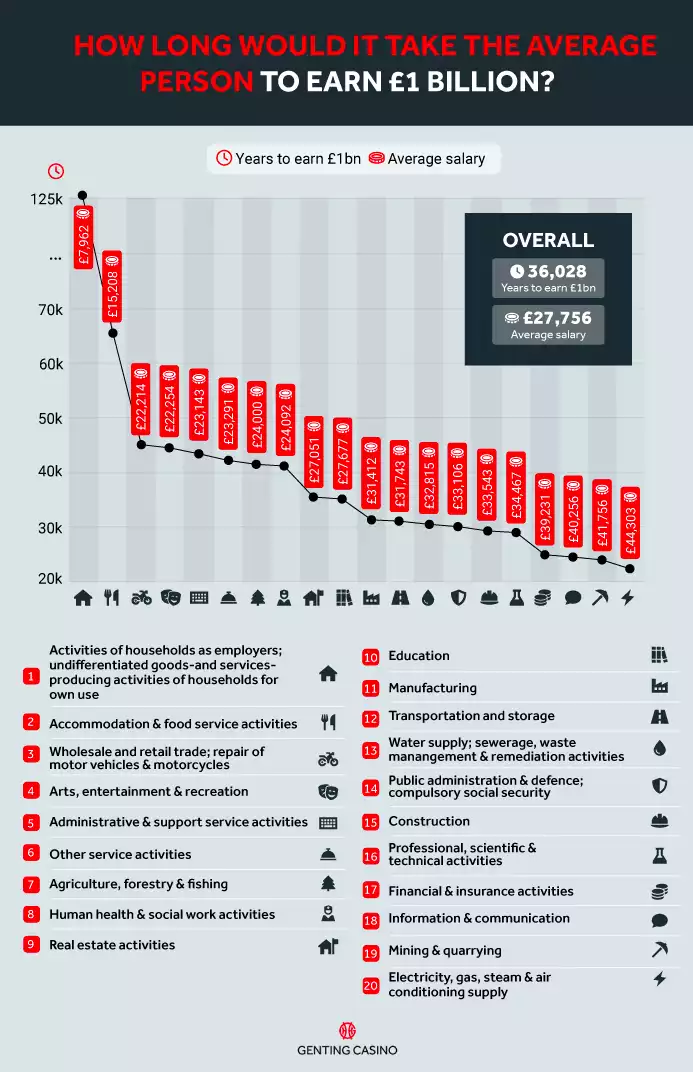 Unsurprisingly, making these vast amounts would take the average person much longer. The average salary in the UK is currently £27,756. That means that even if you were to save 100% of your paycheck, it would still take you over 36,000 years to earn a billion pounds.
Of course, this varies by industry. For example, for those in the 'activities of households as employers' sector, which includes maids, cooks, gardeners, and other similar domestic roles, it would take over 125,000 years.
However, even in a higher-earning industry, which would take less time, we can still see how unattainable a billion pounds is for the average person. For example, those in the electricity, gas, steam and air conditioning supply industry earn an average of £44,303, but it would still take them 22,572 years to hit the milestone.
This reinforces the enormity of £1 billion, especially when juxtaposed against average industry salaries. It underscores the point that, while salaries can provide a comfortable living and even substantial savings, accumulation of wealth in the billions typically relies on strategies far beyond regular salaried income.
---
Methodology
We looked at the 50 wealthiest people in the world (as well as each current British billionaire), according to Forbes' World's Billionaires List, excluding any that fully inherited their wealth.
For each, we found the year they first appeared on the list and, therefore, the year they became a billionaire. This was then used to calculate the approximate age at which each person became a billionaire.
Average UK earnings were sourced from the Office for National Statistics' ASHE Table 5: Earnings and hours worked, UK region by industry by two-digit SIC.
---
18+BeGambleAware
GENTING CASINO ONLY OFFERS SPORTS ARTICLES AND NOT SPORTS BETTING
Genting Casino is a leading global casino brand. We provide a premium online casino experience with our huge selection of online slots and live casino games. Genting has been recognized many times for its work in creating fun, safe gaming experiences winning multiple industry awards during its 50 years in business.