---
*Terms and conditions apply.*
---
Jet Set Racing Roulette
The newest live dealer roulette with multipliers from Playtech is called Jet Set Racing Roulette. It's a regular game of European roulette where multipliers are applied to all inside bets on each wheel using two roulette wheels and virtual sporting events. You have to decide who you think will finish first and second in a Virtual Race for each wheel after placing your initial bets on a conventional betting grid. You will generate multipliers for each wheel, which are applicable to all inside bets if you predict one or more numbers correctly.
Get Set for Jet Set Racing Roulette Gameplay
The gameplay of Jet Set Racing Roulette is very different from anything we've seen before. But essentially the game is divided into three phases:.
When betting, you place your wagers on the central betting grid for the game of roulette. There are 18 seconds dedicated to this.

Next the multipliers for each reel will need to be generated and this is done by playing virtual races. For each race, the players choose who they think the winner and runner-up will be. The multiplier for the Orange Wheel is produced when the first race is completed. The second race then occurs, giving the Teal wheel its multiplier.

Next the roulette wheels will be spun. The outcome is determined by the balls landing in one of the pockets on each roulette wheel while the presenter spins both of them. If you have won, the rewards are confirmed, along with any multipliers you may have been able to obtain.
What Jet Set Racing Roulette Payouts Can You Expect?
The game's overall RTP of 97.29% is ensured via clever arithmetic and an RNG engine. The value of the multipliers and the winners of the RNG races are managed by the game. Only Inside Bets receive the multipliers' benefits. For Outside Bets, the payouts are unchanging. Straight-Up wagers pay off at 23:1 rather than 35:1. Instead of paying out 17:1, splits pay 11:1, streets pay 7:1, corners pay 5:1, and lines pay 3:1. There is a difference depending on the multipliers, with a maximum payoff of 2499:1 considering the remaining bets of Column, Red/Black, Odd/Even, and 1-18/19-36.
The Features of Jet Set Racing Roulette
Outside of the simulated races featured in the game there are a few extra choices available in the Playtech UI. Sector bets are initially accessible from the racecourse view. It is always accessible to the left of the main betting table, options include:
Full Complete bets

Half Complete bets

Voisins du Zero

Tiers du Cylindre

Orphelins

Jeu 7/9

Finales en Plain
Additionally, Playtech provides tools like Bet Creator and Lucky Dip. You can create unique bet combinations with the bet creator, and you can quickly retrieve them. In the Lucky Dip, numerous Straight-up wagers are placed at random.
The drop-down menu on the left offers a comprehensive Help screen. Additionally, there are video/audio settings, game menu options, and language settings here. The only language used to present Jet Set Racing Roulette is English. You can choose among English, Czech, Dutch, French, German, Greek, Hungarian, Italian, Polish, Portuguese, Romanian, Spanish, Russian, Mandarin, or Slovak for the interface's text language, though.
How Does Jet Set Roulette Compare to Other Live Roulette Games?
There are various ways in which Jet Set Racing Roulette is different from other Multiplier Roulette games.
The approach involves using virtual sporting events to produce multipliers. These games and outcomes are RNG-powered.

Comparing Inside Bets to games like Lightning Roulette & Quantum Roulette, the base payoff is relatively low. While the others pay 29:1, a straight-up win pays 23:1.

All Inside bets are eligible for the multipliers.

At least 2 minutes, and 30 seconds pass between game rounds. A regular roulette game lasts roughly 60 seconds.

Your wagers are divided amongst the two roulette wheels that are being used. The odds of winning are doubled.

The highest multiplier is 2499x, which is respectably strong when compared to other roulette games with multipliers.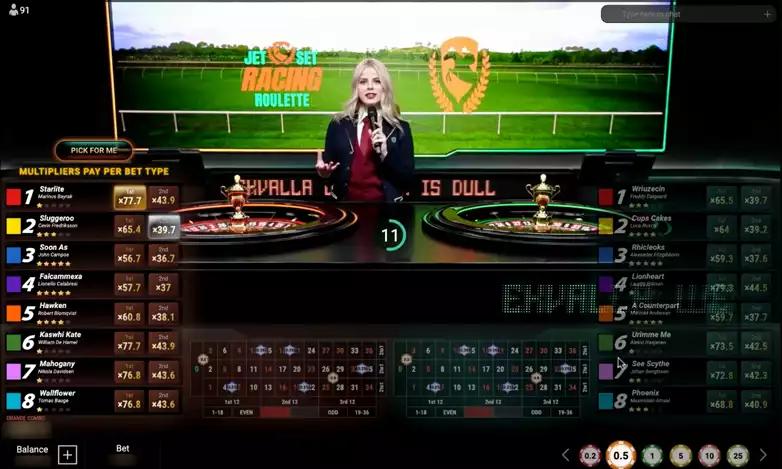 Super Stake Roulette Live
The first multiplier roulette game from Stakelogic is called Super Stake Roulette. By incorporating a bonus round money wheel where you may win multipliers up to 5000x, they have attempted to differentiate themselves from Lightning Roulette, Mega Roulette, and Quantum Roulette. To receive more multipliers and the opportunity to spin the wheel, you must select the additional Super Stake option.
Super Stake Roulette Gameplay: First Impressions
European roulette with multipliers is what is played in Super Stake Roulette. The game consists of two levels.
The first is the Silver Multipliers, which range in value from 50x to 1000x and are accessible to all players. The randomly determined multipliers are applied to up to five straight-up numbers. You need to have wagered straight up on the number where the multiplier is in order to win, and the ball also needs to land in that pocket.
The Gold Multipliers are the second tier, and they can be used by adding a Super Stake Bet that doubles your initial wager. If the ball lands on a number with the money wheel, you'll have the ability to play it and win up to five multipliers worth between 50x and 1000x.
The first impressions of the game are that the production quality is high, and the action takes place in a flashy purpose-built studio with an expert host guiding proceedings.

Super Stake Roulette Payouts
You have two options for placing your wagers: either directly on the table or on the racecourse for section and neighbor bets. You must place your bets immediately on the table if you want to play the multipliers because doing so will not make all of your bets straight-up bets.
Inside wagers include:
Straight-up: 29:1, Split: 17:1, Street: 11:1, Corner: 8:1, and 6 Line: 5:1.
Outside wagers consist of:
Odd/Even - 1:1, Red/Black - 1:1, Column 2:1, Dozen -2:1, 1-18/19-36 - 1:1
The amount you bet on the winning number is the stake used when you play the Super Stake Money Wheel bonus round. The amount that is multiplied by the money wheel's outcome is the stake.
Each of the 54 segments of the wheel has a multiplier value.
50x has 21 segments

100x has 12 segments

125x has five segments

150x has five segments

175x has four segments

200x has three segments

500x has three segments

5000x has one segment
Super Stake Roulette Compared
Two things set Super Stake Roulette apart from the other multiplier roulettes.
To compete to advance to the bonus round, you must pay a fee.

You are guaranteed a multiplier win between 50x and 5000x during a different bonus round.
Like in other multiplier roulette games, you can only earn multipliers on straight-up numbers. The straight-up payoff for a number in Lightning Roulette, Quantum Roulette, XL Roulette, and Mega Roulette is 29:1 which is the same as Super Stake Roulette, however, the biggest multiplier available in the main game is 1000x, which is superior to any other multiplier roulettes.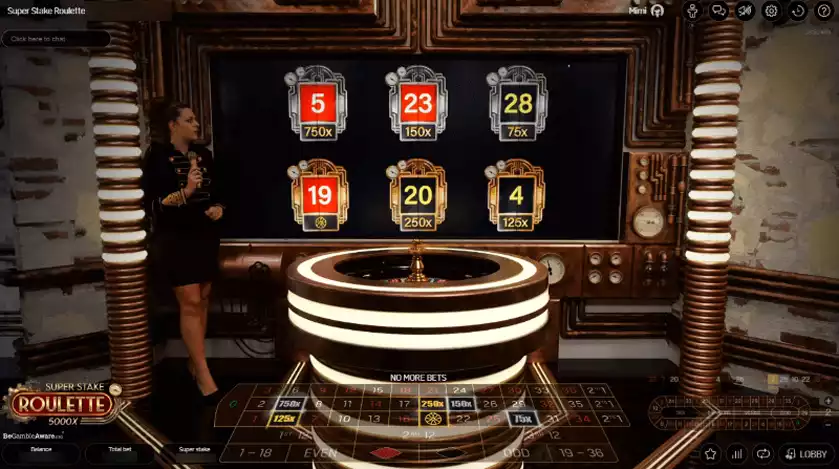 Runner Runner Roulette 5000x
Following the popular Super Stake Roulette, Runner Runner Roulette is Stakelogic's second multiplier roulette game. Runner Runner Roulette is divided into two halves, just like Super Stake Roulette. The first is the chance to win up to 500x multipliers on Straight-up bets, and the second is a bonus round where you can win up to 5000x. It appears that Lightning Roulette and Crazy Time's Cash Hunt bonus rounds served as inspiration for this game. Both elements are combined to form Runner Runner. The game was initially introduced in the Netherlands and is now available in all markets. Even though the presenters are fluent in Dutch, the game is simple to understand.
Will you be Running to Experience Runner Runner Roulette Gameplay?
The bonus round in the multiplier game Runner Runner Roulette has a potential payout of up to 5000 times but at its heart, the core of this game is a live multiplier roulette experience. On Straight-up bets, there are a maximum of five multipliers with values ranging from 50x to 500x. A Straight-up wager typically pays out at a ratio of 29:1. When a number bearing the star symbol is selected, the bonus round begins. The game then enters a bonus round in which a symbol-covered grid conceals 100 random multipliers. Players choose one of the symbols after a shuffle and wait for the multiplier value to be revealed. The wall offers a maximum win of 5000x! Only Straight-up wagers are eligible for the bonus rounds and multipliers. The RTP of the game is 97.30%.
If players thought the studio used for Super Stake Roulette was flashy, then Runner Runner Roulette takes things to a whole new level. The purpose-built studio seems to appear as a black limitless space with tons of shining lights making everything sparkle. It makes us think of a prime-time Saturday Night TV gameshow. 
Runner Runner Roulette Payouts
The payout for a Straight-Up bet is 29:1, which is smaller than the 35:1 payout for a typical round of European Roulette. See the list of payouts for information on the other bet kinds, which are all the same. The payout range for the Runner Runner Bonus Round is 50 to 5000 times! The payout schedule and multipliers are the only differences between Runner Runner Roulette and European Roulette, therefore both games have the same RTP.
| | |
| --- | --- |
| Bet Type | Payout |
| Straight-Up | 29:1 – 500:1 |
| Split-Bet | 17:1 |
| Street Bet | 11:1 |
| Corner bet | 8:1 |
| Line Bet | 5:1 |
| Column | 2:1 |
| Dozen | 2:1 |
| Red/Black | 1:1 |
| Odd/Even | 1:1 |
| 1-18/19-36 | 1:1 |
| Bonus Round | 50x to 5000x |
Comparing Super Stake Roulette with Runner Runner Roulette
Both Super Stake Roulette and Runner Runner Roulette are from the same developer; Stakelogic, and therefore have a lot of similarities. The production quality of both games is very high, but arguably Runner Runner roulette takes the cake which is to be expected for a follow-up game. While Super Stake Roulette is available in English, Runner Runner Roulette is presented in Dutch, which is definitely something to be aware of. In order to achieve the highest payout potential, Super Stake Roulette requires players to make additional wagers, whereas the top payout potential for Runner Runner Roulette can be achieved without extra investment.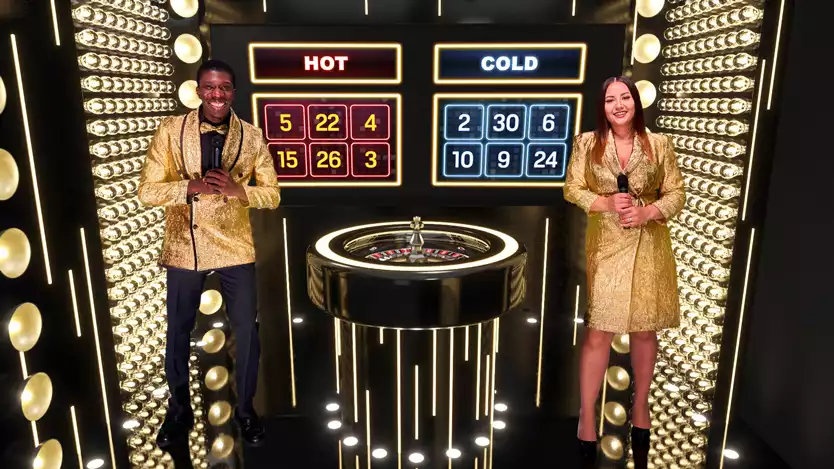 Play These Latest Live Roulette Games on Genting Casino
These brand-new live roulette creations offer a diverse mix of live gaming experiences. But one thing which they all have in common is that they can all be played right here at Genting Casino. Sign up and play today to discover more.
18+BeGambleAware
FIND OUT MORE ABOUT SAFER GAMBLING ON GENTING CASINO
Genting Casino is a leading global casino brand. We provide a premium online casino experience with our huge selection of online slots and live casino games. Genting has been recognized many times for its work in creating fun, safe gaming experiences winning multiple industry awards during its 50 years in business.