All kinds of brands and celebrities are using the platform to share content, which also goes for the world of sports.
Whether it's game highlights, behind-the-scenes footage, or training routines, TikTok provides a unique opportunity for athletes to showcase their personalities, interact with fans, and build their brands.
But which sports and athletes are the most watched on TikTok? Genting Casino has crunched the numbers to find out!
The Most Popular Sports on TikTok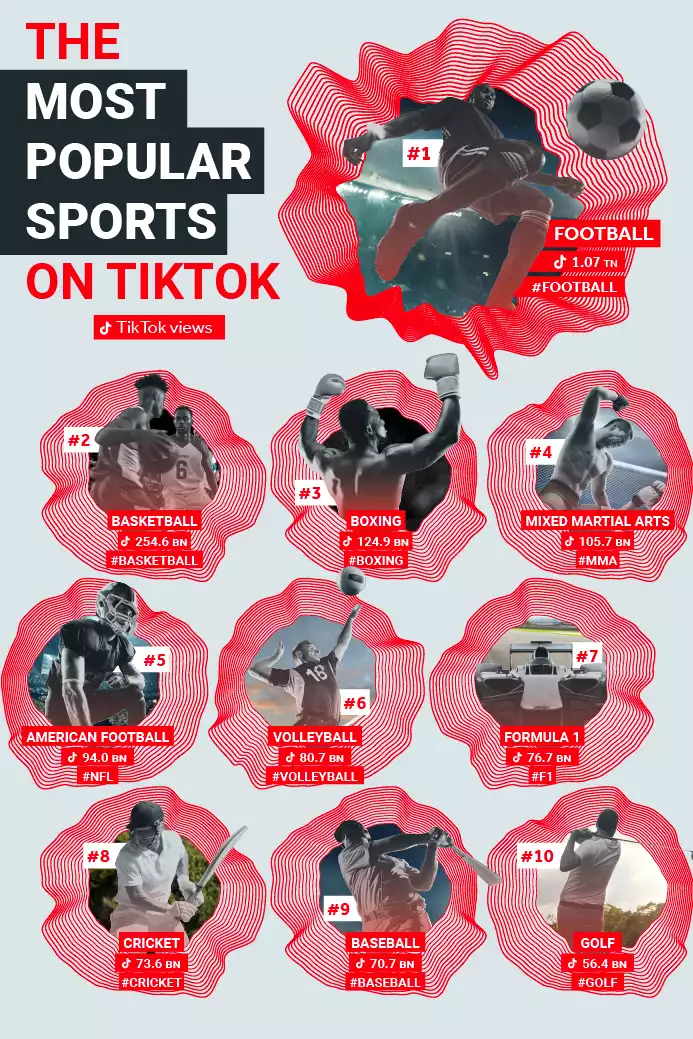 1. Football - 1.07 trillion views
Football, known as soccer in some countries, has an immense international following, reflected by its massive number of TikTok views, the only sport with more than a trillion. Competitions such as the Premier League and Champions League are viewed by millions worldwide, making football arguably the most popular sport globally. Some of its biggest stars, such as Neymar and Vinícius Júnior, are recognised as global celebrities and have amassed millions of followers on the platform.
2. Basketball - 254.6 billion views
In second is basketball, with just over a quarter of a trillion views on TikTok. The sport's major league, the NBA, is hugely popular, not just in North America but right around the world. Like football, basketball boasts significant star power, with the likes of Stephen Curry and Giannis Antetokounmpo having significant TikTok followings. 
3. Boxing - 124.9 billion views
Boxing comes in third place, with just under 125 billion TikTok views. Heavyweight title fights are enormous in boxing and command vast viewing figures, not just for the fight itself but for the buildup. In recent years, boxing has seen an increase in matches involving influencers, and many of the most followed fighters come from the world of social media. For example, Jake Paul has over 40 times as many followers as current World Boxing Council heavyweight champion Tyson Fury.
4. Mixed martial arts - 105.7 billion views
A sport that has seen a significant rise in popularity in recent years is mixed martial arts (MMA), and it's now the fourth most popular sport on TikTok. The UFC leads the way for MMA, which sees fighters use various styles, from striking to grappling. MMA has been rivalling boxing for supremacy in combat sports, which also seems true on TikTok.
5. American football - 94.0 billion views
American football completes the top five, with 94 billion views. Of course, the sport is primarily popular in its home of North America, but the popularity of its main league, the NFL, extends globally. The league's showpiece finale, the Super Bowl, is one of the most-watched sporting events in the world, contributing to the sport's popularity.
The Most-watched Athletes on TikTok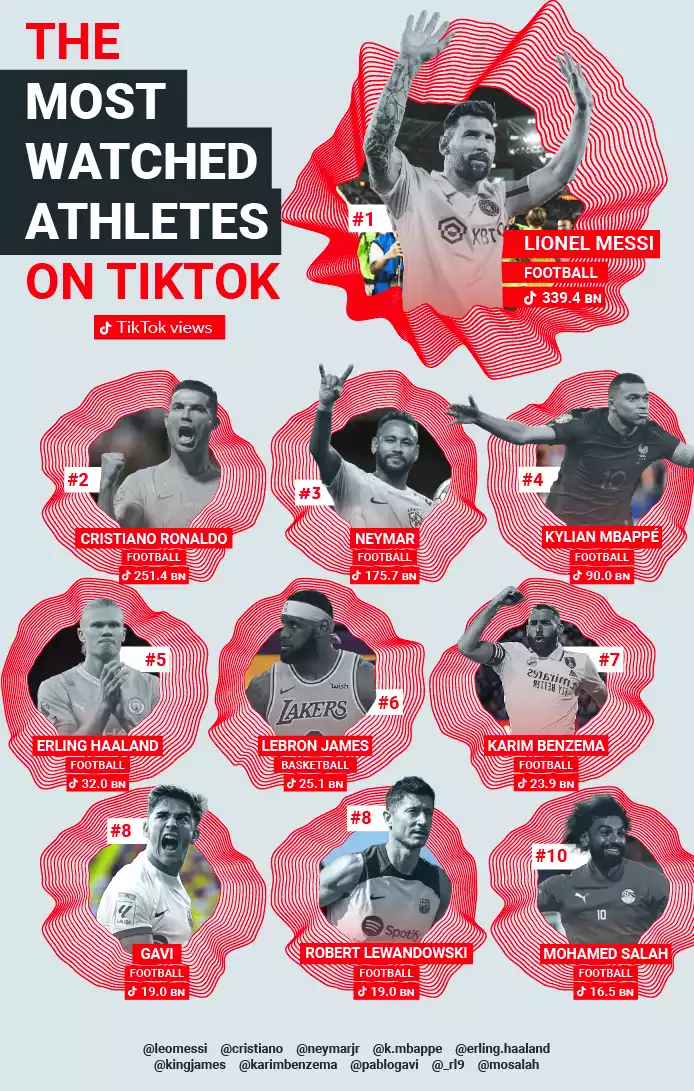 Regarding the world's most popular athletes, the top five spots are all occupied by footballers, with Lionel Messi leading at a staggering 339.4 billion views. He's closely followed by Cristiano Ronaldo and Neymar. However, there's a significant drop in views after the top three, indicating the immense global popularity of Messi, Ronaldo, and Neymar. Other notable footballers in the top ten include Kylian Mbappé, Erling Haaland, and Mohamed Salah, showcasing football's global appeal.
Basketball icon LeBron James, with 25.1 billion views, is the top non-footballer occupying the sixth spot. Other basketball stars such as Stephen Curry, Kevin Durant, and Giannis Antetokounmpo also have significant followings.
The Most-watched Footballers on TikTok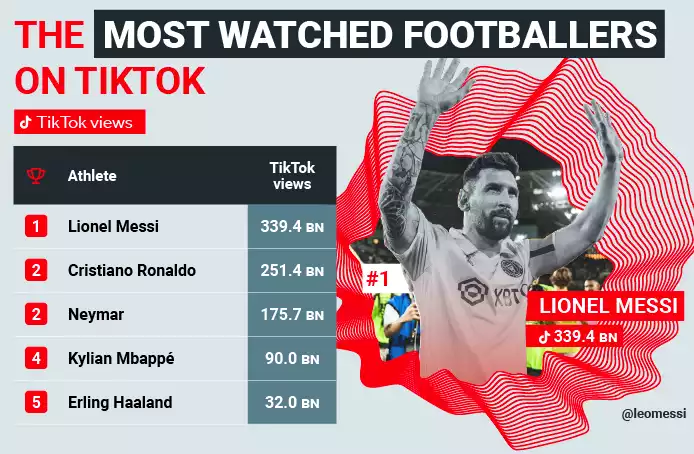 Lionel Messi (339.4 billion views) and Cristiano Ronaldo (251.4 billion views) lead the charge for footballers, reflecting their on-pitch rivalry. Both have recently departed from the prominent European football scene but continue to be huge stars. 
Neymar's appeal with a younger audience has also earned him 175.7 billion views, while rising sensations Kylian Mbappé and Erling Haaland have secured their spots with 90.0 billion and 32.0 billion views, respectively. 
The Most-watched Basketball Players on TikTok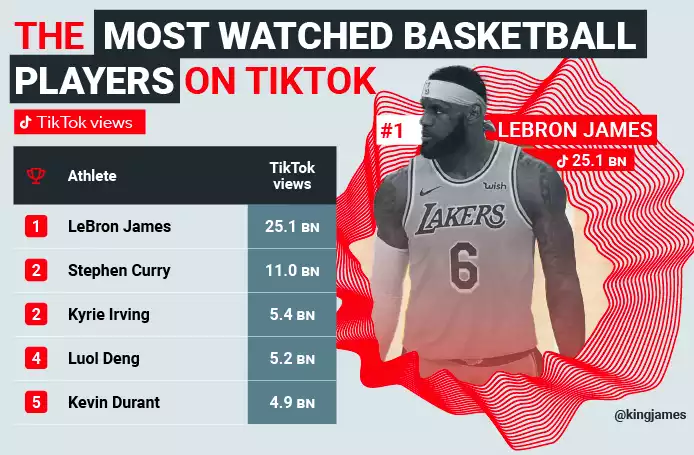 LeBron reigns supreme for basketball with a whopping 25.1 billion views, reflecting his unparalleled influence both on and off the court. 
Stephen Curry follows with 11.0 billion views, a testament to his game-changing impact and fan-favourite status. 
With 5.4 billion views, Kyrie Irving also captures attention with his distinctive style and skills. 
The only player in the top five from outside the US is Luol Deng, with 5.2 billion, showcasing the global reach of basketball. 
Rounding off the top five is Kevin Durant, known as "KD", with 4.9 billion views, emphasising his elite status in the sport.
The Most Watched Boxers on TikTok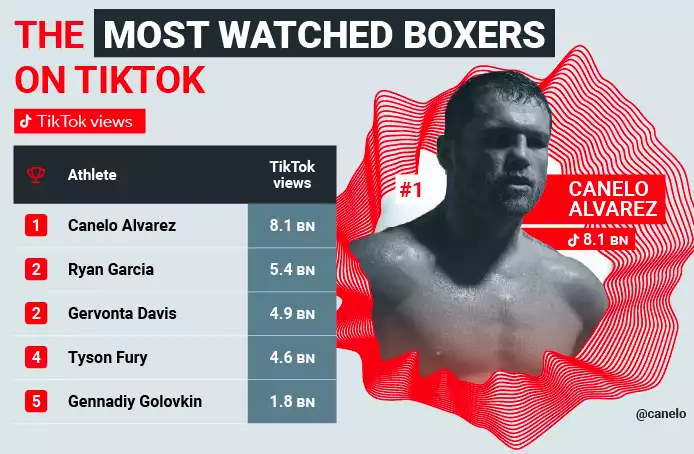 In boxing, Canelo Alvarez leads the pack with an impressive 8.1 billion views, mirroring his dominance in the ring. 
Close on his heels is the young sensation Ryan Garcia, garnering 5.4 billion views, which is a testament to his rising star power and electrifying performances. 
Gervonta Davis, with his knockout power, has punched his way to 4.9 billion views, closely trailed by the charismatic heavyweight Tyson Fury, at 4.6 billion. 
Gennadiy Golovkin, often referred to as "GGG", rounds off the top five with 1.8 billion views, highlighting his long-standing presence in the boxing community.
The Most-watched MMA Fighters on TikTok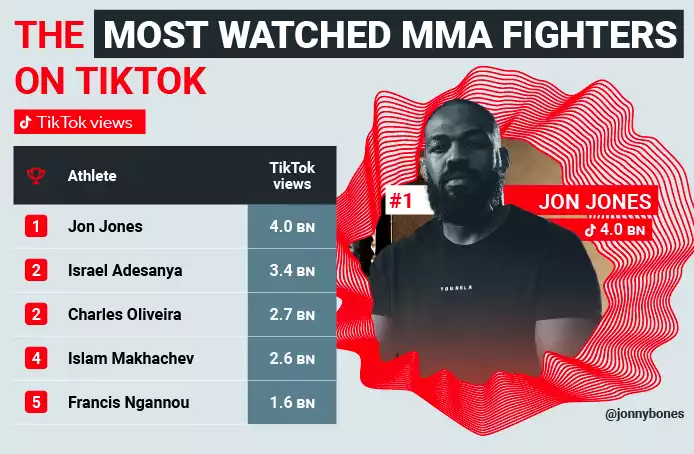 In the realm of mixed martial arts, Jon Jones stands atop with 4.0 billion views, reflecting his status as one of the sport's all-time greats.
Israel Adesanya follows closely, amassing 3.4 billion views, a nod to his striking prowess and captivating persona. 
Charles Oliveira, known for his grappling finesse, captures 2.7 billion views, just edging out the rising force of Islam Makhachev at 2.6 billion.
The heavyweight powerhouse, Francis Ngannou, rounds out the top five with 1.6 billion views, showcasing his knockout appeal.
The Most-watched American Football Players on TikTok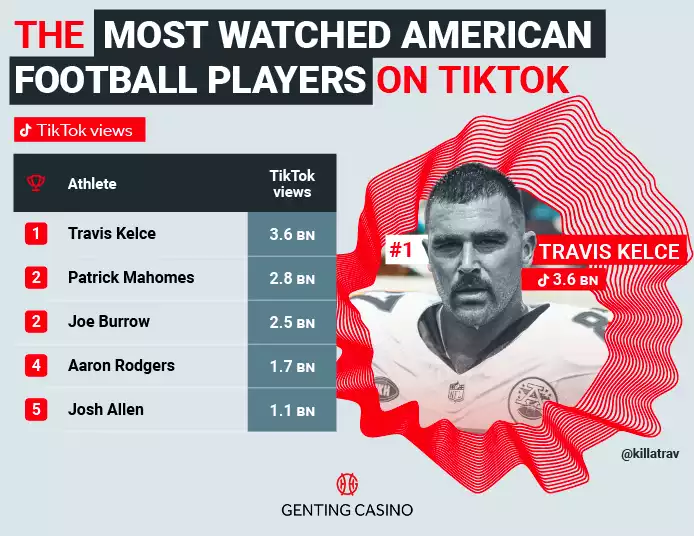 In the NFL, tight end Travis Kelce dominates with 3.6 billion views, having experienced a spike in interest after his rumoured relationship with Taylor Swift. 
Quarterback prodigy Patrick Mahomes follows with 2.8 billion views, a testament to his game-altering talents and meteoric rise in the NFL. 
With his standout performances and leadership, Joe Burrow has garnered 2.5 billion views, positioning himself as one of the sport's emerging icons. 
The seasoned Aaron Rodgers secures his spot with 1.7 billion views, emphasising his enduring appeal. 
Lastly, the upcoming versatile quarterback Josh Allen closes the top five with 1.1 billion views.
Methodology
All views and follower counts were sourced from TikTok and correct as of October 2, 2023.
---
18+BeGambleAware
GENTING CASINO ONLY OFFERS SPORTS ARTICLES AND NOT SPORTS BETTING
Genting Casino is a leading global casino brand. We provide a premium online casino experience with our huge selection of online slots and live casino games. Genting has been recognized many times for its work in creating fun, safe gaming experiences winning multiple industry awards during its 50 years in business.