---
---
On Celtic – Brendan Rodgers 
Brendan Rodgers has returned to the club this summer. Of course, Brendan was tremendously successful at the club during his first stint but a lot of Celtic fans were upset and remain upset that he left the club halfway through the season to join Leicester in the Premier League. What does Brendan have to do to get some of Celtic's fans back on side? 
First of all, when somebody like Brendan leaves a club after being successful, it's like when a player leaves: fans get scared. They get scared because they think that the success for their club could be going with him. 
It's funny because every fan tells you that they want to see exciting football, football that gets them out of their seats, but all they really care about is winning. They want to see winning football and they want the club they support to be successful. 
Fans want the feeling of being superior, and the thought of Celtic not being superior to Rangers, is scary. That is why some of the fans were upset. They feared that when Brendan left, so would Celtic's superiority of the league.  
It's like a relationship. If you've been in a partnership with someone and enjoyed brilliant moments together, when that person walks out, you wonder, what am I going to do without them. You'll always find someone else, and Celtic continued to win (this is what I've been told anyway, I've been happily married for 46 years!). 
There is only one thing that matters in football, and that's winning. Brendan knows that. He would have thought about everything before he decided to come back to Celtic. He would have looked at Rangers, he would have looked at the squad available to him, and there's no way that he would have returned thinking 'we might win the league'.  
Brendan knows the pitfalls of going back. People say you should never return, it's never the same as it was, but he hasn't been away for that long. He knows everyone in the club, and everyone likes him there.  
---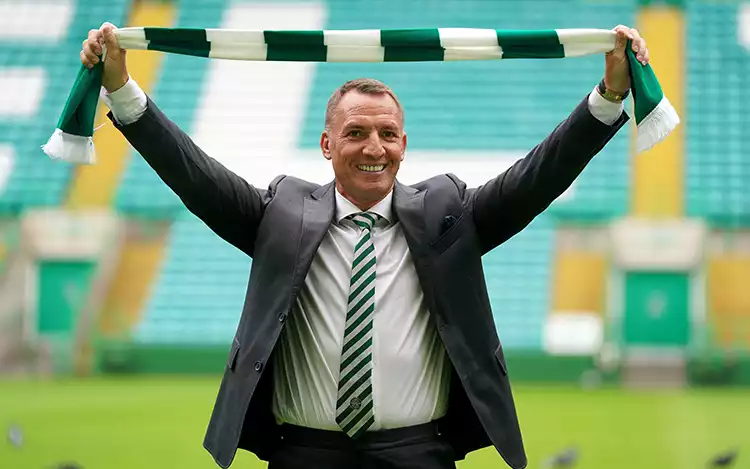 Rodgers back at Celtic
---
What do you think about some of the doubters that have questioned Brendan's ability after his season with Leicester? 
There's absolutely no doubting Brendan Rodgers ability to manage a football club. People may be questioning his ability after the season he had, but he is a phenomenal manager who did a wonderful job at Leicester during his time there. All managers have periods in their career where things haven't gone quite right for them, everyone goes through those periods.  
Is Jurgen Klopp still a good manager? Absolutely, he's one of the best in the world. He didn't have a good time last year, but if he left Liverpool, I think every single club in the world with the exception of Manchester City would love to get him through the door.  
How excited is your son Gavin about working with Brendan at Celtic this season and what do you think the club will be looking to achieve in their first season together?
There can only be one objective: to win the league. That's what makes every fan feel good – you just want to be more superior than your rivals.  
Domestically, Brendan Rodgers was flawless as manager of Celtic, but his Champions League record wasn't the best. There are of course, multiple reasons for that, Celtic are competing for clubs with vastly superior budgets. Is that something that he will have to improve upon this year, and do you expect him too? 
He will be looking at improving results in the Champions League. Every manager that competes in the Champions League wants to do well.  
Ange wasn't that successful in Europe, but he beat Rangers regularly and won a lot of domestic trophies, which was acceptable to the fans. There were periods where Ange's team's played fantastically well in Europe, they had some great moments against Real Madrid and scored a lot of goals in the group stage.  
When the season finished, and there were three trophies in the cabinet, no Celtic fans were thinking about not getting out of the Champions League group stage. I appreciate that if the club wants to be taken really seriously, then success in the Champions League would certainly help with that. I think success for Celtic is getting out of the group stage of the Champions League, that would be a phenomenal achievement when you consider the standard that they are coming up against.  
Brendan will be looking at the last time he manged Celtic in Europe. There were games where Celtic conceded quite a few goals, but that is where Brendan and Ange deserve credit because they always want to play football in their own style. That is something that I couldn't have done as a manager. I'd be too worried about getting beat! I think Brendan will have a plan for the league and a plan for Europe.  
I think the competition will be harder in the SPL. He knows that he is coming up against a brilliant coach in Michael Beale and I think there's progress that has been made at Hearts, Hibs and Aberdeen. The league will be more competitive than it was the first time round for Brendan.  
I think Rangers will be ready to push Celtic all the way next season, so winning the league would be a great achievement.  
---
On Celtic – Transfers
Celtic are being linked to host of names in the off season. For any players considering the move, how would you sell them the club?
First of all, you've got the atmosphere, which is unrivalled. Celtic vs Rangers as a game is unmatched in terms of its intensity. Sometimes it can be a bit vitriolic. If you want to be a top player that players for a top club, then Celtic is a wonderful place to come and develop because it's a club where you're expected to win every match. There is a huge amount of pressure playing for a club like Celtic.  
Everything you say in the press is scrutinised. You will quickly learn a lot of the fundamentals that all top players have to possess. 
You have the platform of the Champions League. A lot of players, Virgil van Dijk for example, performed well in the Champions League before moving to the Premier League. I wouldn't call Celtic a stepping stone, but, if you're looking to progress in your career, then this is a great club to be at.
There's a huge opportunity to show that, as a player, you can handle the stress, the pressure and the expectation of playing for a massive club like Celtic. You'll have to do well of course, otherwise nobody will want you!  
---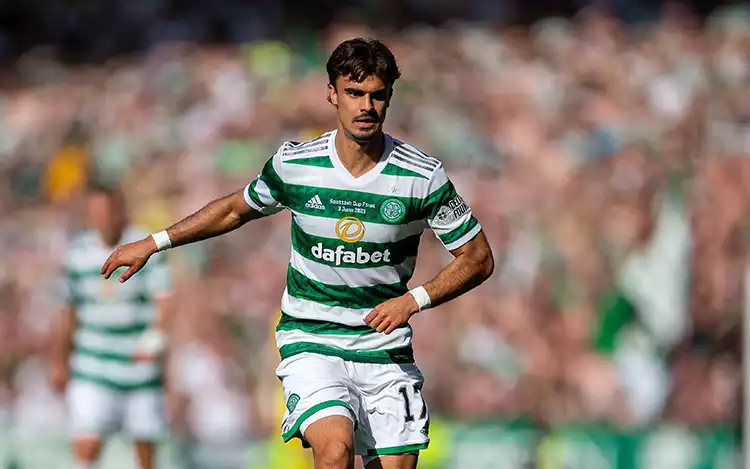 Jota on his way to the Saudi League?
---
One player that is set to leave is Jota, who is reportedly on the verge of a big money move to Saudi Arabia. How much will Celtic miss him next season? 
The funny thing about this is, when Celtic were going for ten in a row two years ago, everyone said they must keep Ajer. They must keep Edouard. They must keep Ntcham. The club went above and beyond their wage ceiling to keep those players by giving them huge wages and they didn't win the league.  
These players will be remembered, but when Celtic were playing wonderful football last season, beating teams three nil, if you asked the fans about them, some of them would have said, "Who?" 
There are always new heroes in football. Celtic will always find new heroes. Where they come from, nobody knows.  
What do you make of his decision to swap Celtic Park for Saudi Arabia at the age of 24? 
I think every player in Britain now is sat by their phone waiting for the Saudi telephone code to flash up. When that call comes in, players will start singing and dancing (laughs).  
I would challenge anyone to turn down an offer of fifteen times their wages. You have to remember that the player will have a family that he will want to look after and, there is no doubt about it that that kind of backing can take care of that. Even if he were to join the club for a period of three years, and then he can move on and do what he wants after that. I see absolutely no problem with any player making that decision. Let's not forget that he'll be playing alongside the likes of Karim Benzema and N'Golo Kante, which will be a real learning curve for him. I see no problem with it and its also going to make the club a lot of money. 
It's easy for people to question the players desire, but once that money is presented to you, it becomes hard to turn down. And I bet the pundits that are criticising him would all do exactly the same thing if they were offered the chance to.  
I completely agree with you. We've seen players go to China before for big money and then come back to Europe – the move to Saudi doesn't mean that Jota won't be able to come back and join another top club in Europe. 
People are just going to have to start coming to terms with this.  
---
On Ange Postecoglou
It's fair to say his move to Tottenham divided opinion.
It's because we're talking about Scottish football, and it's been like that for a while. I can understand fans in England. If their looking at Celtic games, not Celtic against Rangers, but Celtic playing in below par stadiums on plastic pitches, it can be very hard to change the perception of Scottish football.  
What these fans need to realise is that these are top managers. It was like when Brendan left, and I don't care what anyone say about his time there, he was incredibly successful at Leicester. 
Brendan is a top manager and Ange is a top manager. We've had this bias forever about Scottish football. It's just a cliché. It's an easy cliché. What Ange did at Celtic, and he'll do it at Tottenham, he'll deliver some incredibly exciting football. He'll expect his players to follow him and play in a certain way, and if they don't then he'll move them on – he wasn't afraid to do that at Celtic.  
He has that attitude. He'll wave goodbye to any players that are not completely committed to his brand of football.  
For those that aren't familiar with Ange, what type of football can Tottenham fans expect from him this season? 
The ball boys will need to get fit, that's for sure. The goalkeeper will need to switch on – he likes his football played fast. He'll get his team incredibly fit and he'll want his team to think they are one of the fittest teams in the league, because that is an incredible phycological weapon for any team.  
It doesn't matter who Tottenham will be playing, they'll be looking to unsettle teams with the intensity of their play. Ange likes to do everything very quickly. His football was so quick, he was catching the cameramen out!  
They'll be compact without the ball. When they go forward, they'll play with a lot of width. The football isn't too dissimilar to Manchester City's in terms of width, movement in the midfield and fullbacks inverting. Everything his teams do is at a high tempo. It's a type of football the Tottenham fans will enjoy.  
The players will enjoy working with him and his football. Over the last few years, if you're a Tottenham fan or player, and you were being honest, you'd probably say the football was pedestrian. What they are about to experience will take their breath away.  
The big question that is tied to Tottenham concerns the future of Harry Kane. If he does go, I don't think there is any Tottenham fan that could complain. They've had him at the club for 12 years. Without a doubt, for me, he is the best centre forward in the world. Can they keep him? I think he would enjoy the pace of the game and the freshness that Ange will bring to Tottenham.  
---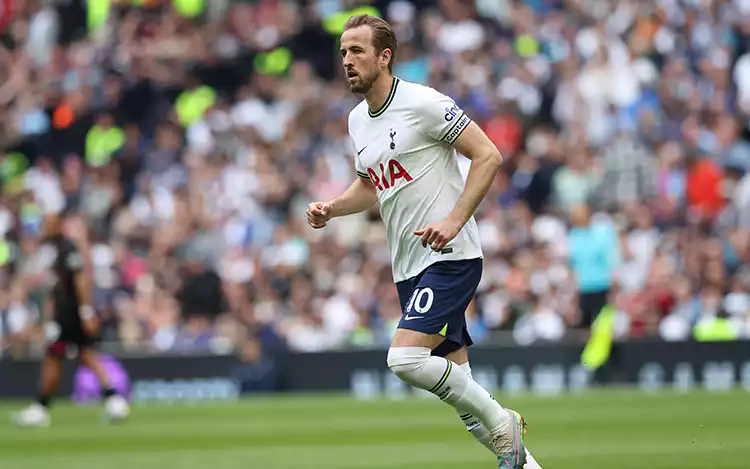 Kane will need to buy into Postecogolu's methods
---
Do you think that the football he is going to play can convince Harry Kane to remain with the club. Would Kane have a lot of fun playing in a Postecoglou team? 
As long as the players buy into Ange's methods right away, then I think he will really enjoy it. When he joined Celtic, he brought in three or four players that knew his methods immediately. I'm not sure if he will be able to do that straight away at Tottenham.
When I look at the current group of players, perhaps he will have his doubts, but let's judge his squad in six week's time. Some players may try and resist his methods because he will want these players to go to another level in terms of their fitness, but I'm sure he will show those players the exit door.  
Do you expect Ange to come back and possibly look at bringing Kyogo Furuhashi to Tottenham? Would he be a big success in the Premier League?
I'm not sure how successful Kyogo would be in the Premier League. I actually don't think that he will leave Celtic this summer. He has a bond with the club and every Japanese player that I've ever worked with have always been incredibly loyal. It's in his culture to be respectful of the club – Celtic – so I can't see him looking to move because that would go against his principles as a man.  
If a ridiculous bid came in for him and Celtic wanted to cash in, then I think he would leave, but that is the only scenario I can see him joining Tottenham this summer. I don't think he would choose to leave Celtic. Would he start every week if Harry Kane was there? In fact, it must be hard for Spurs to sign any forward with Harry Kane there because he's that good. You can't not play Harry Kane.  
Kyogo is a really clever player. His movement is incredible – centre halves never see him – he's always going in behind. He's a wonderful player. 
What do you think Ange will be looking to achieve with Tottenham this season? 
They'll want to finish above Arsenal in the league. That's it! Seriously! Ange might not think that way, but from the point of view of the fans, that is what Tottenham will want. If you can finish above Arsenal, then you're not going to be too far away from winning the biggest trophies. You're killing two birds with one stone there.  
True. And in terms of a message to get across to the Tottenham players, it's quite a simple objective. 
Yeah, it is. To the Tottenham fans, I'll say this. Get yourself a seatbelt because it's going to be a fun ride.  
---
On Manchester United
Do you expect your former club to bridge the gap on their city rivals this season? Can they use the pain of watching City match their treble achievements to help inspire them next season? 
If I was a Man United player, I wouldn't look at them and think, 'I hate everything about them,' I'd look at them with admiration. United need to look at City and figure out what they are doing differently. Are they working harder than them? Are they fitter? Have a look at them and analyse what you can do as an individual player to get closer to that level.  
I don't think United can start playing the same football as Manchester City. I don't think they have the players to do that. Perhaps that is one of the reasons why they are signing Mason Mount. Maybe Erik ten Hag want's more mobility in his midfield and wants midfielders that can get up and support the striker.  
People try to criticise Haaland by looking at the limited amount of touches he makes in a game. The reason why his overall touches are low, is because he has players that can get up and around him, feed him the ball – he doesn't need to drop and get involved in the play because City have so many wonderful players that can put it on a plate for him.  
I think United need to look at getting more out of their midfield for a start. They don't get enough players up in around the pockets and running in behind. They need more creativity in the team.  
I don't know how much money they have to play with this summer, but if I was Manchester United, I would give it all to Tottenham and try to get Harry Kane. United are missing a goal threat in the centre forward position. 
I think Marcus Rashford is a better player playing off the wing. He's a wonderful player, who can go in and out. He's deadly from that wide area and he scores a lot of goals.  
I think that Ten Hag may want to play with two sitting players and have a classic number ten in his team, which may be why he is looking at Mason Mount, but I do think that he can be even more expansive and play with one midfield pivot. He needs to get more players up and around the central striker.  
Are you looking forward to seeing Mason Mount in a United shirt? 
Being honest, I think he was kind of forgotten about last year. I have nothing against the player, but we didn't see much of him last year. Sometimes it can be hard to get that momentum going for you again after coming off the back of a poor season – hopefully he can.  
I still think that there are a few players on the market that United need to add. They need to add more creativity to the team and could do with adding another couple of players, an eight and a ten. 
I love Christian Eriksen. I think he can play deeper, but he doesn't have the engine to break the lines and get close to the goal as much, he prefers to dictate the play.  
Where can United improve next season? 
I think they need more consistency from their wide players. The likes of Sancho, Garnacho, Antony, these players need to do more. They need to start scoring more goals. For United to get closer to City, they need these wide players to be contributing at least 10 goals a season each.  
I think if they can do that, look to add a little bit more creativity and quality to the middle of the park and strengthen in the striker position, then United shouldn't be scared of playing anybody next season.  
What about the goalkeeper position. We don't know all the details, but we've read reports that have said a contract offer was made, then it was withdrawn to David De Gea. Yesterday I saw that United have asked him not to sign for a new club in case they can't find a replacement! 
These are big decisions that the manager has to make. If Fergie was there, there wouldn't be indecision – he would have made up his mind on whether or not he wanted to let the player go or keep him months ago.  
If you look at the way he dispatched Beckham or Keane. Bang! See you later. United shouldn't be scared of letting De Gea go and neither should the fans be. United will get a better keeper than De Gea. This is Manchester United we're talking about. They could call 95% of the world's goalkeepers and they would run to Old Trafford. Manchester United need to move on (from David De Gea). De Gea has been a terrific servant for the club, but he's had his time at the club.  
I can understand that United may be looking at a few different options to replace him with, but they just need to get it done.  
---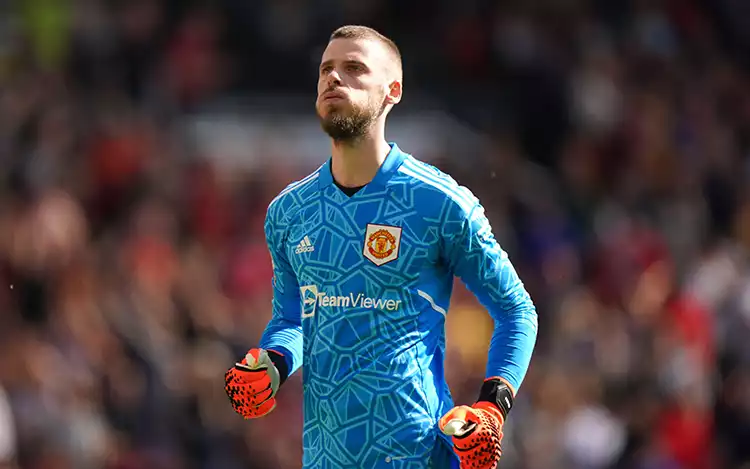 United 'need to move on from de Gea'
---
The indecision can't help anybody.
Exactly. It's really simple for a club like United. They need to ask themselves, 'Is this the best possible goalkeeper that we can have at the club?" The answer to that question is no. Go out and find the keeper you want. Go and get the best possible player you can.  
You make it sound so easy, Gordon (laughs). 
It is easy. You've got to be decisive as a manager.  
One player reportedly up for sale is Scot McTominay. There is no doubting his potential, and he always produces when playing for his country – could United regret letting him go if they sell him? 
What would your message be to the player. Surely, he should be looking to move on to get regular football. 
Scott McTominay will not be guaranteed a game at any club. It's up to him to produce the performances that make it impossible for his manager to drop him. I'm sure he's had the conversation with Erik ten Hag about his game time. I'm sure they would have been honest with each other about where he fits into his plans for the coming season.  
If he isn't going to be starting, then perhaps he should think about joining a club where he will play every week, but it's a scary thing leaving Manchester United. He's at one of the biggest clubs in the world. What he needs to do is think about where he is going to be happy. Is he going to be happy being a squad player for Manchester United, or does he want to fulfil that undoubted potential that he has and go and play every week for another team?  
I think there are some question marks around what his best position is. We've seen him score a lot of goals playing for Scotland and we've seen him in a deeper role. That versatility is a good thing because all managers are looking for players that can perform in more than one role, but at the same time, he doesn't have that cunning pass in his locker like a Christian Erikson. He isn't as good a player as Declan Rice for example, but for me, that is the type of player I would compare him to. If he does decide to move on, whoever gets him will be signing a smashing player with an absolutely fantastic attitude.  
What has stood out for you in the Dutchman's first twelve months at the club? 
Well, I think he's been very decisive apart from the De Gea situation. I think he needs to get that under control and quickly. He needs to make a decision on his future within the next week. I'm surprised that Manchester United do not have a target for the goalkeeper position. They may well say, we've got several targets, but with the way that the De Gea situation has been handled, it doesn't fill me with confidence that they have.  
I think Erik will have a much better idea of what he needs in his team to be successful after his first year. He's gone from the Dutch league, where he managed the top club and the competition to win the title over there is between three or sometimes four teams. In the Premier League, every single game is competitive. He's a clever guy. He will know what he needs to get closer to Manchester City.  
I would really like to see Manchester United just go for it. They need to start making some more history, and to some extent he's done that by winning the League Cup, but that should be just the starting point and I hope it is.  
Apparently talented youngster Alejandro Garnacho has requested the number seven shirt number for next season. Do you think the young man can handle the pressure and expectation of wearing that jersey for the club? 
The first thing I would say to him is earn it. Don't come in and start demanding the number seven shirt. I admire the confidence that he has shown by asking for it, but that is a special shirt at the club that has been worn by some absolute legends. Bryan Robson, David Beckham, Ronaldo, Besty! When I joined the club, I had played in the seven my entire career, but I knew that at United I had to settle for the eight because Robbo was there – I was fine with that because he was a better player than me and he was the captain.  
Don't tell the club where you want to be, we'll let you know when we think you're ready to wear that sacred jersey. Garnacho will get that shirt if the club believes he is ready to wear it.  
---
On Southampton and Leeds
Two clubs that you know well. Of the two, if you had to choose, who do you think has the better chance of returning to the Premier League at the first attempt? 
I think it all depends on what happens over the next six weeks of the transfer window, especially with Leeds. If there are players in the club that don't have the drive or enthusiasm to win games in the Championship every week, then they need to move them out. There will be a lot of players there on big, big wages. I don't think many of them will be getting a better weekly wage when they move onto their next club, so that creates problems too. 
It's very hard to get rid of players, who didn't perform brilliantly last season and are on big wages. There have been so many examples of teams that have been relegated from the Premier League who haven't been able to move players on.  
Some clubs can manage that process better than others. For example, if you look at the likes of Burnley, they have had the foresight to plan for relegation and are ready to bounce back when it does happen. I don't think anybody at Leeds saw this coming despite the club staying up by the skin of their teeth last season. It's poor planning.  
I think at Southampton, things will be more settled. I don't think there will be players there on huge wages and they look like they may have a better chance to come straight back up.  
Its vitally important for Leeds to get the likes of Patrick Bamford and Stuart Dallas, players that know what the Championship is all about. Dallas was a huge miss for Leeds last season.  
Who do you think Leeds should try and keep and who should move on? 
Leeds should try and hold onto Rodrigo. He showed great character when they needed him towards the end of last season, playing through injury. You want players that are going to give everything for the club because that is what you need if Leeds are to have any chance of getting promoted from the Championship at the first attempt.  
Moving players on that are not up for it will be a big problem. That is a major headache the club will have this summer. I'd be quite surprised if there are a lot of offers for some of these Leeds players. There are people in there, but I think the offers that will be coming into the club will be for the harder working players, not the flamboyant ones. There were a lot of players at Leeds who, when the chips were down, didn't show up.
They'll be doubts about some of those players. Perhaps a few of those guys may move on loan, but permanent deals, sales, I think it will be really difficult to move some of these players on. When I look at the players that have come into the club over the last eighteen months, I think Leeds will struggle to move on most of them.  
---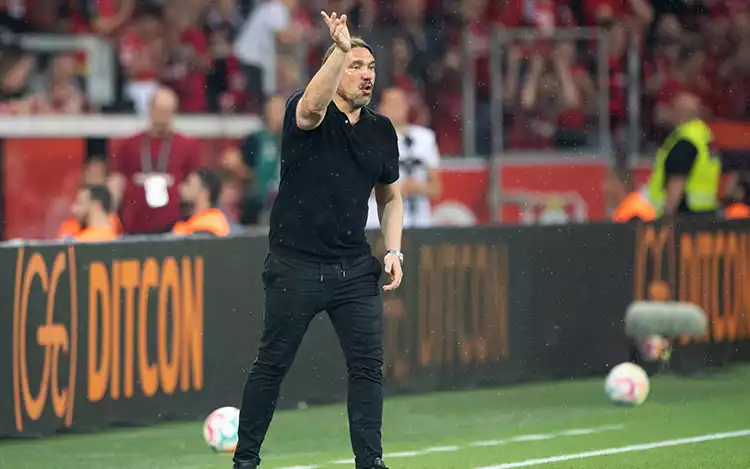 Farke linked with Leeds job
---
Former Norwich manager Daniel Farke has emerged as the leading candidate to take the managers vacancy at the club. Is that an appointment you would like to see? 
He did well at Norwich, he got them up. They played some nice football in The Championship and he has a good reputation. I'm pleased the club are looking at a manager with a proven track record of getting a team promoted from The Championship.  
The problem is, the Norwich team that he managed, that was stable. Norwich was a stable club with a wage structure, no huge players or egos. He's now going to a club where some of the players are on massive wages. I doubt he would have ever managed players that are being paid as much as some of the Leeds squad. I think that could give him some problems.
There is also a huge amount of pressure from the fans that will want to see their club bounce back at the first attempt because they waited a very long time to get into the Premier League. I wish him the best of luck, I really do. There is no doubt about it, the Premier League is not going to be the same without Leeds United.  
One player there hasn't been strong rumours about is James Ward Prowse. Are you surprised that there isn't a queue of clubs waiting to pick-up the Saints captain and do you think he is good enough to play for a top of the table team? 
I've seen a lot of James Ward Prowse. He is a player that I like. Whatever happens to him this summer, he is a player that when he hangs up his boots, he can say to himself, 'I've done as much as I can.' 
Through hard work and dedication, he has made himself into a top player. If you look at his set pieces, his deliveries, he's fantastic. I actually liked him in a wider role because he was such a good crosser of the ball. His deliveries from that David Beckham area, when I'm working with younger players at Dundee, we always look at Ward Prowse's deliveries.  
He's a very functional player who has done a great job for Southampton. I'm not sure if he could play for a top six club. I'd love to see one of those clubs give him a try, but I don't think that he has that magic that a player like Christian Eriksen has for example. I don't think he has that magical pass in his locker in open play. When you look at his ability, fourteen of the clubs in the Premier League would love to take him, but the top, top clubs…I'm not so sure. They like players with a wee bit of magic.  
Having said all that, I hope I'm completely wrong and he gets a move to a top club. He is a player that loves football. He gave everything for his club, unlike a lot of those Leeds players who were quite happy to sit and watch their season fade out. I really admire players like him. He would be an excellent team mate. 
---
On Coventry
Your former club suffered the heartbreak of losing in the Play-off Final. It was a remarkable season for the Sky Blues – do you expect them to mount another promotion challenge next season? 
A lot will depend on how well the club can do in the loan market. Coventry's loan recruitment has been incredible. Gyokeres is a smashing frontman and a scorer of great goals. Whether he is a great goal scorer, I don't know, but he makes things happen and is a real handful for teams in the Championship. He occupies defenders and wins his team plenty of freekicks. He wears defenders down and annoys teams. Hopefully they can keep him, but that will be difficult.  
Mark Robins has been absolutely brilliant. When you're talking about managers being linked to the biggest jobs, why is Mark's name not in the mix? He is overlooked, which is an advantage for Coventry, because he is a special talent.  
Maybe Mark needs better PR. We need to get Mark some better PR. I've known him since he was a boy – he used to clean my boots when I was at the club as an eighteen-year-old. I really hope that they do well again next season because my grandson and my daughter-in-law have all got season tickets. It great to see the stadium full again – what a difference Coventry Football Club makes to the community.  
Brooke Norton-Cuffy put in some excellent performances for Coventry last season. Do you think the nineteen year-old is ready to step into Arsenal's squad and provide an option for Mikel Arteta at right back or do you think he would be better suited securing another loan move at this stage in his development?  
I think Brooke should look at having another year out on loan before he can think about coming into the Arsenal squad. The level that he would be going into at Arsenal is phenomenal. You need to be a top, top player to get into the Arsenal side.  
The leap from Coventry to Arsenal is huge. I think he will need to go somewhere else, hopefully he can come back to Coventry, but if not, then we could do with a player like him up in Dundee (laughs)!.  
---
18+BeGambleAware
GENTING CASINO ONLY OFFERS SPORTS ARTICLES AND NOT SPORTS BETTING
Genting Casino is a leading global casino brand. We provide a premium online casino experience with our huge selection of online slots and live casino games. Genting has been recognized many times for its work in creating fun, safe gaming experiences winning multiple industry awards during its 50 years in business
---