---
*Terms and conditions apply.*
---
Sweet Bonanza CandyLand Game Details
| | |
| --- | --- |
| Game Name:  Sweet Bonanza CandyLand | RTP: 91.15% - 96.48% |
| Game Provider: Pragmatic Play | Live Host: Yes |
| Bet Range: £0.20 - £3,000 | Supported Platforms: Mobile, Tablet, PC |
| Special Bets: No | Supported OS: Android, Apple, Windows |
Sweet Bonanza CandyLand Highlights
- Top prizes of up to 20,000x stake (thanks to multipliers)
- Three Bonus Games; Sugar Bomb, Candy Drop, and Sweet Spins
- Six ways to bet; Numbers, Sugar Bomb, Candy Drop, and Sweet Spins
- Custom-built studio and HD streaming, with mobile optimisation and professional live host
Sweet Bonanza CandyLand Gameplay: What to Expect
Sweet Bonanza Candyland is a Wheel of Fortune-inspired game which revolves around spinning a large prize wheel. The premise is fairly straightforward. A big wheel with 54 parts is at the heart of the game. When the presenter spins the wheel in a round, one of these segments is selected by the top pointer. In order to win, players will need to correctly predict which segment the pointer will land. 
It's interesting how much softer this pointer is than it is with other titles of a similar nature. Gameplay was intended to be accelerated thanks to this manipulation, and the presenters' jobs were intended to be slightly simplified with less time needed to fill as the wheel spins. But players should be aware that this may cause the pointer to act differently from time to time. 
There are six different sorts of bets available, which correlate to the six different wheel portions. Four of them are straightforward numbers bets and the other three are bets with unique features. These bets include:
Number 1 has 23 segments of yellow banana

Number 5 has 15 segments of purple grapes

Number 5 has seven segments of pink plum

Number 10 has 4 segments of a red apple

Two segments for Sugar Bomb

Two segments for Candy Drop

One segment for Sweet Spins
Sweet Bonanza CandyLand Features: Does This Game Transport You to Candyland?
The  Sweet Bonanza Candyland live game is based on the popular 2019 Pragmatic Play slot of the same name. We are given an amazing live casino experience in this game with a sugary Candyland theme. In order to broadcast the game - in high definition and playable 24/7, Pragmatic Play has built a new studio. By fusing real-world objects with virtual 3D effects, they produce a distinctive gaming experience that gives the game more dimension. The player is given a sense of place with vivid colours, evocative music, animation, and dynamic lighting. The player will be taken to a different area if they are successful in triggering any of the bonus games; but more on these later. 
The game is presided over by an experienced host who will help guide proceedings and build excitement as the wheel spins. Sweet Bonanza Candyland also supports multiple languages so international players can experience the fun.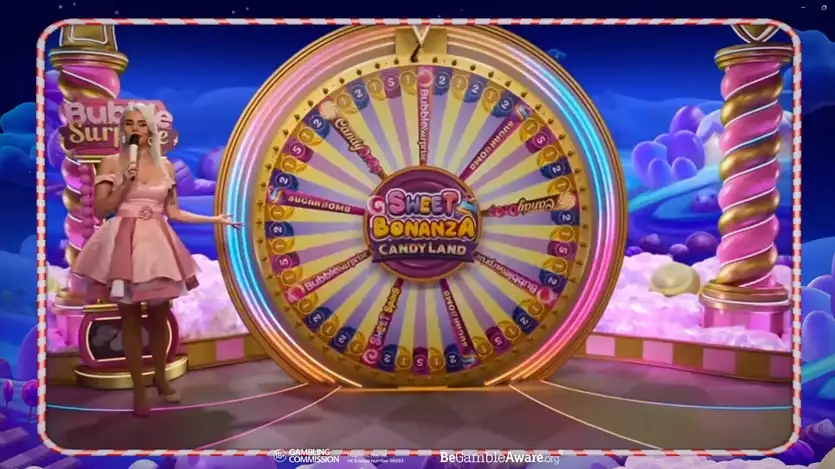 The Bonus Rounds of Sweet Bonanza CandyLand
The bonus rounds of the Sweet Bonanza Candyland live casino game are as follows:
Candy Drop is an RNG-based minigame. You choose one of three candies that fall through a 4-row maze in a different colour. If your candy falls through one of the multipliers or bonuses in each row, your payment will increase. Your candy will win the top 1,000x prize if it lands in all 4 of the purple boxes.

The Sugar Bomb feature is a multiplier feature. The following spin will be affected by a random multiplier of between 2x and 10x. No new bets are needed; the wheel is simply spun again by the presenter. A Sugar Bomb Booster is an optional addition that costs 25% extra on any wager. Any Sugar Bomb bonuses are doubled when you select this option, which is located to the right of the interface. 

Sweet Spins is effectively a slot machine minigame that takes place on a 6x5 reel set, however, the outcome is determined by the falling down of symbols rather than their spinning. The first 10 spins that are awarded when Sweet Spins are activated in Sweet Bonanza Candyland can be increased by using some of the slot symbols. Sweet Spins winnings have the highest potential of up to 20,000x, but they are very unpredictable and erratic.
Early in 2022, Pragmatic Play expanded the wheel's betting options with a new mini-game:
Bubble Surprise is a mini-game that resembles a one-reel slot machine. Everyone who bet on Bubble Surprise wins after the reel rotates. A 5x multiplier, 10x, 25x, and the chance to start either Sweet Spins or Candy Drop are among the potential rewards.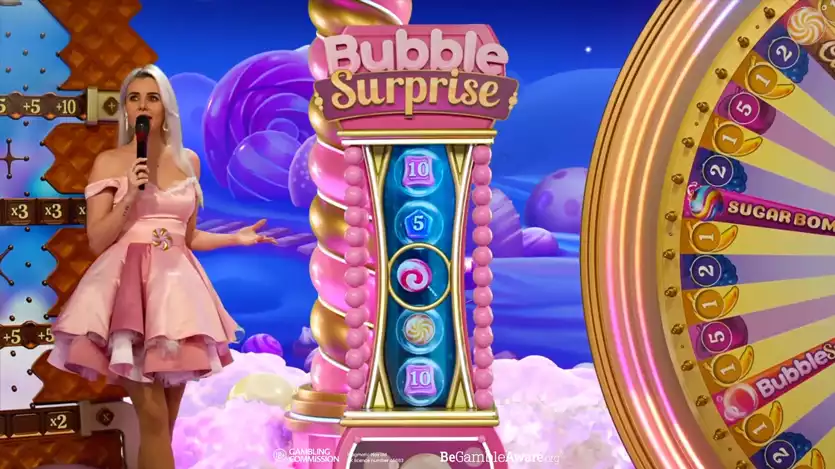 Sweet Bonanza CandyLand Payouts: A Top Prize of 20,000x Stake
Listed below are the payouts for the game. It's worth noting that while there are great payouts and the Sweet Bonanza Candyland RTP sits up 96.95%, this game is highly volatile, so decent payouts might be few and far between.
Number 1 awards a 1:1 payout
Number 2 awards a 2:1 payout
Number 5 awards a 5:1 payout
Number 10 awards a 10:1 payout
Candy Drop feature awards payouts between 3 - 1,000x
Sugar Bomb feature awards payouts between 2 - 10x
Sweet Spins feature can award payouts of up to 20,000x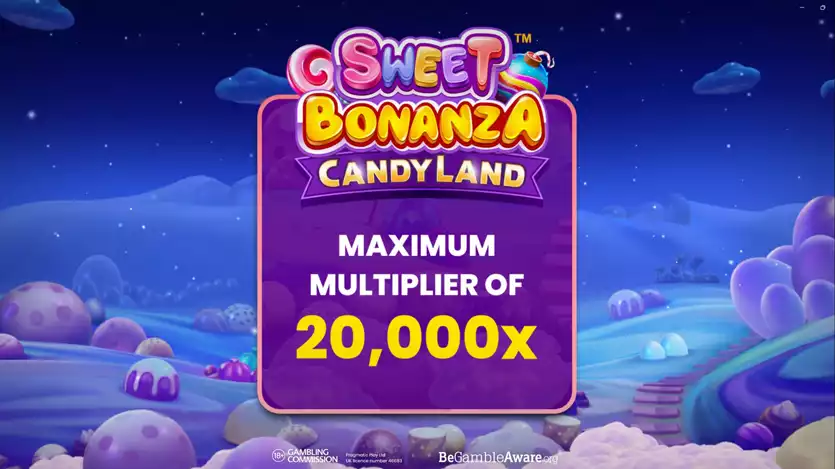 Comparing Sweet Bonanza CandyLand against Crazy Time
Crazy Time is another wheel of fortune-based live game that is the creation of Evolution Gaming. Both live gameshow titles are very similar in terms of their multiple bonus rounds, but Crazy Time's bonus round offerings with games like Pachinko and Coin Flip are much more recognisable compared to Sweet Bonanza's offerings. Crazy Time seems to lack a cohesive theme, which does suit its name, but with its comprehensive Candyland theme, Sweet Bonanza Candyland certainly wins out regarding its overall presentation.

Play Sweet Bonanza CandyLand on Genting Casino 
If you have a sweet tooth and like the idea of playing the Sweet Bonanza Candyland gameshow, then sign up and play today right here at Genting Casino. Always gamble responsibly.  
18+BeGambleAware
FIND OUT MORE ABOUT SAFER GAMBLING ON GENTING CASINO
Genting Casino is a leading global casino brand. We provide a premium online casino experience with our huge selection of online slots and live casino games. Genting has been recognized many times for its work in creating fun, safe gaming experiences winning multiple industry awards during its 50 years in business.