---
*Terms and conditions apply.*
---
Snakes & Ladders Live Game Details
| | |
| --- | --- |
| Game Name:  Snakes & Ladders | RTP: 97.30% |
| Game Provider: Pragmatic Play | Live Host: Yes |
| Bet Range: £0.10 - £5000 | Supported Platforms: Mobile, Tablet, PC |
| Special Bets: Yes | Supported OS: Android, Apple, Windows |
Snakes & Ladders Live Highlights
Highlight 1: Dice-based gameplay is a deviation from the common 'prize wheel' style live games.

Highlight 2: Two bonus rounds are offered; Snake Totem and the Snakes & Ladders bonus round.

Highlight 3: A top prize of 10,000x stake.

Highlight 4: High-quality presentation with HD streaming from a purpose-built studio.
 Everything You Need to Know About Snakes & Ladders Live Gameplay
Snakes & Ladders Live, which employs a die roll to advance along a large board covered in multipliers and power-up squares, is similar to the traditional board game we all grew up playing. To get to the biggest prizes, you have to climb the ladders and avoid the snakes.
One of two Bonus round features is the main board. The second is the Snake Totem, which can be acquired along with instant win rewards during the game's opening dice-rolling phase. 
A set of four dice and a special die from the bonus game of Snakes & Ladders are used in the game. But these aren't your typical dice. Instead of numbers, they are identified by symbols that start bonus games, such as diamonds, stars, and SL and ST.
The primary game loop is straightforward. There are a total of 7 wagers available, and players just need to predict the outcome of the dice:
Stars

Diamonds

Stars + Diamonds

Bronze, Silver, and Gold versions of SL (Snakes and Ladders)

ST (Snake Totem)
The minimum number of corresponding symbols needed to win the basic bets on the Diamond and Star is two. The payment increases with the number of matching symbols. After the dice are rolled, the Stars + Diamonds wager is successful if there is at least one instance of both fundamental symbols. Special bets make up the remaining wagers.
Snakes & Ladders Live Features
Snakes & Ladders Live has two bonus games. The first is the Snake Totem bonus round. The Snake Totem bonus game begins if you bet on the ST position and at least three ST dice are rolled.
Each of the three levels in the Snake Totem is divided into six tiles. Each level spins, and depending on where they fall, prizes may be awarded. How high you climb is determined by a standard six-sided die. Stackable multipliers, more rolls, and even a free Snakes & Ladders Bonus Game trigger are possible outcomes. 
Secondly, there's the Snakes & Ladders Bonus Game. The most intriguing aspect of this game show, in my opinion, is this extra element. You must wager on one or more SL positions in order to qualify. They can be classified as Bronze, Silver, or Gold. The dice must produce at least two SL results in order to start the bonus round. If they do, the bonus fifth die is rolled to determine the bonus game type. The number of Power Up symbols on the table is multiplied by the number of SL dice above two. The unique minigame is reminiscent of the board game Snakes and Ladders. In order to gather as many bonuses and prizes as you can, you progress along an 8 by 8 board. The benefits get better as you move throughout the board. 
Your advancement is determined using standard 6-sided dice. For the Bronze, Silver, or Gold version, you initially receive 2, 3, or 5 rolls, accordingly. Every multiplier you come across as you go up the board is collected by you. The total of every multiplier you have thus far acquired makes up the final prize. You will be returned to the snake's tail if you land on a snake. On the other hand, you can also use ladders to advance more swiftly. Additionally, Safe Tiles have a corresponding multiplier and become active if you land on them. All of the prizes on the table are increased when you land on a Power Up symbol. They might raise the top reward (earned if you get to the last tile on the board) by as much as 10,000 times. 
You can also converse with the dealers and other players in real time using the live chat feature. The presenters are incredibly attentive and enjoy interacting with players. To engage the audience and make announcements, the speakers only speak English. The in-game text can all be translated into multiple languages, though. English, Bulgarian, Chinese, Danish, French, German, Greek, Italian, Japanese, Korean, Norwegian, Portuguese, Romanian, Russian, Spanish, Suomi, Swedish, Thai, Turkish, Vietnamese, and more are just a few of the languages that are available.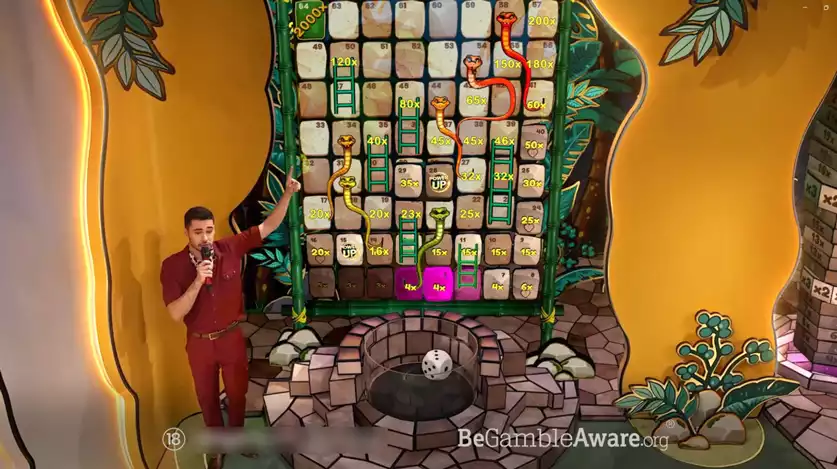 Snakes & Ladders Live Payouts
Because there's so much going on, the paytable for the Snakes & Ladders Live game can be a little confusing. You can explore the payout information below:
Diamonds
2 Diamonds awards 1:1 payout 

3 Diamonds awards 2:1 payout 

4 Diamonds awards 5:1 payout   
Stars
2 Stars awards 2:1 payout    

3 Stars awards 5:1 payout   

5 Stars awards 20:1 payout   
Stars + Diamonds Combination
2 Stars + 2 Diamonds awards 5:1 payout

1 Star + 3 Diamonds awards 8:1 payout    

3 Stars + 1 Diamond awards 20:1 payout   
Bonus Games
Snake Totem awards  2-10,000:1 payout with a theoretical RTP range of 95.09-96.26%

Snakes & Ladders Bonus - Bronze awards 2-10,000:1 with a theoretical RTP range of  95.57-96.26%

Snakes & Ladders Bonus - Silver awards 2-10,000:1 payout with a theoretical RTP range of 95.18-96.13%

Snakes & Ladders Bonus - Gold awards 2-10,000:1 payout with a theoretical RTP range of  95.71-96.42%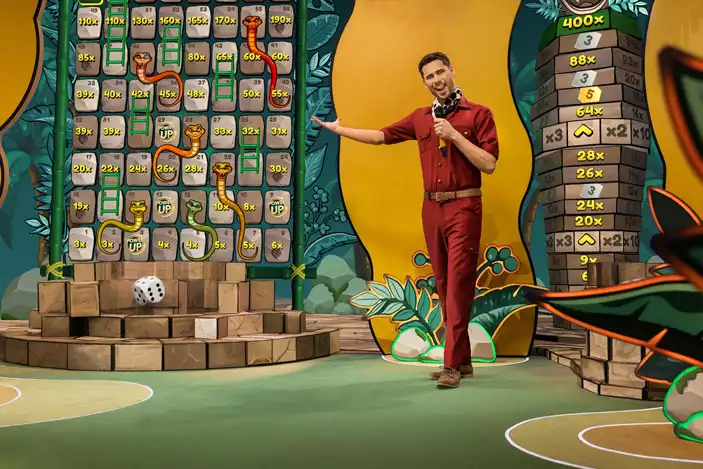 Other Games Like Snakes & Ladders Live
If you'd like to explore more live games like Snakes & Ladders Live then we recommend the following titles:
Monopoly Live
Monopoly Live is the creation of Evolution Gaming and is a live game which features official Monopoly licensing. A Wheel of Fortune style live game, this game show features an animated bonus round that sees Mr. Monopoly adventure around the classic Monopoly board.
Gonzo's Treasure Hunt Live
Similar to Snakes & Ladders live, Gonzo's Treasure Hunt Live is a live game show inspired by one of Pragmatic Plays' most popular slot series 'Gonzo's Quest'. In this live game show, players are treated to an adventure with Gonzo the Spanish conquistador exploring the new world.
Monopoly Big Baller
Monopoly Big Baller is Pragmatic Plays version of a Monopoly-themed live game. Unlike other offerings in this genre, Monopoly Big Ball combines elements of a live gameshow with bingo infused with the overall theme of Monopoly
Boom City
Boom City Live is an entertaining game show from Pragmatic Play. Boom City Live uses two actual dice in addition to a 6 by 6 grid with 36 squares, as opposed to other entertainment game programs that use huge wheels.
Play Snakes & Ladders Live on Genting Casino 
If you'd like to give Snakes & Ladders Live a try for yourself, then sign up and play today here at Genting Casino.
18+BeGambleAware
FIND OUT MORE ABOUT SAFER GAMBLING ON GENTING CASINO
Genting Casino is a leading global casino brand. We provide a premium online casino experience with our huge selection of online slots and live casino games. Genting has been recognized many times for its work in creating fun, safe gaming experiences winning multiple industry awards during its 50 years in business.