---
---
Jonny Wilkinson acted like 'a dead man' after my late hit in 2003
SB: "It was tough to have a yellow card where you put your team-mates under pressure. It was very frustrating. It was a harsh decision at that time in the game. If Jonny didn't stay that long on the pitch maybe the referee would have made another decision. I was not harsh on Jonny – it was not a deliberate late tackle. The referee assumed that Jonny would have to be replaced. 
"The fact that he was looking like a dead man on the ground reminded me of a part of sport we don't like." 
England were always going to win even if I had stayed on the pitch - WIlkinson was exceptional
SB: "No, to be fair we had been training well in the sunshine. But we were not in a positive mood. Early in the day it started raining and finished just as the game finished.  It took me many years when I came to play in England with Wasps that Jonny and English weather go together.  I had scored a try but Jonny kicked all the points for England. I understood why Jonny was so good in the wet weather. 
"I feel peaceful now because I realise that it was made for Jonny. He had grown up playing in Newcastle and could kick in any weather. You cannot fight against that. Maybe it was destiny. Something more than just the weather. Fair play to Jonny. He was an exceptional athlete who made me grow as a player." 
I wept after being KO'd playing the All Blacks in Cardiff
SB: "I remember the quarter final in 2007. I was knocked out in the first ten minutes playing the All Blacks in Cardiff. The players did the job, with passion, with anger, they played with a lot of incredible defensive mindset. At the end I was the first on the pitch crying . 
"We need to remember that no-one is bigger than the team. We have to remind ourselves of that every single second." 
I really hope Fiji beat England and get revenge for Samoa
SB: "It is going to be a messy scrappy game. I hope I will see the same Fiji who beat Australia. I want the game to be enjoyable to watch, for the supporters. For me I want it to be a spectacular game with a lot of tries and momentum, I really hope Fiji will win. 
"England were losing for 70 minutes against Samoa. Unfortunately England won. I hope Fiji will take revenge for Samoa, for Pacific island friendship. Hopefully Fiji will get over the line. 
"What is interesting is we have seen Fiji's set piece and scrum get much better. And you know what their backs can do. Hopefully the forwards will provide the platform for them to play their best rugby." 
---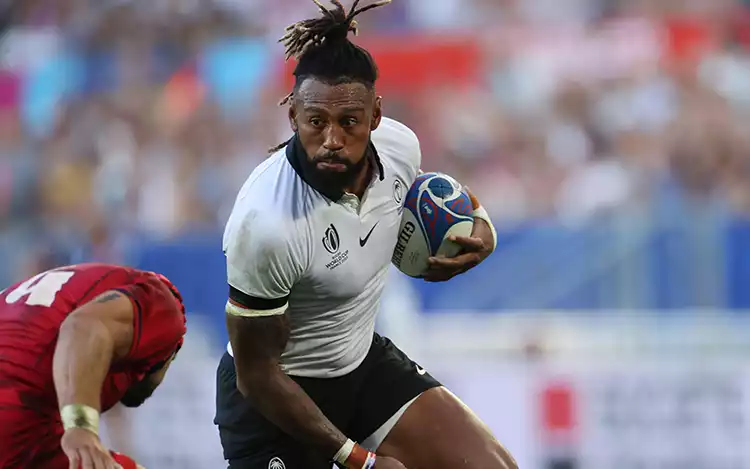 Nayacalevu could lead Fijian upset
---
England need Marcus Smith - they have no inspiration
SB: "A team without any inspiration. We want to see England play a better game. I want to see Marcus Smith at fly half, see the ball flow and play great rugby. England are very narrow in their game plan." 
France have to match South Africa's physicality or else
SB: "It's a big, big task, a very tough one. It will take something very special to win even though we beat them, South Africa, last year in Marseille. It was a very physical game. If we don't have that physicality first the game will be in South Africa's hands. 
"The big challenge is for France to make sure they are on the top of their game. 
"It is going to be immense for everybody. We need to be at our very best in order to challenge and beat South Africa the World Champions.   
"What is very exciting is to have the privilege to be playing against the world champions. We want to be champions, we want to be working on that challenge of winning this bloody trophy. To be able to do that we need to take one game at a time. We need to reinvent ourselves to be champions!" 
Antoine Dupont returning is great, but France have 14 other players
SB: "It is great news that the Federation has said that he can return to contact training. People talk a lot about the fact Antoine Dupont is missing. But I want to reiterate that there are fourteen other players who are committed to this process. 
"It is not just one Antoine Dupont. It is the whole of French rugby and all the players in the squad who have been willing, dreaming, working hard to make sure that this tournament will be the best ever for themselves and for France." 
Maxime Lucu has played well in place of Dupont
SB: "He has done well in Dupont's absence. People do not really notice his strength and the way he takes the ball to run the French backs. He is meticulous. 
"Dupont is such a talented player. His skills are phenomenal. 
"But we have done well without him against Italy. That showed we can play without Dupont. 
"I want the French team to be proud to play on our own soil, and welcome the history of the World Cup, so we need to make sure everyone is ready, Dupont or no Dupont." 
---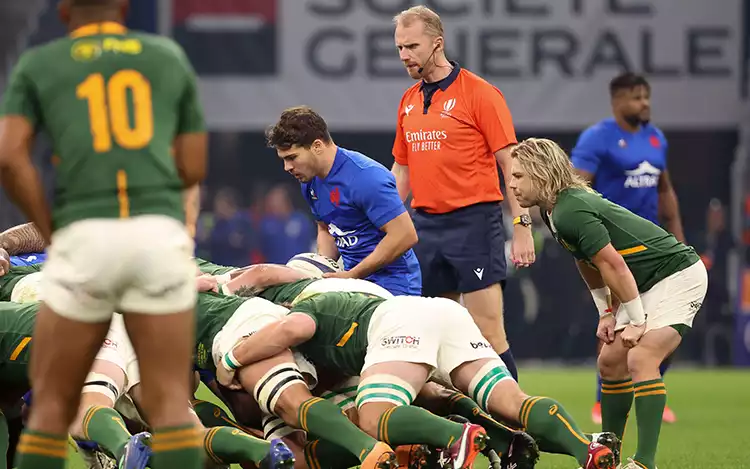 Dupont to return for the French
---
Ireland must control their emotions to beat New Zealand
SB: "I was at Stade de France for Ireland against South Africa. For me that was the game of the tournament so far. The intensity, the speed, I love tackling as you know, rucking. I am not sure that Ireland will be able to repeat that level of game. My question is can the All Blacks recover their best? They haven't been at that level yet. I hope they will push Ireland but I am not sure that will be the case. The All Blacks have nothing to lose. They are not at the level they used to be. 
"Ireland are clinical, so disciplined in defence they rarely concede tries. The forwards are phenomenal. The movement around the park, the effectiveness in the tackle they really are at the top of their game. 
"But you cannot forget they have never reached the semi-final of a World Cup. 
"This will be the task emotionally they will have to achieve and the mindset of, can we? Could we? Are we? Do we have all the tools to be able to do it?" 
Argentina's backs will be the difference against Wales
SB: "The draw gave Wales some exciting moments and nobody has rated them. They have dug deep into the collective desire and organized a strategy. I have a good friend from Wasps with Gatland who is helping to put a good vibe into Wales. 
"Argentina are a very interesting side, hot and cold. The backs can score great tries, the backline speed is great. The battle of the forwards will be 50/50, their backs will make the difference." 
Shaun Edwards has taught France to destroy the ball carrier in an aggressive way
SB: "He is always willing to empower players. Be at their best. The anger to be ready and get the right mindset and destroy the ball carrier in a positive aggressive way, shut down as quickly as possible to stop the offensive momentum is something remarkable. He has brought a lot of that spirit to the France camp. 
"All the specialist coaches, with Fabien Galthie at the top of the p[pyramid, have that spirit, really experienced for the first time ever for France. That will be important for us." 
Zidane and Co. of France 1998 are an inspiration to current World Cup hopefuls
SB: "You cannot overestimate the importance of playing at home. After Covid a lot of people suffered, including rugby. This tournament has brought a lot of joy to the people of France. And the weather has been superb. It has a positive effect for the country. 
"That is a source of inspiration; that generation of football players. The most important thing is the connection with the old France rugby and the fact that we are a multi-cultural society and federation. That is very important. To be united for the same objective and the same cause is fantastic."
---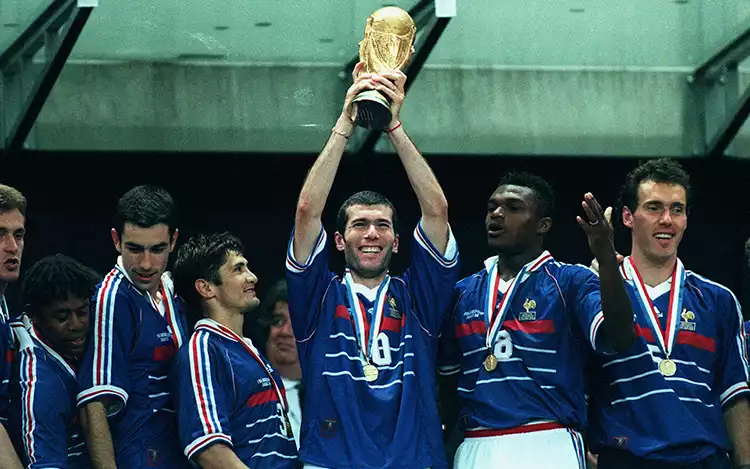 Zidane and co from 1998 should offer insiration
---
France don't like the English - but they can do a job
SB: "We are not best friends but we can also admit that so far it is the only country in the northern hemisphere who has won the World Cup. It is something to be cautious about. 
"We are not best friends but we know English rugby can do a job in a way. Hopefully they will turn up a strong mindset and be successful." 
I feel so much regret not winning the World Cup in 2007
SB: "Playing two World Cups, losing in two semi-finals in 03 and 07 to England still hurts a lot. Especially 2007 after we had beaten the All Blacks. 
"I was dreaming about that. It is tough to admit but I am proud of what I achieved overall but there are still things in the part of my brain which tells me I didn't make it. That is why I hope France this year will give me a gift at a level I never achieved." 
The Irish flankers are the best in the world - Ollivon cannot be underestimated
SB: "The Irish flankers, especially Josh van der Flier. O'Mahony is a physical beast, I like van der Flier who has finesse and ruthlessness. 
"And you cannot underestimate Charles Ollivon who is a phenomenal athlete and the way he puts himself into the collective is amazing. I hope he brings something special and helps France to the final." 
World Rugby must do more for Tier 2 nations
SB: "World rugby can do more to help the Tier 2 teams grow and develop. For me rugby should be looking at this. We need to make sure all the teams are equal at least in terms of recovery time.  We talk a lot about health but they never get the same recovery time and it is difficult for them to compete. 
"You see how tough rugby is and how important it is to have time to recover properly. It is a battle every day for them and I hope rugby will reflect and push the boundary to be more fair. 
"We need to look after our players and have the same system worldwide. I have been able to work for television in Africa to showcase what the sprot is about. It is very important to remember that everywhere in the world people are passionate about rugby." 
---
18+BeGambleAware
GENTING CASINO ONLY OFFERS SPORTS ARTICLES AND NOT SPORTS BETTING
Genting Casino is a leading global casino brand. We provide a premium online casino experience with our huge selection of online slots and live casino games. Genting has been recognized many times for its work in creating fun, safe gaming experiences winning multiple industry awards during its 50 years in business
---