---
---
Dominik Szoboszlai
I was at the Hungary qualifier against Montenegro during the international break – that was a crazy match! Even though Hungary had already qualified, when the score was 1-1 they kept pushing and won the game 3-1.  
Szoboszlai scored two beautiful goals. He is a good player, a good playmaker. He is still young, and I think he's doing well for Liverpool in his debut season.  
For Hungary, he is the man that leads by example as the captain. He is a natural leader, and you can see that everything that Hungary do on the pitch goes through him. He is a player that can make the difference and he has wonderful technique. He makes the game look easy.  
I'm waiting for him to score more goals for Liverpool. That's the challenge I'll set for him because, if you look at his performances for his country, he is more than capable of doing it.  
William Saliba
Didier Deschamps said he wanted more from William Saliba. He said that the competition to get into his team is higher than it is at Arsenal, which is true. I don't think that Deschamps was questioning Saliba's quality; he knows how good he is as a player. 
William Saliba can be one of the best defenders in the world. The problem he has in the France team is that other players have played under Deschamps for longer. Players like Ibrahima Konate and Dayot Upamecano, they were there before him, so William Saliba needs to be patient and when he gets an opportunity to start for France, he has to take it.  
Sometimes players that are given the opportunity by Deschamps in the starting eleven don't grab it. I think that is why Saliba is behind the players that I mentioned. 
He needs to show everyone how good he is in a French shirt. When he does that, the conversation about him (playing for France) is finished. The debate about who will play for France will disappear because Saliba can establish himself as France's best defender. He can be the first-choice centre back of Didier Deschamps.  
He reminds me of myself. I was waiting for an opportunity to play for France after playing in the Champions League for a few seasons. I was playing next to Marcel Desailly, my club team mate, against Slovenia for my first cap. I said myself 'you have to take this opportunity'. I knew that I could establish myself in that team for years if I played well and that's what I did. I had a good game against Slovenia and went on to receive 84 caps for France. I think I was a substitute once or twice in that period. Saliba can do the same thing if he takes his opportunity. He just needs to be patient.  
France and England look like two of Europe's best international teams
I'm confident that France will have a good European Championship because there is quality in every department of Deschamps squad. We have a lot of great players who know each other well and they look really happy on the pitch every time they play together.  
The pressure will be different at the tournament, but France have a good chance to win the trophy. A word of caution for my country, England will also be there. I think they look really strong, and I expect them to do well at the tournament. If France want to become European champions, then they will have to beat England.   
It would be amazing to see a final between France and England. The atmosphere would be incredible – if that is the final, then I need a ticket! I must see that game because I know what the English fans will bring! It would be a special match.  
---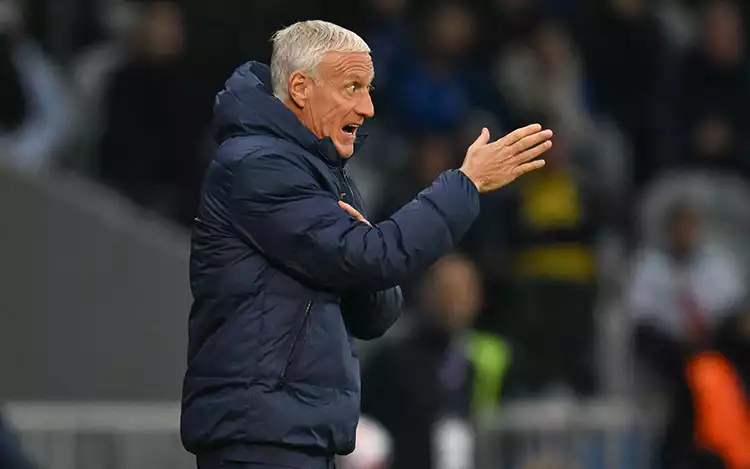 Quality throughout Deschamps French squad
---
Raphael Varane's Manchester United absence
I think that Varane is currently on the Manchester United bench because he hasn't been at his best. When you play for a top club like Manchester United, you have to put in really good performances in every single game. If Erik ten Hag isn't picking him and prefers other players, that tells you that his game hasn't been at the highest level this season.  
Varane knows that he has to perform in every single game. He knows there are other players that are pushing him. If I was in Varane's situation, then I would fight. I would be giving everything to get my place in the team back. At training, he needs to be the best. He needs to work hard.  
The season is long. Varane has to be patient and, when he gets an opportunity, he has to take it with both hands. This will be the first time in a long time that Varane has found himself on the bench – I think he needs to show his manager how good he is and that starts with being the best in training.  
Johnny Evans and Harry Maguire starting 
Ten Hag prefers the partnership between Evans and Maguire at the moment. They've been playing quite well. The manager picks the players he wants to because he thinks those players give him the best chance of winning football matches.  
Axel Disasi's Chelsea performances
I think Disasi has had an OK start to his Chelsea career. For his first season, he is doing well. If he wants to become a top player in the Premier League, then he needs to adapt better to the demands of English football. I've seen some situations in some games where he has tried to be too physical.  
I think he is now starting to realise that the intensity in the Premier League is a lot higher than in France. He is a strong boy, but he needs to play a little bit smarter at times.  
There is plenty of room for improvement. At the beginning of the season, I said that he wasn't ready to play at the highest level for a club like Chelsea if the club wanted to challenge for the biggest prizes. I still think that is the case.  
It's hard for a player to come into the Premier League from France and adapt straight away. Next season, we will know more about his ability.  
Saliba is the best in the Premier League
Saliba has been the best central defender this season. I've spoken about him often – I really like the player. A lot of people speak about him – for him to be recognised as the very best, then he needs to lift some trophies. That's what the world's best players do.  
You can't deny his ability. He reads the game brilliantly. His positioning is always perfect. He is a big boy, but he is smart. He is so intelligent; he doesn't rely on winning physical duels. He is so calm on the ball, and he also pops up with important goals.  
I wanted to see how he handled Haaland when Arsenal played Manchester City. He did really well. He kept the best striker in the Premier League very quiet.  
I think the sky is the limit for Saliba. He can go right to the top of the game. He can be one of the best defenders in the world. The next step for him is to be in the starting eleven for France and to start lifting trophies. We can all see his quality. If he added trophies to his game, then it puts him in the conversation as being one of the best defenders in the world.   
---
On Chelsea
Players will be speaking about Premier League investigations, but it won't affect performances
The Chelsea players will definitely be talking about the Premier League's investigation into the club in the dressing room, that is certain. They will be talking about potential scenarios and the possible outcome after Everton received a points deduction.  
Do I think these investigations will have an effect on the club's performances? I don't think so. I don't think they will have any impact on what the players do on the pitch.  
Chelsea improvements 
When you look at the last two results in the Premier League, a 1-4 victory away at Tottenham and a 4-4 draw with the champions at home, it definitely looks like things are improving at the club. Those results give you the impression that Chelsea are on the right path under Pochettino. 
The road for improvement for Chelsea is still very long though. They are ten points behind Tottenham in fourth position, so there is a long way to go. If Chelsea qualify for the Champions League this season, then it will be at the expense of Tottenham. Look what happened to Tottenham after they lost to Chelsea, they lost again. I think that loss at home to Chelsea was really difficult for Tottenham to take.  
Chelsea are on the right path. They have a lot of talented players in the squad who are learning with every game. I think that this Chelsea team needs time because there have been so many changes both on and off the pitch at the club over the last year. When I look at the team, I think that this is a group that will be ready to challenge for titles within the next couple of years.  
Right now, they have to keep winning games and gradually improve. They will do better than they did last season; maybe they can qualify for the Europa League. I don't think they have enough to qualify for the Champions League this season.  
Don't rush Nkunku
Everyone needs to be patient with Christopher Nkunku. We need to wait until he is completely ready to play before he can start to have an impact for Chelsea because he has been injured for such a long time.  
When you're out for four months, you need to manage your fitness very carefully. I think that Nkunku is a great player and he will bring a lot of quality to this Chelsea team. He will bring a different attacking option to Pochettino, but we shouldn't expect him to be the main man straight away. He will need to be managed perfectly after being out for such a long time. The intensity of the games in the Premier League is so high, so it would be a massive risk if he came back too quickly. Don't push him too much. When he is ready, he can make the difference for Chelsea.  
---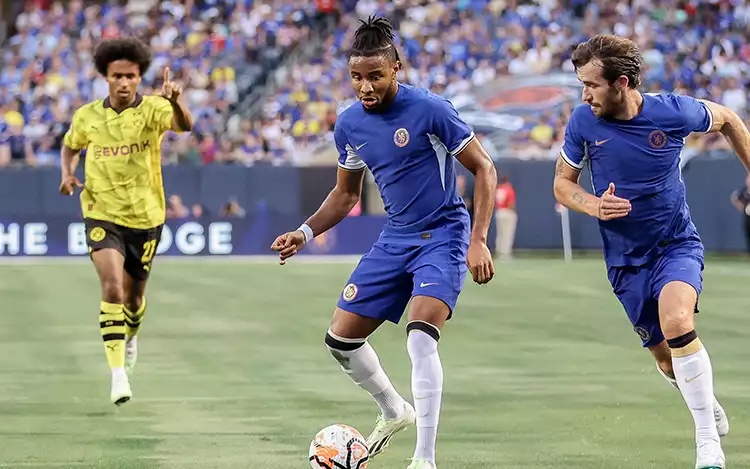 Patience needed for Nkunu
---
Club only has itself to blame for players on the treatment table
Chelsea haven't been unlucky with the number of injuries that they have suffered. Don't make excuses for the poor work of the medical team. The simple truth is that the medical team at the club hasn't been good enough.  
People can say that they have been unlucky to have so many players injured. Rubbish. I know how good the medical department and its staff were from when I played for the club. It was a long time ago when I left, but that medical department was excellent. It was one of the best that I have seen as a professional and when the new owner came in, he changed it all.  
Chelsea have had a lot of injuries since. Fofana came back, got injured. The same with Reece James and these are not small injures where the player comes back in a couple of weeks, these injuries have left Chelsea without key players for months. 
For me, the medical team's performance has not been good enough. It's that simple and the club has to accept it. They have to take the responsibility. I think even some of the club's players have said that the new medical team isn't as good as the old one. When players recover from injury, come back into the squad and then get injured again very quickly, that means something is wrong. The medical team has to do better.  
Cole Palmer is unique – he reminds me of Chris Waddle
(Smiling) I really like Cole Palmer. I love the way he plays; he's cool. It looks like he doesn't feel the pressure and his movement and the way that he plays is really unique. You don't have many players that are like him in England. He is a really rare player; really different.  
Technically, he is unbelievable. He understands football. He reminds me of Chris Waddle because of how unique he is. Waddle was a massive player for me – I loved him at Marseille. I think he should have had a much bigger career than he did, especially playing for England.  
Waddle was unique. I think Palmer is a little bit like him. They have very similar profiles. Palmer is a very cultured player.  
I'm not worried about Newcastle trip
I don't know why, but I'm not worried about Chelsea going to St. James' Park on Saturday. Newcastle don't look as good as they did last season. OK, they beat Arsenal one nil, but then they lost their next two games to Dortmund and Bournemouth. Maybe because they are playing in the Champions League, I don't think their performances are the same as last season. I think Chelsea will get something from that game. They should be looking to come back to London with a point at least. I can't see them losing that game.  
---
On Arsenal
Mikel Arteta's passion
Mikel Arteta is a passionate manager. For him, to concede the goal that Arsenal did against Newcastle, that must have been really, really frustrating for him.  
It must be very difficult for managers to remain composed when there are so many bad decisions being made with VAR. It's hard to control your emotions. At the same time, I think that Havertz should have been sent off for the tackle and Bruno should have been sent off for elbowing Jorginho. VAR has been brought in to eradicate these types of mistakes, but they are still happening. These aren't small mistakes either. That is why it's very difficult for the managers to understand (the decisions that the referee makes).  
When you saw Arteta explode, did you think to yourself 'I'm glad I'm not a manager' (laughs)?
Even the most experienced managers lose their cool. Managers are always learning. Arteta will learn from the experience at Newcastle. He will learn to try to control his emotions and now he has to face the consequences. 
If he finds himself in a similar situation again this season, then maybe he will be calmer. It's hard for managers when they have to speak to the media right after a game because they haven't had the chance to breathe. 
Kai Havertz and his underwhelming start to his Arsenal career and his unusual role for Germany
I said at the beginning of the season that Kai Havertz would struggle for Arsenal. I don't want to sound like a broken record, but he is still struggling. I think it was always going to be difficult for Havertz to adapt to the way that Arsenal play and the way that Mikel Arteta wants to use him.  
I don't think he was the type of player that Arsenal needed to sign in the summer. When you look at the squad, in my opinion, there were different types of players that they should have prioritised. It looks like it was a mistake to sign him.  
At twenty-four, Kai Havertz is playing as a left back four his country? Seriously? Something is very wrong.  
(Bewildered) I don't know what to say about this. For me, to make this decision, it seems like Nagelsmann doesn't respect Havertz as a player. Havertz has spent his entire career playing as an attacking player and then you put him in at left back? (Exasperated) I really don't know what to say about this decision…. I'm completely confused. I'm tyring to think about it from the player's point-of-view…this doesn't look good. I don't like this decision from the manager. This is a complete lack of respect from the manager.  
---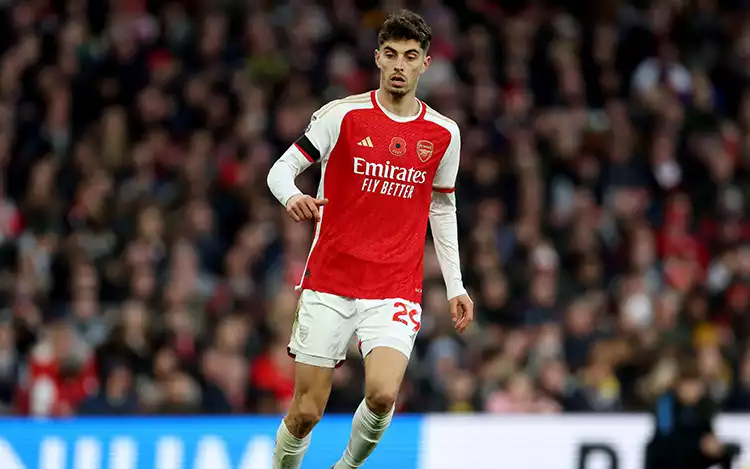 Havertz struggles continue at Arsenal
---
Lack of firepower Arsenal's biggest problem in the title race
Arsenal has to do better if they want to win the Premier League. I don't think Arsenal have enough to win the Premier League this season. Manchester City look strong. Liverpool are back! It will be difficult for Arsenal to win the title this season. Something looks like it is missing for Arsenal at the moment. The midfield is missing something and there are doubts about who will score the goals they need to win a title. They have to find the solutions.  
The conversation with Eddie Nketiah is always the same. We don't know if he has the ability to be a top-level striker for a team that wants to compete for the title.  
He looks like he is a better at having an impact coming off the bench rather than starting games, and we've seen him do that and score goals. When he starts games, especially against the best teams, there are always doubts about his ability to get you a goal.  
In the Premier League, every game is important. If you're playing as a striker for one of the biggest clubs in the league, you have to make the difference. Manchester City and Liverpool each have a player that guarantee a certain number of goals. Haaland will get thirty goals. Salah will get twenty-five. Arsenal don't have a player in their squad that guarantees a minimum of twenty-to-thirty goals each season. Saka looks like he could be Arsenal's most dangerous player.  
It looks like Arsenal are going to share the goals among their players. When Arsenal are playing well, everyone can score goals, but they don't have a striker that you could put in the same category as Haaland or Salah. That's why I urged Arsenal to sign a striker with a different profile last season. Nothing has changed and that is why I don't think Arsenal will win the title this season.  
David Raya vs Aaron Ramsdale
What happened between Mikel Arteta and Aaron Ramsdale? What happened? Something must have happened between them or between Ramsdale and the club because it's very difficult to understand how this guy was dropped after giving Arsenal two really good seasons. After those performances, now he is on the bench. Something must have happened at the club.  
What is certain is that something must have gone on. I'm sorry. You can't put a goalkeeper who had two great seasons with the club on the bench like Arteta has done.  
---
On Tottenham
Van de Ven absence is a massive loss for Tottenham
Micky van de Ven's injury is a massive loss for Tottenham, especially with Romero also unavailable through suspension. He is the quickest player in Tottenham's defensive line, and he enabled Postecoglou to play with such a high line because in a foot race, he can beat most players. 
Tottenham are still on the canvas after losing at home to Chelsea
The home defeat to Chelsea was a massive blow to Tottenham. I think the club are still on the canvas after that defeat and the result away to Wolves shows you that they didn't recover.  
The problem is, when you play in games against your rivals at home, in a crazy atmosphere, you need all of your players to keep their heads and remain calm. The Romero red card cost Tottenham the three points against Chelsea and it had a knock-on effect in the game against Wolves. What Romero did against Chelsea was completely stupid. It was a stupid red card and Romero should know better than that because he is a very important player. He should lead by example at the back because of his experience – the consequences of that red card have been absolutely massive for Tottenham.  
The club has lost its two best central defenders and one of them was completely avoidable. 
The Tottenham players will have learned a very hard lesson after that defeat to Chelsea. Now we have to see how they respond because they have two difficult games against Aston Villa and Manchester City on the horizon.  
Tottenham starting eleven is a good as any in the division, but the rest of the players are average…Daniel Levy's gamble hasn't paid off
The Tottenham squad lacks depth. It's really important to have that extra quality in reserve if you want to compete at the top of the Premier League. Tottenham's starting eleven has been as good as anything in the Premier League this season, but the bench is average.  
Clubs like to gamble on their best players staying fit. Tottenham have gambled on their best players staying fit when they should have added more quality to the squad in the summer. They've got off to their best start in a Premier League season in the club's history, for that to keep going they need more quality. It is impossible to rely on eleven players for the season because of the intensity of the league; players will always get injured or suspended.  
---
Postecoglou's squad needs depth
---
Ange's high line
Tottenham can play with that high line if Van de Ven is available because he is so quick. He can beat most players for pace; we saw him come back and catch the Chelsea runners. I didn't understand Postecoglou's decision to persist with such a high line when he had to replace Van de Ven with Eric Dier.  
Tottenham were punished by Chelsea because Dier doesn't have the pace of Van de Ven. Before Chelsea scored that second goal, how many opportunities did Chelsea have where they ran through? They had so many.  
When a coach is forced into making a substitution, you have to adapt your tactics to the players that you have. I was watching the game thinking to myself 'If Tottenham keep playing this high with Dier, Chelsea are going to run riot'. In that moment, Postecoglou had to adapt. He had to play with a deeper line.  
It was a crazy game of football. I think that maybe the atmosphere, the fans and the noise, contributed to Ange Postecoglou decision-making and didn't ask his players to drop back. I have to take my hat off to Tottenham – the players gave absolutely everything. If that was a match played eleven vs eleven, then the result would have been completely different.  
To play the way they did, with nine players…Wow! That's why I don't understand why they didn't play deeper. They had nine players out there.  
With a little tweak, they could have won the game with nine men
That is the crazy thing about this game. Even with nine men, Tottenham could have won it. I think if they did, people would have been talking about this game forever. All it would have taken was one set-piece, one chance on the break – they could have beaten Chelsea with nine men and they would have deserved it.  
What Ange does next
That is the most intriguing part of Tottenham's next fixtures (Postecoglou's tactical approach). We know they will be missing their two best centre backs. Maddison is out.  
Will Postecoglou adapt his tactics because he is missing several key players?  
We will see how Ange Postecoglou responds to the absences of several key players. These are two difficult games for Tottenham and a good test to see if people called them as title contenders early.  
The international break came at a good time for them. Postecoglou would have had time to analyse the last two matches, while the players will have had the opportunity to out those defeats out of their minds. They will feel refreshed.  
I'm sure that Postecoglou will have been working on something new to manage the absences of his key players. The Aston Villa match is a good opportunity for everyone to see if they have managed to put the Chelsea defeat behind them.  
---
18+BeGambleAware
GENTING CASINO ONLY OFFERS SPORTS ARTICLES AND NOT SPORTS BETTING
Genting Casino is a leading global casino brand. We provide a premium online casino experience with our huge selection of online slots and live casino games. Genting has been recognized many times for its work in creating fun, safe gaming experiences winning multiple industry awards during its 50 years in business
---