---
*Terms and conditions apply.*
---
Chinatown Birmingham Casino: The Perfect Location for a Top Night Out
Visit Genting Casino Chinatown in the centre of Birmingham's Chinatown for the best night out in the city. offering all of your favourite casino games, including electronic roulette, American roulette, blackjack, baccarat, and three-card poker.
With six tables to select from, Genting Casino Chinatown is the casino of choice for baccarat players. The minimum jackpot for their Baccarat Fortune 8 game is £2,000 making it the best Baccarat in Birmingham. Additionally, there are two poker tables with a £2 minimum bet, three blackjack tables with a £2 minimum bet, and six American roulette tables with a 50p minimum bet. The knowledgeable and welcoming personnel of the casino can offer assistance and training to beginners. 
Chinatown Birmingham perfectly balances being a premier and high-quality gambling establishment as well as being a welcoming environment to all comers. Because of this Chinatown Birmingham offers a "Big Deal Package" which includes a welcome drink at the bar, a lesson in roulette, blackjack, or slots, and gaming credit making this the perfect location for new players to experience the top casino experiences that Genting Casino has to offer. Better still membership is free. 
The Hou Mei restaurant, which is open every day and is located just off the casino's main floor, serves traditional Chinese food, which is freshly prepared on-site by expert chefs. The restaurant offers a wide selection of cocktails, wines, spirits, and soft drinks on its vast beverage menu. The main bar area, which views out into the main gaming floor and is available 24 hours a day while the restaurant is closed, is a terrific place to unwind, mingle and play. The pub also features a 24-hour snack menu and a 70-inch HD television that broadcasts live international sporting events.
Authentic Gaming's Live Roulette Streamed Directly from Chinatown Birmingham 
Authentic Gaming was founded in 2015 and offers premium gaming solutions to the live casino market. With its main office in Malta, the studio strives to provide the best live casino experience to all of its customers. This goal strongly aligns with Forty-Five Kensington's values, therefore it seems sensible that the two organisations partnered for the benefit of their players. It is Authentic Gaming's live roulette offers that set the studio apart from the competition while experimenting with a variety of casino services. 
The studio has developed several unique live roulette tables that stream directly from the most luxurious casinos throughout the globe, including Chinatown Birmingham. Live roulette is the major focus of Authentic Gaming, and they've become exceptionally good at what they do. Along with auto roulette, double roulette, and the innovative Blaze Roulette, they provide a selection of live roulette tables in both European and American forms.
Live roulette is broadcast by Authentic Gaming from Birmingham's Chinatown. This service's live roulette tables are of a high calibre, with numerous camera angles, optimum lighting, and knowledgeable dealers. Their live roulette tables are very amazing, with everything from the lavish studio atmosphere and musical backdrop to the beautifully controlled action. The closest thing a player can get to a real-world casino experience without leaving their house is Live Roulette from Authentic Gaming. As long as your internet connection is reliable, you may play streamed live roulette wherever you are because it has been optimised for play on all devices.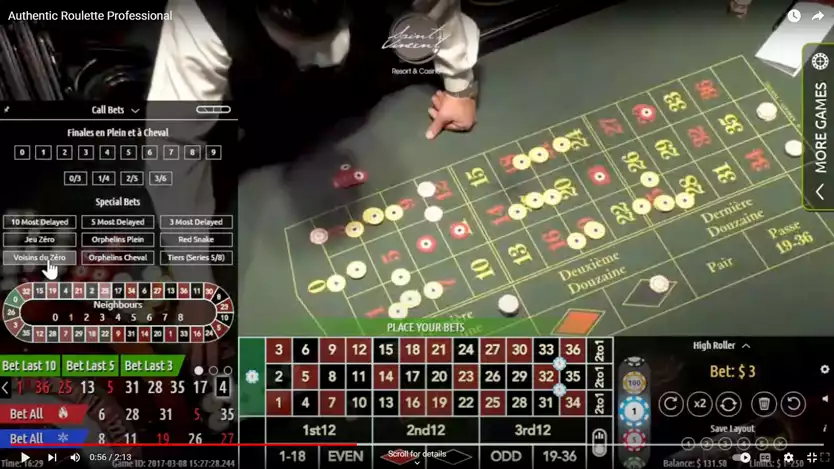 A Closer Look into Genting Live
When you play live roulette with Genting, a genuine dealer and a real wheel are combined with the most cutting-edge technology and HD images to give you a thrilling, action-packed experience. Fans of live roulette around the nation are increasingly flocking to Genting Live for the best live-streamed casino experience. 
Play live roulette streamed from The Palm Beach Casino and other top Genting locations like Genting Casino Manchester, Resorts World Birmingham, Forty-Five Kensington, and Chinatown Birmingham by going to gentingcasino.com, clicking on "Live Casino," and selecting from the variety of roulette games under "Genting Live." Visit our website to learn more about Genting Live's extensive range of exceptional live casino experiences; there's so much more to discover.
Play Live Roulette Streamed Live from Chinatown Birmingham at Genting Casino
For the most authentic live roulette experiences streamed directly to your device, or for a top night out in Birmingham city centre be sure to visit Genting Birmingham Chinatown's website to learn more.
18+BeGambleAware
FIND OUT MORE ABOUT SAFER GAMBLING ON GENTING CASINO
Genting Casino is a leading global casino brand. We provide a premium online casino experience with our huge selection of online slots and live casino games. Genting has been recognized many times for its work in creating fun, safe gaming experiences winning multiple industry awards during its 50 years in business.