---
*Terms and conditions apply.*
---
Immersive Roulette Live Game Details
| | |
| --- | --- |
| Game Name:  Immersive Roulette | RTP: 97.30% |
| Game Provider: Evolution Gaming | Live Host: Yes |
| Bet Range: £0.50 - £5000 | Supported Platforms: Mobile, Tablet, PC |
| Special Bets: Yes | Supported OS: Android, Apple, Windows |
Immersive Roulette Live Highlights
- European Roulette gameplay for preferable RTP percentages
- Friendly, expert, and professional live host to guide gameplay
- Multiple high-definition cameras enhance the immersion of gameplay
- Extensive betting ranges from 50p-£5000
What Does the Immersive Roulette Gameplay Feel Like?
In addition to being a special game on its own, Immersive Roulette is a feature of Evolution's excellent live dealer platform. With a real roulette wheel and a gorgeous female dealer behind it, the arrangement is quite typical. The several camera perspectives that alternate in a dramatic way throughout the game are what really make it engaging.
A slow-motion replay of the spin will be shown through a variety of camera perspectives once the wheel has stopped spinning. The excitement and allure of the game are greatly increased by this creative take on live roulette.
Aside from the breathtaking graphics, the game is a traditional version of European roulette with all the standard inside/outside bets and call bets (which are typical of French roulette). An extremely low house edge and a high return to player percentage are the results of the single zero. Depending on the online live roulette casino where you are playing, the wager limits for Immersive Roulette Evolution can vary, but generally speaking, they go up very high, so that's excellent news for the high rollers.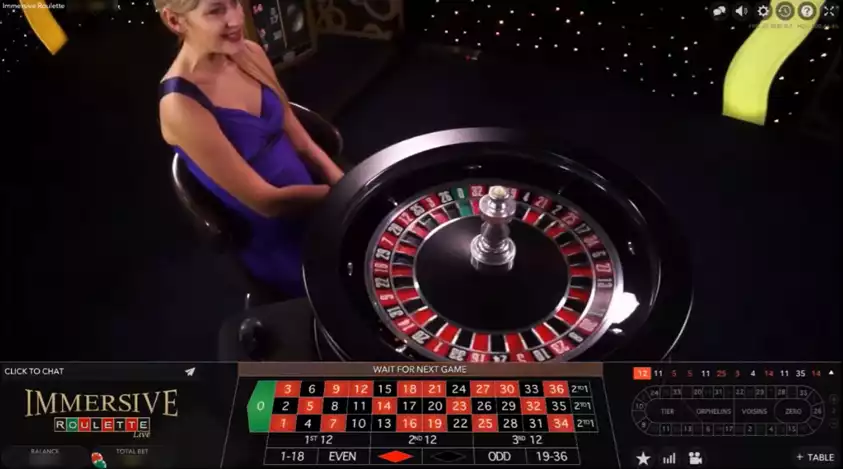 What Are the Immersive Roulette Features?
The game feels as authentic as if you were all seated around a roulette table thanks to the numerous camera angles that are available to make sure you don't miss anything and the slow-motion replay of the winning number and colour that allows you to relive the excitement of each play while chatting with the other players.
Everyone can find something to enjoy in the top-notch live immersive roulette experience, from the most novice gamers to the most seasoned VIPs. There are many different types of betting options available, including side bets and bonus bets that have payouts of up to 1,000/1. Additionally, players can access comprehensive statistics that map the previous 500 spins and indicate hot and cold numbers to assist in placing bets. Another twist is offered by the Bet Behind feature which allows spectating players to wager on the performance of active players by utilising the statistics that are accessible. For more convenience, players can use the Favourite Bets menu to save up to 15 bets.
To make sure that your immersive roulette experience is totally customisable, the 200 frames per second, high-definition video-streamed live dealer games are accessible on desktops, tablets, smartphones, and smart TVs. With a user-friendly interface that is tailored to the operating system and screen size of each device, players can enjoy Immersive Roulette Live exactly how they want to,  and still be at the heart of the fun.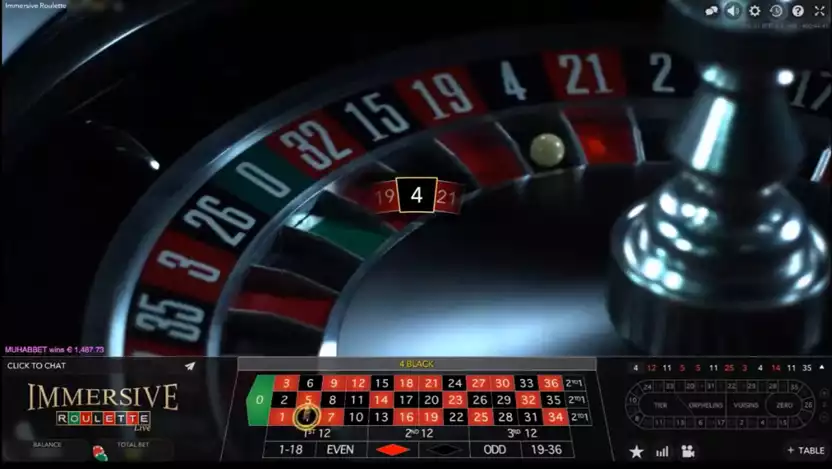 What are the Immersive Roulette Payouts?
The payouts for the Immersive Roulette slot game are identical to most other European Roulette games. As a single-zero roulette game, the Immersive roulette game has a theoretical RTP of 97.3%. The game accepts the standard inside and outside bets seen in roulette, but here's a bit more information for those not in the know. The bets you place inside the roulette table's zone including the numbers 0 through 36 are known as inside bets. You can earn up to 35 times your initial stake by placing a wager on a single number. Split (between two numbers), street (sometimes called three-line), corner, six-line, trio, and basket are some more inside bets. If you place a wager on red/black, high/low, even/odd, dozens, or columns, it will be considered an outside bet. 
You can also see a timer to help you with your wagering. If the indicator is green, you have ample time to think through your best options. Time is running out if the yellow signal displays. When the betting board is lowered, it indicates that the allotted time has passed. The full paytable for the Immersive Roulette Live slot is as follows:
| | |
| --- | --- |
| Straight | 35:1 |
| Split | 17:1 |
| Three Line (Street) | 11:1 |
| Corner (Square) | 8:1 |
| Six Line | 5:1 |
| Columns | 2:1 |
| 1st 12, 2nd 12 or 3rd 12 (Dozen) | 2:1 |
| 1-18 (Low) or 19-36 (High) | 1:1 |
| Red or Black | 1:1 |
| Odd or Even | 1:1 |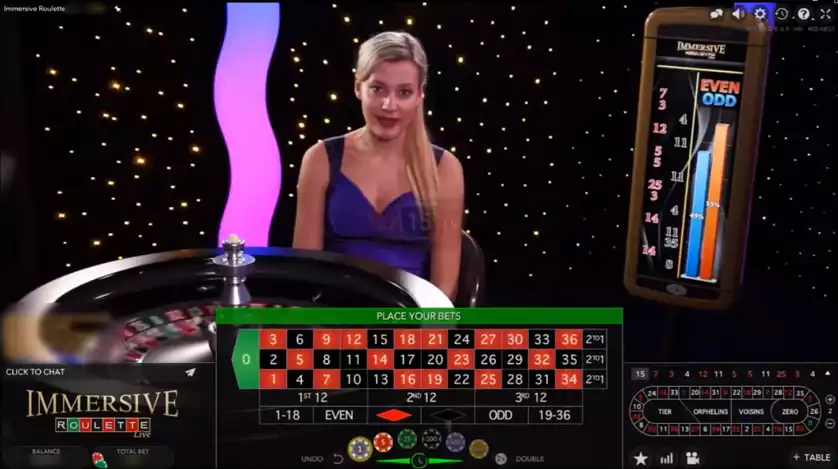 Top Roulette Games Like Immersive Roulette
Immersive Roulette isn't the only example of live roulette games out there, however, as there's a wide assortment from some of the top developers. For example, there's Lightning Roulette from Evolution which infuses classic roulette gameplay with innovative Lightning Multiplier to increase payouts. Mega Roulette from Pragmatic Play also adds multipliers into the mix, up to 500x in value. Lastly, if gameplay isn't fast enough, you can try out Pragmatic Play's Speed Roulette, where the classic roulette action is sped up by 60%.
Play Immersive Roulette on Genting Casino 
Immersive Roulette doesn't have any additional or flashy features like other live roulette games as it aims to immerse players and create the most authentic experience possible outside of a real-world casino, and we at Genting think that it does a really good job of doing so! If you'd like to play Immersive Roulette or any of the other top live casino games, then sign up and play today at Genting Casino.
18+BeGambleAware
FIND OUT MORE ABOUT SAFER GAMBLING ON GENTING CASINO
Genting Casino is a leading global casino brand. We provide a premium online casino experience with our huge selection of online slots and live casino games. Genting has been recognized many times for its work in creating fun, safe gaming experiences winning multiple industry awards during its 50 years in business.